J – I love bok choy …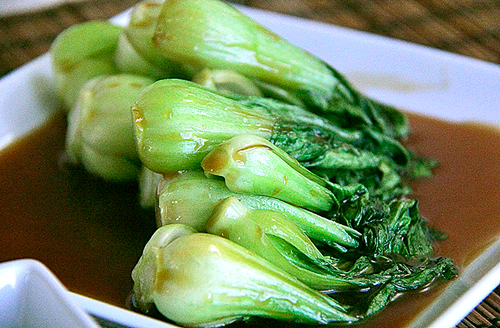 except when I make it. Dim sum place? Yup. Luke makes it? Yup. Christina makes it? Yup. I guess it's time for me to shape up my bok choy cooking. No more slimy bok choy.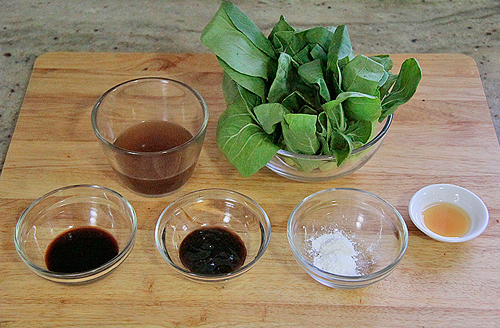 So, dim sum week was a perfect time for Christina to show me how to make great steamed bok choy.

Easy and simple are the operative principles.

Bok choy is delicate to begin with. It hardly needs to be cooked at all.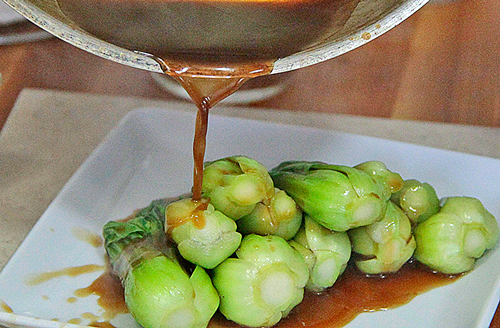 This recipe uses simple ingredients. Luke's is a little more complex. Either way, you cook so that the bok choy is gently blanched and served immediately.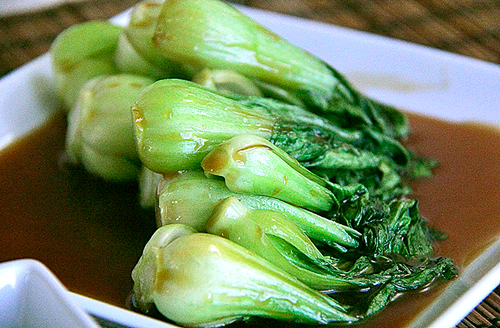 | | | |
| --- | --- | --- |
| Dim Sum Week: Steamed Bok Choy | | |
Recipe type:
Snacks, Sides
Prep time: 10 mins
Cook time: 5 mins
Total time: 15 mins
Ingredients
2 Tbsp oyster sauce
2 Tbsp soy sauce
1 tsp sesame seed oil
3 Tbsp chicken stock
1 tsp of cornstarch mixed with 1 tablespoon of chicken stock
1 pound baby bok choy, bottoms trimmed, But, stalks left whole and leaves together
Instructions
In a small saucepan, combine oyster sauce, stock, soy sauce, sesame oil and cornstarch mixture.
Bring to a boil over medium heat, stirring until sauce bubbles and thickens; remove from heat.
Blanch bok choy in the oyster mixture just until it turns a greener color.
Place on serving platter.
Pour oyster sauce over it.
Serve with hot sauce, if desired.
Enjoy!
The trick is to do the sauce first. Then, add the bok choy and cook until its bright green.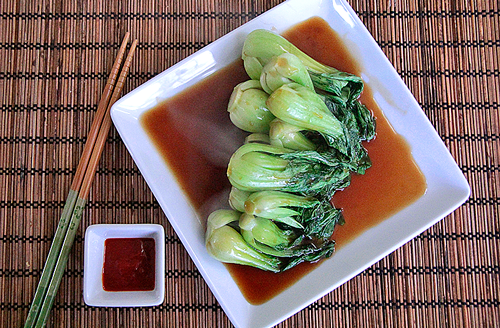 Taste test was delicious. The leaves were soft and the base was still just a little crunchy. Yum!