C – It's Dim Sum Week!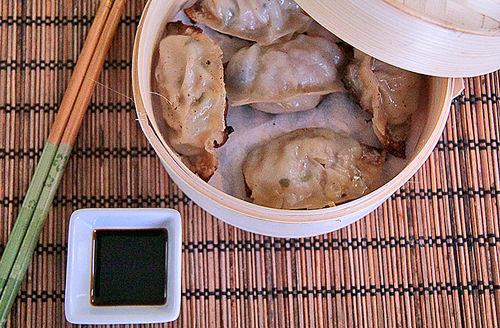 Perfect timing since Chinese New Year is this week. I love and hate this week. It's a week where there is lots of celebrating, time off and lots of food. The down side is that when Chinese New Year comes around, some of the Chinese shops near my apartment are closed.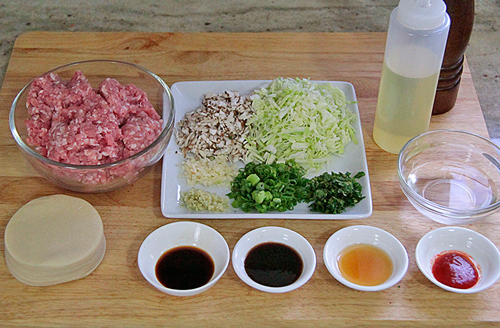 San Francisco is a ghost town. A lot of the Chinese shops are closed.

So, if I want to eat Chinese food that week, I either have to go to Chinatown or make it myself.

I don't like going to Chinatown during New Years. It's so crowded and parking is horrible.
So making it myself is a better option.

Whenever I go out to eat for dim sum, my favorite is potstickers. There's something about a crispy yet chewy wrapper that is so delicious. I also love the pork filling.
This recipe is for the lazy person version of potstickers. I didn't want to crimp them really fancy. I also almost overcooked them a little. But, they were still edible.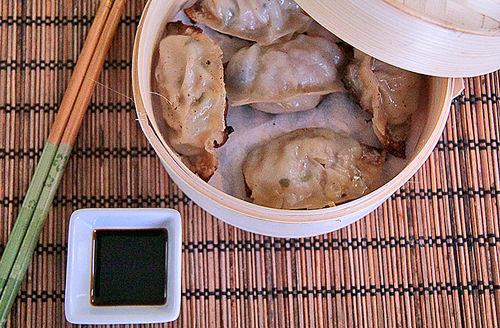 | | | |
| --- | --- | --- |
| Dim Sum Week: Potstickers | | |
Prep time: 30 mins
Cook time: 20 mins
Total time: 50 mins
Ingredients
1 pound ground pork
1 cup shredded green cabbage
3 sprigs cilantro, finely chopped
3 ounces shiitake mushrooms, finely diced
2 cloves garlic, finely minced
2 green onions, thinly sliced
1 Tbsp hoisin
1 Tbsp freshly ginger, minced
2 tsp sesame oil
1 tsp Sriracha, or more, to taste
¼ tsp black pepper
40 2-inch round won ton wrappers
2 Tbsp canola oil
Soy sauce for serving
Instructions
In a large bowl, combine pork, cabbage, cilantro, mushrooms, garlic, green onions, hoisin, ginger, sesame oil, Sriracha and black pepper.
To assemble the dumplings, place wrappers on a work surface. Spoon 1 tablespoon of the pork mixture into the center of a wrapper. Using your finger, rub the edges of the wrapper with water. Fold the dough over the filling to create a half-moon shape, pinching the edges to seal. Repeat for all wrappers.
Heat oil in a large skillet over medium heat. Add potstickers in a single layer and add ¼ cup water to the pan and cover.
Cook until water has evaporated. Be careful not to burn them. Once water has evaporated, they crisp up quickly.
Serve immediately with soy sauce.
Enjoy!
Oh well, they were delicious. Especially dipped in a little soy sauce.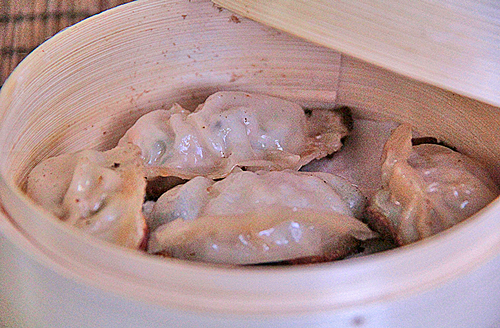 Happy Chinese New Year! Hope you enjoy this week's recipes.
Adapted from: http://damndelicious.net/2014/03/01/potstickers/