C – These pickles are one of my favorite things to eat at a Japanese restaurant. I love ordering it. I always feel like I never get enough.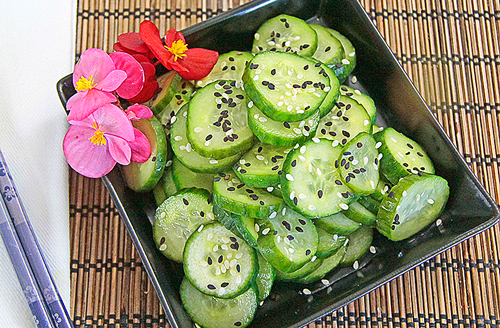 I loved making this recipe because I ate the entire dish all by myself.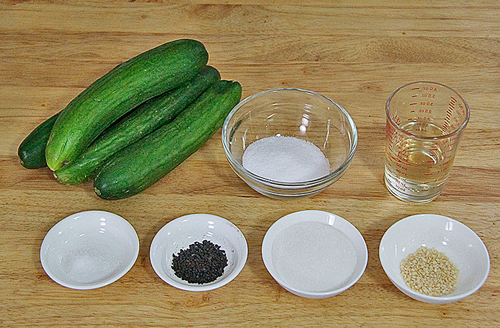 This recipe is so quick and simple. Just let it marinate overnight and you have achieved pickles.

I am so glad these pickles are quick, because I wouldn't be able to handle waiting too long for them to be ready.

I loved the sweet, sour and salty taste with some crispy sesame seeds over top.
Next time I think I will double the recipe because I ate them way too fast.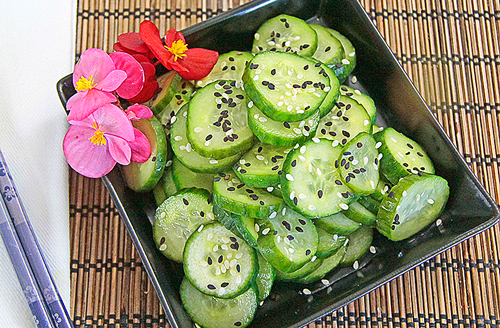 | | | |
| --- | --- | --- |
| Cucumber Week: Japanese Pickled Cucumbers | | |
Recipe type:
Sides, Snacks
Prep time: 40 mins
Cook time: 24 hours
Total time: 24 hours 40 mins
Ingredients
4 Persian cucumbers, sliced ¼ inch thick
2 tsp kosher salt, plus ¼ teaspoon
4 Tbsp rice vinegar
2 Tbsp granulated sugar
Black and white sesame seeds, sprinkle for garnish
Instructions
Mix the sliced cucumbers with 2 teaspoons kosher salt. Mix well and let sit for 10 minutes. Then, rinse with cold water and drain.
Mix the rice vinegar, granulated sugar and ¼ teaspoon kosher salt together. Add to the cucumbers and store in an air tight container overnight.
Serve with a sprinkle of sesame seeds.
Enjoy!
Besidns, Jim and Luke might want a few.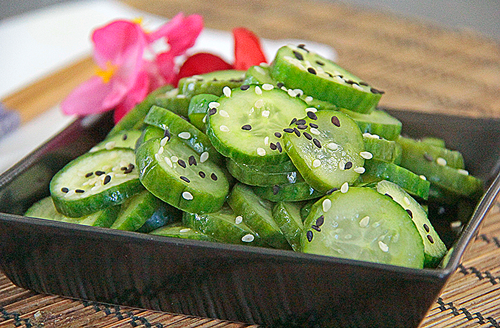 They were delicious.