C – I am wishing we had more Walla Walla onions in our CSA box.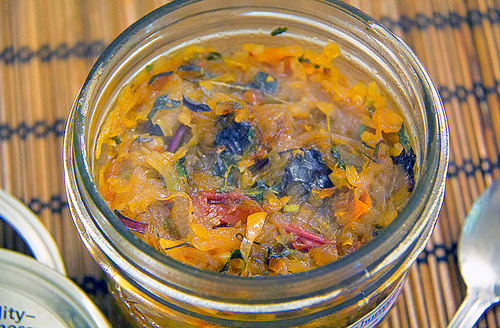 One bad thing about CSA boxes is when you like something there's never enough. Of course, the opposite is having stuff you don't know what to do with. but is always in abundance. Ugh.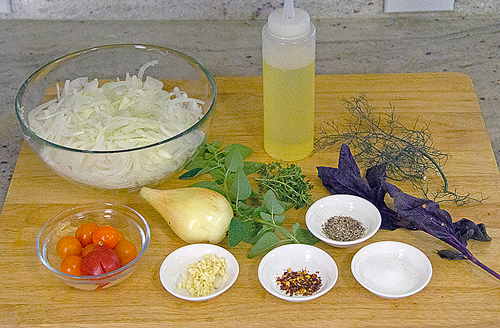 There were a whole lot of beets, Hatch chilies, bronze fennel fronds and Opal basil in that CSA box. Not enough Walla Walla onions. Onions are my favorite. You can do so many things with onions. They have a lot longer shelf life than chilies, fennel fronds and basil.

Walla Walla onions are rare. Of course, being able to use some made me want more. We used the onions in this jam. Regular yellow onions are great in the jam. But not as good as these wonderful super sweet Walla Walla onions.

We didn't have to use any sugar to make this jam sweet. It's amazing how sweet these onions are.

I really wish we had more. We didn't make much of this onion jam. I wanted to slather this on everything. Spread this jam on toast, in a BLT or in a grilled cheese sandwich.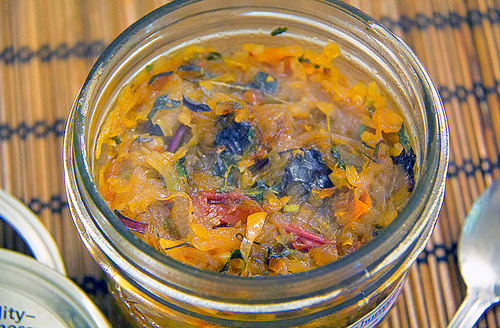 | | | |
| --- | --- | --- |
| CSA Box Week #2 2016: Spicy Caramelized Walla Walla Onion Jam with Bronze Fennel Fronds and Opal Basil | | |
Prep time: 15 mins
Cook time: 1 hour 10 mins
Total time: 1 hour 25 mins
Ingredients
1 Tbsp grapeseed or canola oil, plus more if needed
3½ Walla Walla onions, thinly sliced
4 cherry tomatoes, chopped
Salt and pepper to taste
¼ to ½ tsp red chili flakes, depending on how spicy you like it
1 Tbsp fresh bronze fennel fronds, tender parts only, chopped
1 Tbsp fresh thyme, chopped
1 Tbsp white balsamic vinegar
2 to 3 Tbsp water
1 Tbsp fresh Opal Basil, chiffonade
1 tsp fresh oregano, chiffonade
Instructions
In a medium sauce pan on medium heat, add the oil, onions and tomatoes. Add a pinch of salt, pepper and chili flakes. Cook until softened.
Add fennel fronds and thyme leaves. Reduce the temperature to medium low.
Cook until the onion get caramelized. If it gets too dry, add a little water. It should take about 45 minutes to 1 hour. Stir occasionally so the onions cook evenly and it doesn't burn.
Once caramelized, add the balsamic vinegar. Cook for another 5 minutes to allow the vinegar to integrate with the onions.
Add basil and oregano. Mix well.
Cool, then store in a jar. Spread on crostini, grilled cheese sandwiches, or anything you like. Can be kept for up to 7 days in the refrigerator
Enjoy!
Tomorrow, we will have an eggplant gallette that has this great spread in it. It really gives the gallette a flavor explosion. This jam is loaded with different flavors. Sweet, salty, a little tangy, spicy and full of savory herbs.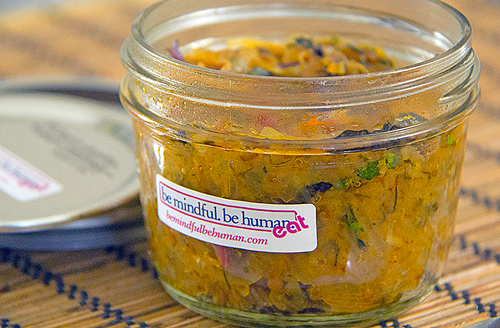 If you ever come across Walla Walla onions, and want to make the most amazing caramelized onion jam, get lots. You won't be sorry.