Update and Redux: J – What to do with fresh chicory … another cool product from Azolla Farm. This one stumpped when we first made it. Then, we remembered chicory is related to radiccio. Humm, radiccio goes well in a fresh salad. How about chicory? It worked well. Great for steak.
C – I thought chicory was just used in coffee.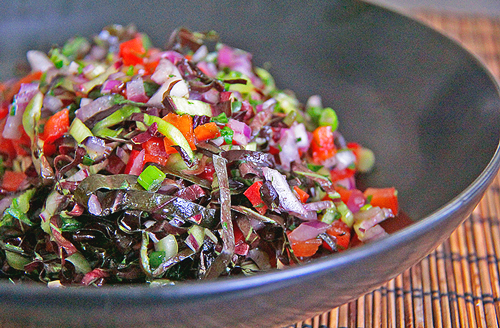 This chicory looks like endive, but it's related to the radicchio family. I am so confused. Scrivner suggested we cut the heads in half and grill them. But, I remembered that I didn't like the grilled radicchio we made last time. It was too bitter.
So, I really didn't know what to do with this chicory.

When we were making things for a client, Luke sliced the chicory and added a bit to a salad. I tasted it and it was a little bitter … but not too bad. I remembered that I liked radicchio fresh and not cooked. I decided to make a salad with the chicory. When Jim and I talked about what I was making, he suggested I change the name.

It's a relish for meat. It's a great relish for steak.

A little bitter, lots of crunchiness, a great taste of fresh herbs and a little tart. It's so good. I loved it with steak.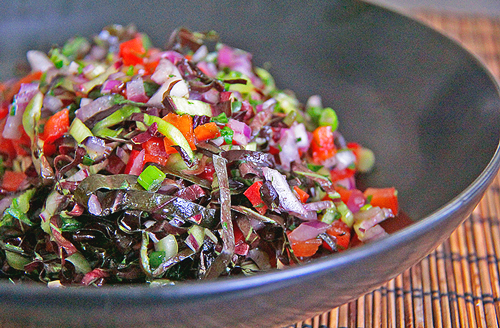 | | | |
| --- | --- | --- |
| Spring Sides Week: Chicory Relish | | |
Prep time: 5 mins
Total time: 5 mins
Ingredients
1 head of fresh chicory, leaves trimmed, separated, sliced into ¼ inch chiffonade
½ red bell pepper, chopped
¼ red onion, finely chopped
1 green onion, finely chopped
½ lemon, juiced
salt and pepper to taste
¼ cup parsley, chopped
Instructions
Mix everything in a bowl.
Serve with steak or any protein of your choice.
Enjoy!
I am so grateful to be able to try all these amazing fresh and delicious vegetables from Azolla Farm. I have been starting to see a few CSA boxes with things like chicory and red beet leaves. I think it's really important to just keep your eyes open and be willing to experiment with new, interesting produce.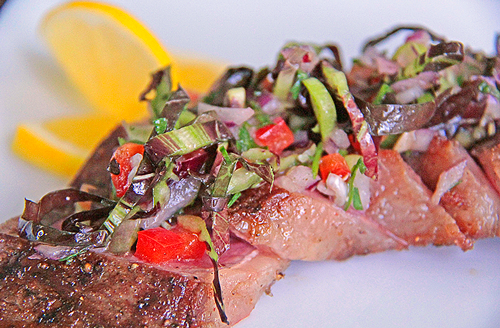 Thanks, again, to Azolla Farm for giving us this opportunity to try out all these wonderful vegetables.