C – Purple daikon is so pretty.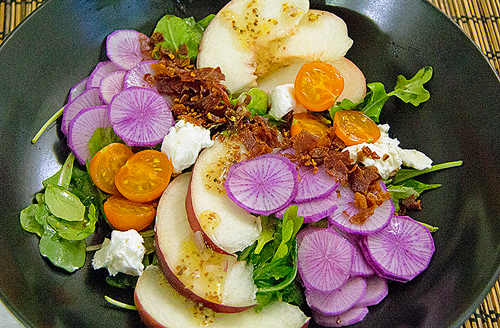 I love slicing them and seeing their pretty design. It's great in salads like this one. Simple. Just remember not to coat them with dressing. Drizzle the dressing or put the dressing on the side, instead. With lots of dressing, the purple changes into a bright pink color. It's no longer purple daikon to me.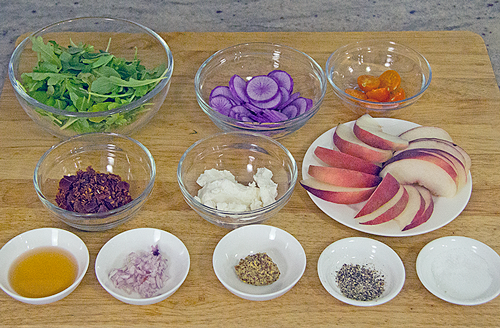 I had to change this recipe from a pickled purple daikon because of the color change. I was a bit disappointed … but not by much. This salad was still amazing.

The daikon was perfect with the creamy goat cheese, sweet white peach slices, crispy arugula, sweet cherry tomatoes, crunchy Prosciutto and tangy vinaigrette. It's was all beautifully decorated with the purple daikon in the center.

I eat with my eyes. So when I have the pleasure of using something as pretty a purple daikon, I want to keep it in the best state possible.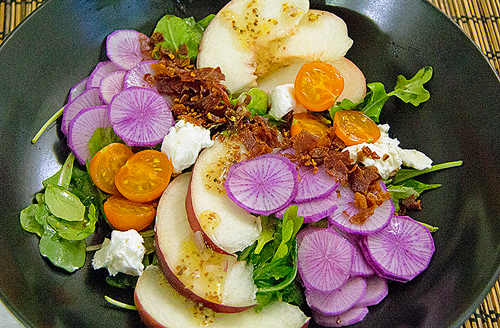 | | | |
| --- | --- | --- |
| CSA Box Week #1 2016: Purple Daikon White Peach Salad With Goat Cheese And Fried Prosciutto | | |
Prep time: 15 mins
Total time: 15 mins
Ingredients
1 Tbsp white balsamic vinegar
½ shallot, minced
½ tsp Dijon mustard
salt and pepper to taste
3 Tbsp grapeseed or canola oil
1 cup baby arugula
1 purple daikon, peeled and sliced thinly
4 cherry tomatoes, cut into halves
1 white peach, sliced in thin wedges
¼ cup fried Prosciutto
1 oz goat cheese, crumbled
Instructions
In a small mixing bowl, place vinegar, shallot, Dijon mustard, salt and pepper. Mix well. Drizzle in the oil while continuing to whisk until emulsified.
Place a tablespoon of the dressing to coat the arugula. Place on a serving plate.
Top with purple diakon. Add peach slices, cherry tomatoes, fried Prosciutto and goat cheese. Drizzle more salad dressing.
Serve.
Enjoy!
A simple salad is all you need for these daikon.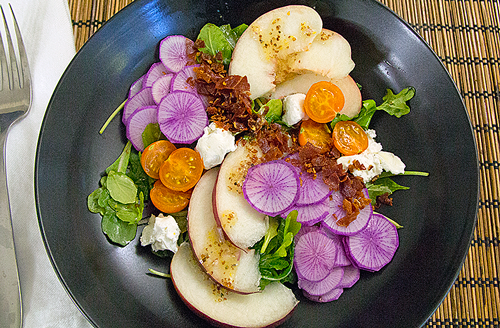 If you use it in anything else, just remember that it may change colors.