C – I can't tell you how much I have been craving sweets.
I was on a low sugar diet for a few months, but I got addicted to desserts again when bake week happened. I had so much sugar. Too much sugar. Of course, I had to "test" everything that I posted. AND of course, I had to finish everything that I "tested." Jim was no help, either.
I was trying to eat cleaner for my New Year's resolution. But, I am dying here! I am really craving something sweet and good. I threw out a lot of the junk food in the house. I've been eating only fruits and vegetables. But, I am still craving the good stuff. Chocolate, cookies, cakes and ice cream. Anything covered in chocolate. Yes, I know I already mentioned chocolate. But, it's so good!!!

What should I do?

Today, I was walking through the grocery store and some how I ended up looking at a box of granola bars. I almost put it in my shopping cart. GRANOLA! Of all things. Granola isn't for me. I used to eat so many granola bars that I got sick and tired of them. I even used to be able tell people which bars were the best in taste, protein and health. So, why was I looking at granola bars again? I guess my mind was wanting something sweet but healthy. Most granola I buy in the store isn't the healthiest thing in the world for me. I can't seem to digest many oats. I usually end up gaining a few pounds from them, also. I finally came to the realization that this box full of oats, refined sugar and high fructose corn syrup wasn't for me.

I came to a bigger realization that I could make my own healthier version of "granola" at home with a few ingredients. Making it fresh was much better than something made weeks or months ago. It would taste better too.
| | | |
| --- | --- | --- |
| Cranberry Chocolate Date Bars | | |
Recipe type:
Desserts, Snacks
Prep time: 20 mins
Cook time: 1 hour
Total time: 1 hour 20 mins
Ingredients
1½ cups slivered almonds (unbalanced)
1 cup pecans, lightly toasted
⅓ cup ground flaxseed meal
¾ tsp ground cinnamon
⅓ cup dried unsweetened cranberries
10 large medjool dates, pits removed
⅓ cup dried goji berries
½ tsp vanilla
1 Tbsp honey
4-5 Tbsp water
⅓ cup dark chocolate chips
Instructions
Place almonds, pecans, flax meal, cinnamon, cranberries, dates, blueberries and vanilla in a food processor and process until well ground.
Pulse-in honey and 3 tablespoons of water. You want the mixture to form into a ball. If it's not after the 3 tablespoons of water, add additional water and process until the mixture begins to form a ball.
Remove from food processor and stir in chocolate chips.
Press into a 8×8 inch baking dish.
Place baking dish in refrigerator for an hour.
Slice into bars and serve.
Bars are best kept in the refrigerator. Bars can also be wrapped individually and stored in an airtight container in the freezer.
Enjoy!
I didn't want to add oats. I get a stomach ache from them. Nor, did I want to add any refined sugar. I am still trying to eat clean. So a few dates, a bit of honey, some nuts, a few dark chocolate chips, some flaxseed meal, dried fruit and I was ready to have a great snack. The mix was really good. I am glad I didn't buy that stuff from the store. My bars had the perfect texture. It wasn't too crunchy. The only problem I found was the bar kind of fell apart. But, it did crumble nicely. I guess I needed to pulse it a little bit more. Oh well, I put it on top of bananas and it made the perfect dessert. Most importantly it tasted incredible. Not too sweet or too bland. It had a lovely cake taste and smell.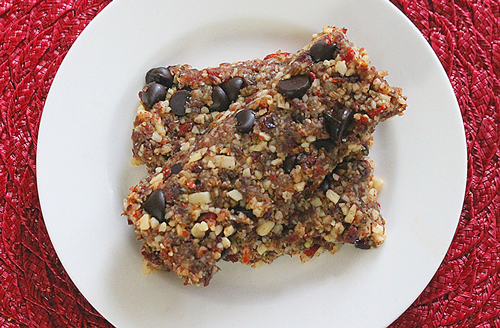 I am so glad I came to the realization that I can eat healthy and still satisfy my cravings.
Adapted from: http://www.multiplydelicious.com/thefood/2011/08/fruity-chocolate-protein-bars/