Update and Redux: C – Vegetarians get sick too. Protein and minerals can be a challenge. Eating a plain vegetable broth just won't cut it when you're sick. This tofu wakame ginger soup is the perfect remedy for a sick vegetarian.
C – Gluten-free vegetarians don't have chicken noodle soup to save them when we are sick with a cold.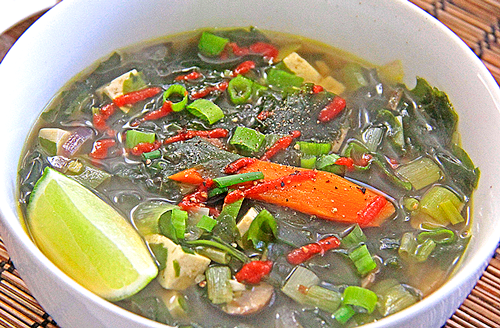 Fake-wheat chicken in clear broth soup is a no-no. Gluten-free noodles? I was a bit worried this year when cold season started and I couldn't think of an alternative to chicken noodle soup. We usually have containers of chicken noodle soup in the freezer at the ready during cold season.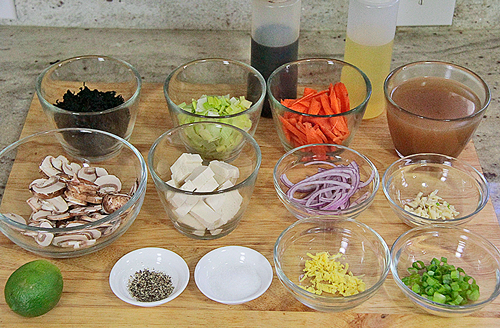 Now what the heck was I going to do? It was a problem, until I discovered wakame (dried seaweed) at my Asian grocery store.

Why wakame in my cold remedy soup? To me it has a lot of flavor. The first time we ate this soup our tastes buds were in shock. It's spicy and sour, with a meaty/seafood quality. For some reason, I need that when I am sick. It warms you throughout.

The main reason I knew this soup would do us wonders was my husband requested it without me coaxing him. We both had an on-coming cold and needed something to warm us up and clear our passageways. This soup did it.

It's been a weekly meal for us for weeks now. The other day I wasn't feeling really energized, but with just one bowl of this soup my energy was back up. We usually serve it with a bowl if white rice to make us full. Since it's mostly vegetables and broth it doesn't have too many calories.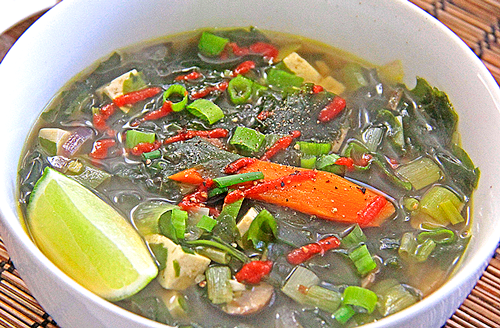 | | | |
| --- | --- | --- |
| Cold Remedies 2015: Tofu Wakame Ginger Soup | | |
Prep time: 10 mins
Cook time: 15 mins
Total time: 25 mins
Ingredients
Canola oil for saute
1 clove garlic, sliced thinly
1 Tbsp ginger, sliced
1 leek, light green and white parts only, well washed and chopped
4 mushrooms, sliced thinly
1 carrots, peeled and sliced on a bias
6 cups vegetable stock
½ cup extra firm tofu, cut into cubes
½ red onion, sliced thinly
½ cup wakame
1 Tbsp soy sauce
salt and pepper to taste
1 lime, for topping
2 green onion, chopped
Hot sauce for topping, optional
Instructions
In a soup pot, heat one tablespoon oil on medium. Place garlic and cook gently.
Add leeks and cook until soft.
Add mushrooms and cook until soft.
Add ginger and carrots. Mix well and cook for 5 mins.
Add stock and soy sauce. Turn heat to high and bring to a boil.
Turn heat down and simmer for 15 mins.
Add wakame and tofu. Cook until wakame is soft. About 3 mins.
Stir in onions and season to taste with salt and pepper.
Serve hot with green onions overtop
Garnish with a lime slice and optional hot sauce.
Enjoy!
Being a sick vegetarian is no fun. You can't have chicken noodle soup.
This soup is a great alternative. It's simple, easy and delicious.