C – Trail mixes can be disappointing.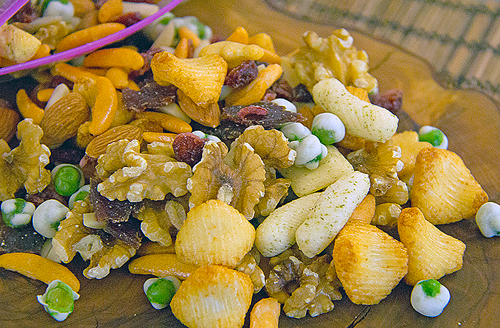 Eating peanuts, raisins and M&Ms isn't my idea of a healthy snack. Especially, while on a hiking trail. Other mixes aren't any better. Those that are all nuts are boring. Those without nuts are missing something. There always seem to be some missing element for me.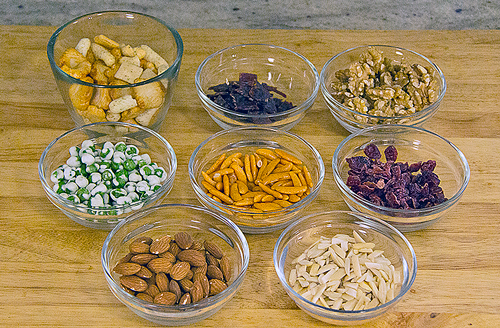 I like having different textures, flavors and sizes to my trail mix. I really like having a few things that are chewy, crunchy or crispy. I enjoy having a mix of flavors like sweet, spicy and salty combining and mingling in my mouth.

The ideal trail mix has lots of shapes and sizes. So, with every bite I get something different.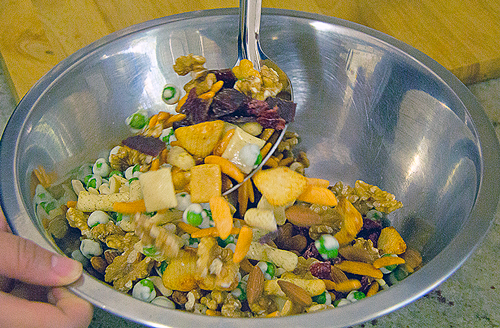 When I started thinking about what would be in my ideal trail mix, beef jerky came to mind. When hiking I always carry a bag of jerky. I always hate how big the pieces are. On a hike, I usually just want a small piece while walking. I don't want to fiddle around with a big piece.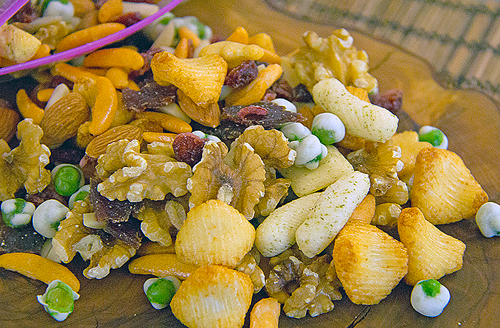 | | | |
| --- | --- | --- |
| Clean Out The Pantry Week 2016: Oriental Jerky Trail Mix | | |
Prep time: 5 mins
Total time: 5 mins
Ingredients
1 cup mixed rice crackers
½ cup wasabi peas
½ cup whole almonds
½ cup slivered almonds
½ cup spicy, crescent shaped rice crackers
½ cup dried cranberries
¼ cup beef jerky cut up into small pieces
½ cup walnut halves
Instructions
Place all ingredient into a mixing bowl. Mix well.
Store in a resealable bag or container upto two weeks.
Serve on the trail or anywhere.
Enjoy!
Nuts are a must. Large nuts are better. Forget peanuts. It's usually just filler anyway. I love a little sweetness in it, too. Dried fruit or some dark chocolate is great. My favorite is probably the trail mixes that have wasabi peas and rice crackers.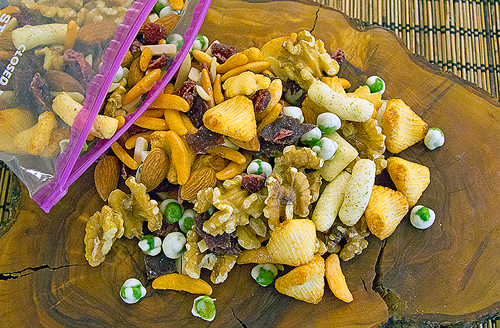 This mix really adds lots of crunch, flavor and big shapes that make it really fun to eat.