Update and Redux: C – Since my husband loves chocolate, I needed to share one of my favorite stories about his fascination with it. Sadly, I have to write about the other love of his life … chocolate. Here's the story of his other love.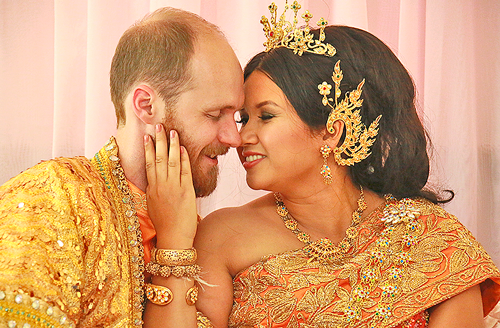 C – My husband considers chocolate a food group.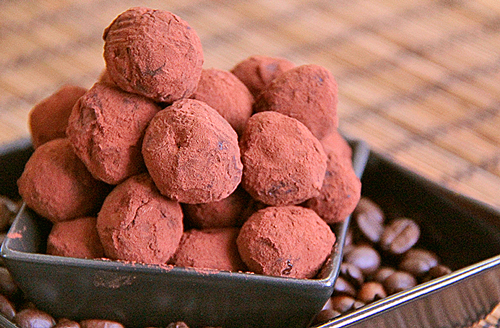 He loves chocolate. It's his favorite food. Yes, if he could, he would probably put chocolate on everything. We seem to buy cocoa powder by the case. I honestly hate when we go to the grocery store together, sometimes.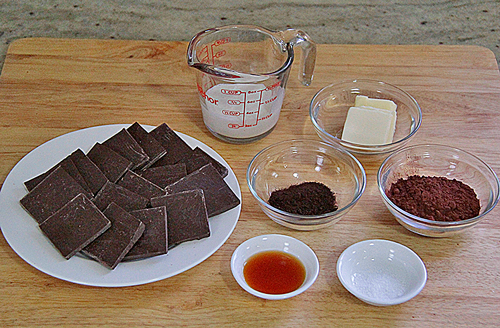 He has a two-candy-bar tax if he goes with me. It can get expensive, since his favorite candy bar costs $4.00 each.

He's a seeker of good tasting chocolate. Not too sharp or bitter chocolate. A nice, subtle, smooth chocolate is what he looks for. He hates super sweet chocolate and those that add too much junk.

It's been a great learning experience for me. It's actually making me refine my taste palette. Now, I can tell the difference if a chocolate is Dutch processed. Or, if a company added too much sugar to their recipe. I really understand the difference between the chip and the bar form of chocolate.
Throughout the three years we have been together, it's been an adventure finding great tasting chocolate. I take mental notes of what is husband-approved and not. It's fun as well as frustrating. I am enjoying the experience … for the most part.

Each year, I decide to take on a new chocolate recipe and ask him to help me with it. He loves being my chocolate taste tester. Some tests are better than others. But, after a few tries we get it.

I wanted to focus this year on enhancing chocolate by adding just a little something extra. He suggested trying a little bit of coffee. I added a touch of espresso coffee to this truffle mix. It was wonderful.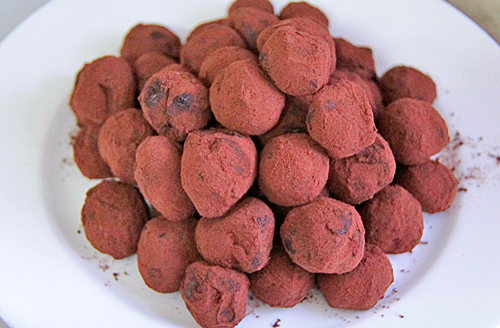 The espresso flavor really enhances the chocolate taste. It also cuts the sweetness of these truffles. I really love them. They melt in your mouth. They are smooth and creamy.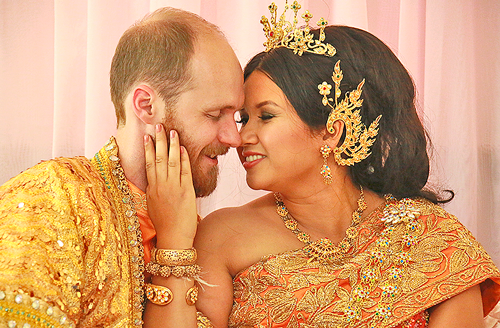 | | | |
| --- | --- | --- |
| Valentine's Week: Chocolate Espresso Truffles | | |
Prep time: 1 hour
Cook time: 10 mins
Total time: 1 hour 10 mins
Ingredients
⅓ cup heavy cream
1 tsp instant espresso powder
8 ounces semi-sweet chocolate, broken into squares
3 Tbsp unsalted butter
1 tsp vanilla extract
A pinch of salt
¼ cup good quality cocoa powder. We used Valrhona
Instructions
In a small sauce pan, place heavy cream and Expresso powder. Whisk until dissolved.
Place on heat to let cream simmer just until small bubbles form on the edge of the sauce pan.
Turn off heat.
Add chocolate and stir until mixture is completely melted and smooth.
Add butter and stir to mix well.
Add vanilla and salt. Mix well.
Place in the refrigerator for at least an hour to harden. You should still able to mold it.
Remove from refrigerator.
Using a ½ teaspoon, scoop out round balls.
Place them in between your palms and shape to balls. If mixture gets too warm to mold, place back into refrigerator to harden for another 30 minutes or so, and try molding again.
Place balls in cocoa powder. Cover each ball completely with cocoa powder.
Place in an air tight container until ready to serve. Best eaten the day they are made.
Serve.
Enjoy!
I think we will have to be careful not to eat too much. They are pretty addicting. We might be awake all night, if we eat too many of these.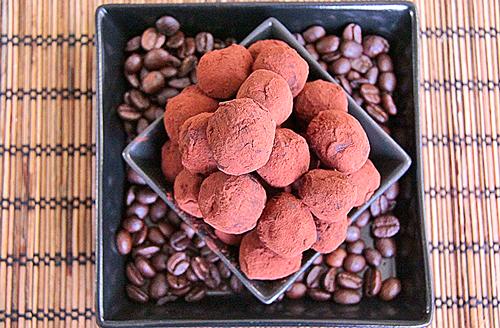 Happy Valentines Day!