C – Chocolate week could have been an entire week full of desserts.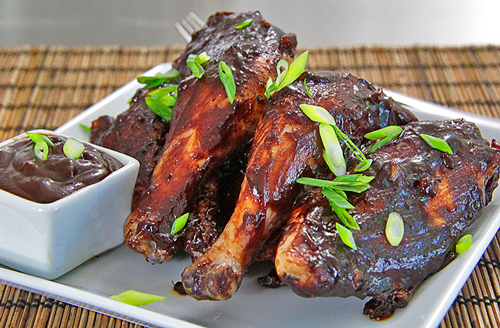 But, I wanted a challenge. Can I make savory chocolate recipes? Something like meat? Yes, I can! I was really surprised at how good this chocolate BBQ sauce was with chicken. I had a little problem with the flavor profile at first.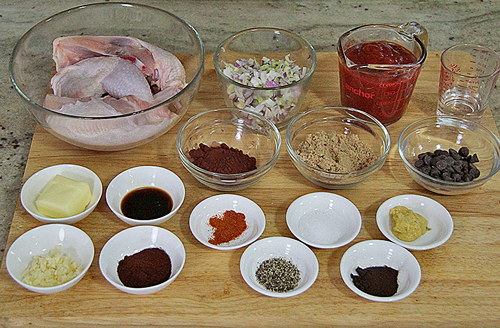 I think there was too much cocoa powder, ancho chili powder and espresso powder. It made it taste bitter. I was really scared I would have to throw the entire batch away and start all over.

I had to think quickly. What would make this balance out? Then, I thought what made regular BBQ sauce taste so good?

Typical BBQ sauce has a nice balance of sweetness, salty and tart. Not so much bitter.

I liked a slight bitter taste to the sauce, since most BBQ sauces are too sweet. I wanted more of hint of bitter.

Add a bit of honey, some hot sauce just for a good kick, some more salt and pepper, a little more vinegar. I cooked it for a while, until all the flavors mingled well together.

Oh did they mingle!

This sauce was delicious with the chicken. Slightly chocolatey. Slightly sweet. Some saltiness and oh so good. I was a bit mad that we cooked such a small chicken. We ate the entire chicken in one sitting.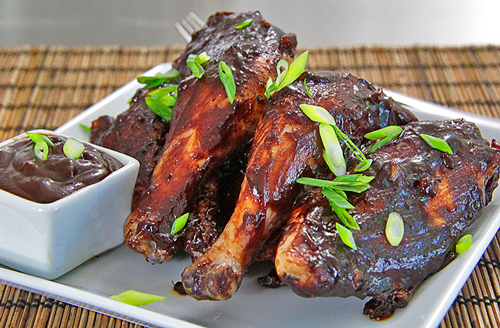 | | | |
| --- | --- | --- |
| Chocolate Week: Chocolate BBQ Chicken | | |
Prep time: 15 mins
Cook time: 1 hour 15 mins
Total time: 1 hour 30 mins
Ingredients
2 Tbsp butter
2 gloves garlic, minced
1 small spring onion, chopped
1½ cups ketchup
⅓ cup brown sugar
1 tsp instant Espresso powder
3 Tbsp white vinegar
2 Tbsp unsweetened cocoa powder
1 Tbsp Worcestershire sauce
2 tsp Dijon mustard
1 tsp ancho chili powder
2 tsp salt, more if needed to taste
Black pepper to taste
¼ tsp Cayenne pepper
2 Tbsp honey
1 Tbsp hot sauce
1 whole chicken cut up into 8 pieces
Instructions
Salt and pepper the chicken and set aside for at least 30 minutes or up to 2 hours.
Preheat oven to 375 degrees.
Melt the butter into a saucepan.
Add spring onions and saute until translucent. About 2 minutes.
Add garlic and saute for about 1 minute.
Add the remaining ingredients. Bring to a simmer and reduce temperature. Let simmer for 15 minutes stirring occasionally to not let the bottom burn. Turn off heat and set aside.
Place chicken on baking sheet lined with parchment paper for easy cleanup. Place in oven and cook for 30 minutes.
After 30 minutes, generously brush chicken with BBQ sauce. Continue to cook. Baste BBQ sauce every 5 to 10 minutes until chicken is done. About 15 to 30 minutes depending on the size of the chicken or about 155 degrees internal temp.
Remove from oven and let stand for at least 10 minutes before serving.
Serve with more BBQ sauce.
Enjoy!
It was delicious. I think this might be one of my favorite BBQ sauces. Bold flavors and not too sweet.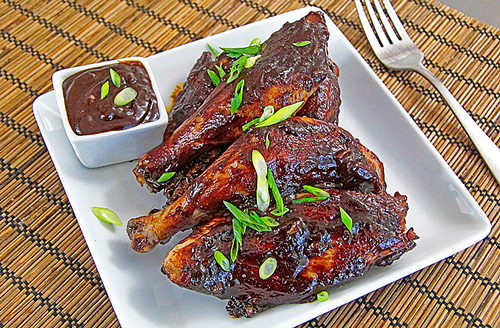 If you dare try this recipe, my suggestion is to make the BBQ sauce a day in advance so the ingredients mingle. Everything really incorporates well.