C — I've never liked applesauce.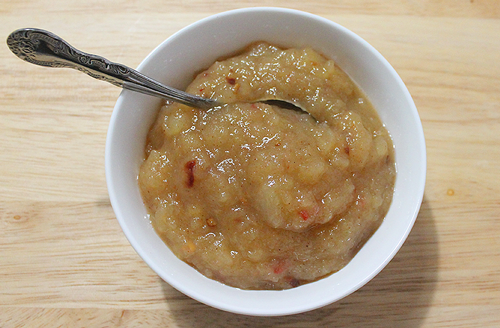 It's one of those things that has a mushy texture and is overly sweet when you buy it from the grocery store. I never thought I would make applesauce either. But Jim said it was needed for dinner. We were having pork and he traditionally had it with applesauce.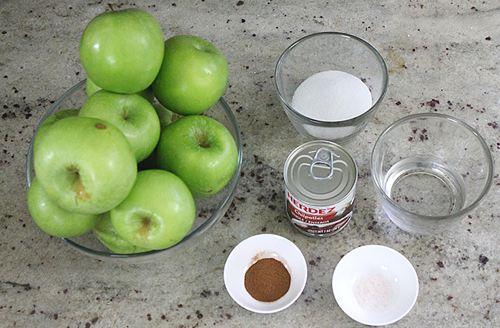 "It's an American tradition. You never had pork and applesauce before?" Jim asked.

"Nope, never had it." I replied, thinking how gross it was going to taste if it was anything like the stuff I've had from the grocery store. But, I am willing to try anything at least once.

So, I started to make the applesauce and it was so easy! Lots of apples, some sugar, a pinch of salt, cinnamon, a bit of water and chipotle are the only things that go into the applesauce. With one taste I was in love. I really liked the sauce.

The store bought stuff has lots of high fructose corn syrup and additives to give it a long shelf life. No wonder I despise the stuff. Fresh is so much better. And, chipotle with the apples. Genius, Jim! There is something about the counterbalance of the sweetness and the spicy heat that allows the savoriness of the pork to come out. I like this American tradition, if it's served this way every time.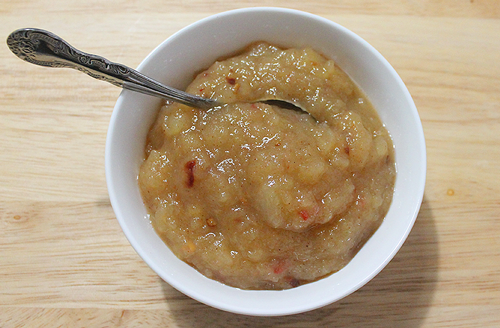 Prep time: 30 mins
Cook time: 45 mins
Total time: 1 hour 15 mins
Ingredients
10 large Granny Smith apples, cored, peeled and sliced into ¼-inch slices
½ cup sugar
1 tsp ground cinnamon
Pinch of salt
2 chipotle peppers in adobo sauce, minced including seeds
2 tsp adobo sauce, or more for added heat
½ cup water, or more as needed
Instructions
Place apples, sugar, salt, cinnamon and water into a 9 quart sauce pan.
Bring to a boil. Then, reduce to a low simmer, covered, until apples are very soft
Mash with a potato masher or large whisk. Add more water if too dry
Taste for sweetness. This sauce should not be too sweet. Add sugar if desired.
Add minced chipotle and adobo sauce. Whisk very well.
Taste for balance. Correct for heat or sweetness.
Let cool and serve as desired.
Enjoy!
The best part about the applesauce is you could taste the apples. The sugar was only there to balance the tartness of the apples. The cinnamon was a nice enhancement to the spicy chipotle. Yum. What could go wrong with breaking down fresh apples into a sauce. Nothing! It was so good, I wanted to eat the sauce straight out of the of pot. Or. bottle it to sell. Or, share it with the world. I guess I'm sharing the recipe with you and that's close enough.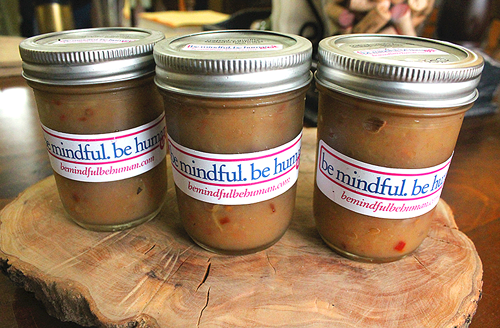 Or, picture this, Be Mindful. Be Human. Applesauce coming to a store near you!