C – Wow! I didn't expect to be so full after this dish.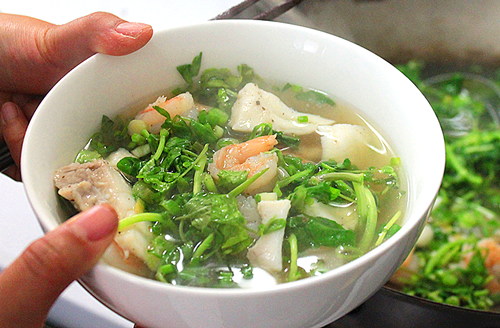 Jim and I were really reluctant. Was this soup going to make us full? He kept on asking what I was going to serve with it. I kept on telling him it was going to be nothing. Just plain and simple. Jim asked if there was going to be some cream or anything more dense. I didn't want to add anything. It will fill you up.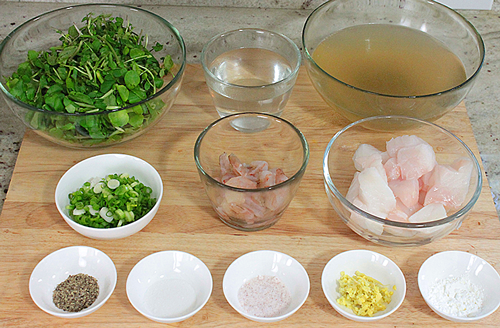 I was right. It didn't need anything! Watercress soup with halibut and shrimp was amazing. It was spicy and salty, with a ginger kick. I really enjoyed it. It reminded me of being home with my parents on sick days and getting ginger soup. It was delicious.

I loved that there were huge chunks of halibut in each bite. The halibut was nice and moist. Not overcooked. The shrimp had a great consistency of it's own. They were a little firmer than the halibut, but also great.

My favorite part of this soup has to be the watercress. The watercress was not overcooked in any way. The soup only took a few minutes. It was also great to clear out all the watercress Jim and Luke bought a few days ago. I was really happy.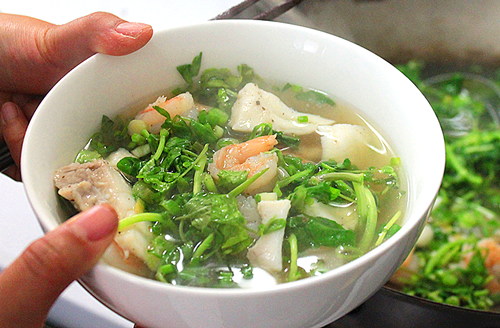 | | | |
| --- | --- | --- |
| Chinese Watercress Soup with Alaskan Halibut and Shrimp | | |
Prep time: 15 mins
Cook time: 8 mins
Total time: 23 mins
Ingredients
8 ounces halibut filets, cut into ¾-inch pieces
1 cup of shrimp peel and devained
½ tsp salt
Fresh ground pepper to taste
1 tsp cornstarch
1 large bunch watercress, washed and pat dry, roots removed and cut into 1-inch pieces
1″ piece of ginger, peeled and minced
1 green onion, chopped
3 cups chicken broth
1 cup water
1 tsp granulated sugar
Salt and pepper to taste
Instructions
In a small bowl, combine salt, pepper, cornstarch, halibut and shrimp. Mix well. Set aside.
In a large wok or sauce pan, bring chicken and water to a boil. Stir in ginger and sugar. Let simmer for a minute.
Add halibut and shrimp to wok and bring to a boil.
Once boiling add watercress and green onions. Boil for 2-3 minutes, until the fish is cooked and the watercress leaves are bright green and wilted.
Taste and adjust seasoning.
Serve immediately.
Enjoy!
It was supposed to serve 4. But, we ended up having seconds on this great dish. So, it ended up serving two.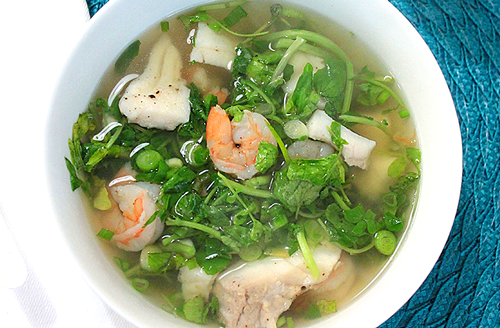 No wonder we were so full.
Adapted from: http://chinesefood.about.com/od/chinesesouprecipes/r/watercress_soup.htm