Update and Redux: C – Food things that are hand held are really addicting. It's my favorite thing to make. These empanadas are both hand held and addicting. Make lots of them. It's easier than you think.
C – Luke has never made empanadas before.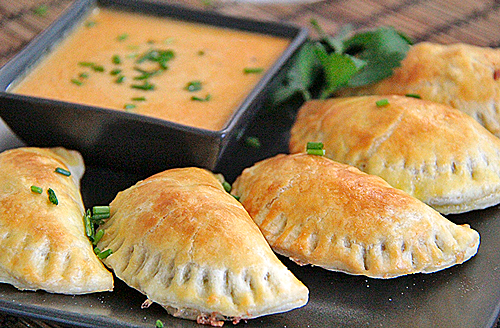 Neither have Jim or I. I guess we have to start somewhere. Times like these I wish I could have a specialist show us how to make it. Just to know if there are special techniques for making empanadas better.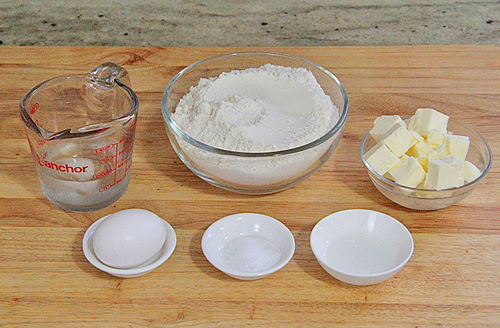 Is there a really good recipe for the dough or the filling to make it truly authentic? We are going into uncharted territory here. Hope it works out.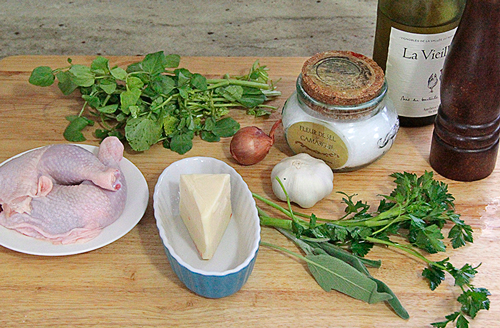 I am worried about the dough. Many people on the Internet suggested Phyllo dough.
Luke wanted to try making dough from scratch. With some reluctance, I agreed. I found a great recipe from my good friend the Internet.

Making the dough was easy. It was a great dough. Easy to roll out. But, I don't recommend overworking it.

My first round of rolling turned out perfectly. Tender flaky empanadas.

But, when I re-rolled the dough using the remaining scraps, they became tough and a bit doughy.

I would do the same next time. It's too easy not to use it again. I just have to remember it's more like a biscuit dough than a pie dough.
The taste test was good. First try was a success. I loved Luke's simple chicken filling. It was great. It was flavorful and balanced with a lot of meat and some vegetables to give it texture.

The dough that wasn't overworked was nicely tender and flaky.

I can't wait to make this again with. I am addicted to these empanadas. They were much easier than I thought.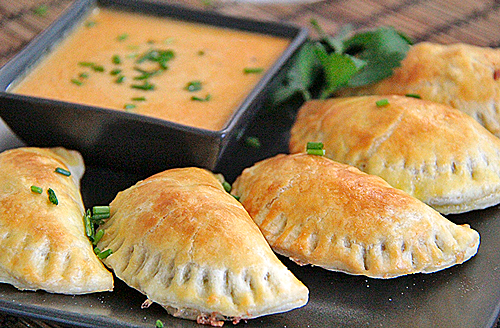 | | | |
| --- | --- | --- |
| Tapas Week: Chicken Empanadas | | |
Prep time: 20 mins
Cook time: 30 mins
Total time: 50 mins
Ingredients
2¼ cups unbleached all-purpose flour
1½ tsp salt
1 stick (½ cup) cold unsalted butter, cut into ½-inch cubes
1 large egg
⅓ cup ice water
1 Tbsp distilled white vinegar
2 chicken leg quarters
1 Tbsp fresh parsley, chiffionade
1 clove garlic, minced
1 shallot, minced
1 Tbsp fresh sage, chiffionade
2 sprigs watercress
¼ cup Fontina cheese, shredded
2 Tbsp white wine
Salt and pepper to taste
Prepped empanada dough
Egg wash (1 egg plus 1 Tbsp water mixed together)
Instructions
Sift flour with salt into a large bowl and blend in butter with your fingertips, a pastry blender or food processor until mixture resembles coarse meal with some (roughly pea-size) butter lumps.
Beat together egg, water and vinegar in a small bowl with a fork.
Add to flour mixture, stirring with fork until just incorporated. (Mixture will look shaggy.)
Turn out mixture onto a lightly floured surface and gather together. Knead gently with heel of your hand once or twice. Just enough to bring dough together.
Form dough into a flat rectangle and chill, wrapped in plastic wrap, at least 1 hour.
Preheat oven to 350 degrees.
Salt and pepper chicken on both sides.
Place chicken in a hot pan with 1 tablespoon canola oil. Brown both sides, for about 2 minutes on each side.
Place in oven and cook for 20 minutes. Remove and set aside to cool.
While waiting for chicken to cook, blanch the watercress for a few seconds. Remove and chop.
In a saute pan, add canola oil and heat on high. Add garlic and shallots. Let soften for about 1 minute.
Add wine and let flame burn off. Add watercress, herbs, salt and pepper. Cook until liquid is gone. Make sure not to overcook the vegetables. If they are getting overcooked, move the vegetables to one side and tilt the liquid to the other and let the liquid evaporate from the heat. Once liquid is gone remove and set aside to cool.
Once chicken has cooled, remove skin and bones. Shred the chicken to small pieces.
Mix the chicken, vegetables and cheese together.
Roll out dough to ⅛ inch thick. Use a 3 inch round cookie cutter.
Place a spoonful of filling on top of one side of the circle.
With a finger, place egg wash on the edge of the other side of the circle. Close in half. Crimp the edges close with a fork. Repeat until all the dough is finished.
Brush remaining egg wash over each empanada.
Bake at 350 for 30 minutes or until golden brown.
Serve immediately.
Enjoy!
Of course, having experts show me how to make them would be great.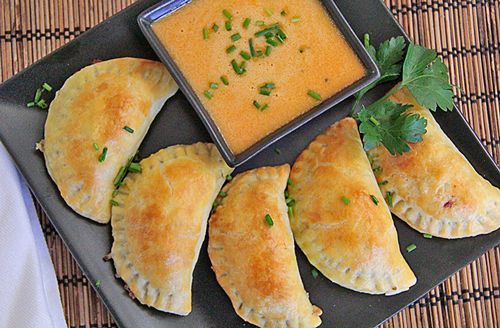 But, for the first time, they were pretty good.