Update and Redux: J – You would think I would run out of good things to say about this dish … nope. It is a supreme example of what an experienced chef (Luke) can add to a dish that is, usually, quite bland. The little stuff really matters. Lentils rock!
J – Luke's lentils are like nothing I remember from long ago in the olden days.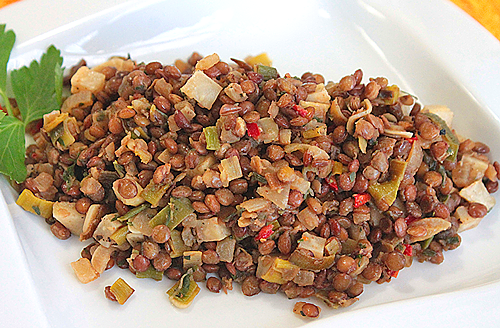 My early experiences with lentils should not be repeated by anyone. Consequently, I've been avoiding them for years. And, I'm not alone. Lentil dishes always seemed to be brown, mushy, starchy stuff that you ate either because you were in your vegetarian days, or trying on the latest flavor of Eastern culture/religion or were just out of money that week. In any case, they were always overcooked and amazingly tasteless.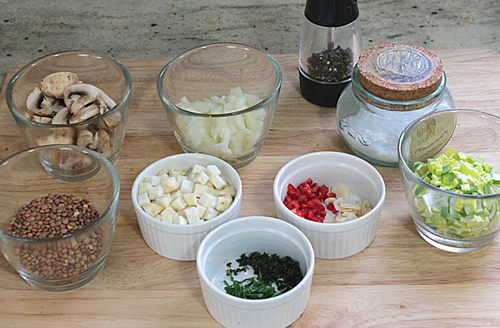 Luckily, I don't have to eat that stuff anymore. Luke showed us the right way to cook and present lentils. We were saying farewell to duck hunting season and needed an earthy. winter-seasoned side to go with the flavor of the wild duck breast (See Wild Duck Breast with Orange Sauce, tomorrow's post).

The trick with lentils is that they are actually pretty delicate things. Kind of like little buttons of pasta, rather than little stones. Al dente, or slightly past, is the correct way to cook them. That doesn't take all that long, either.

So, for example, when you cook them prior to combining with other ingredients, DO NOT cook them completely. Same with pasta, right? The lentils will finish cooking as you combine them and heat all the final ingredients. You also have good control here, just in case they need a bit more cooking.

We used red lentils, along with our winter friends celery root, leeks and Fresno chili, some onion, garlic and the usual spices. Par-cook the lentils. Then, the celery root by itself. Saute leeks, then onions. Add garlic and chilis. Add lentils and stock. Finish cooking, adding spices, salt and pepper. Add cooked celery root at the end. Pretty easy.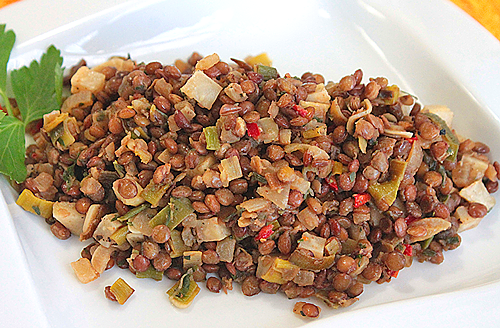 Prep time: 20 mins
Cook time: 20 mins
Total time: 40 mins
Ingredients
1 cup dried red lentils
2 tsp grapeseed oil, divided
2 tsp of butter, divided in 2 pieces
¼ small celery root, small dice
1 leek, well washed and lifted out of the water bath, small dice
1 small red Fresno chili, small dice
1 garlic, minced
½ onion, small dice
1 Tbsp fresh thyme, chopped
1 Tbsp parsley, chopped
½ cup chicken stock
Salt and pepper to taste
Instructions
In a medium sauce pan, boil 5 cups of water. Add lentils. Cook for about 10 minutes or until almost al dente. Drain and set aside.
In a large saute pan, heat 1 teaspoon oil on medium high heat. Add a teaspoon of butter and cook celery root. Once celery root is browned a bit on the outside, remove from pan and set aside.
In the same saute pan, add another teaspoon of oil. Add leeks and cook for 1 minute.
Add onions to the pan. Cook for about a minute
Add a bit of salt and pepper.
Add last teaspoon of butter and let it melt.
Add garlic and Fresno chili to the pan. Stir and cook for about a minute.
Add drained lentils to the pan.
Add chicken broth.
Add thyme and parsley. Combine the ingredients.
Salt and pepper to taste.
Turn heat to high and cook until lentils are soft and liquid has evaporated.
Add celery root at the last minute.
Serve with a protein.
Enjoy!
Wow. It was a whole different eating experience. The ingredients combined well. The lentils were al dente, with a nice earthy texture and flavor.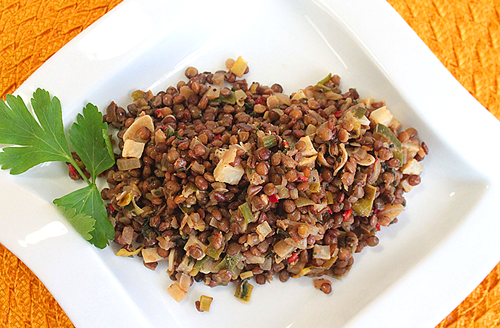 Very tasty, Luke. Thanks!