C – Pickles! I love them.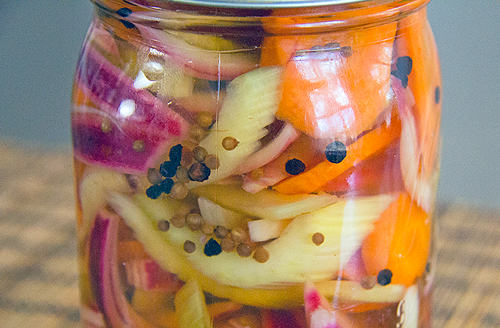 If there isn't a jar in my refrigerator, there's somethings really wrong. My life without pickles would be sad. I love vegetables in a salty, sweet and tart brine. A good pickle can help with burgers, a boring meal or just a quick snack.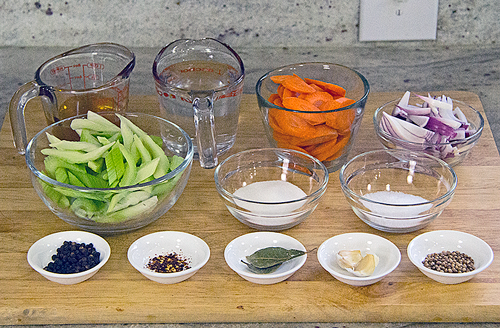 One thing I don't like about the pickles we make is that it takes too long to become pickles. Two weeks to a month for Luke's pickles recipes just makes me lose patience.

Even a day, and my patience is gone for pickles if I am really craving them.

This was until one day when I was in my YouTube spiral of watching endless videos, I discovered the fastest pickles I have ever seen made. Gordon Ramsey made celery pickles and it only took a few minutes to complete. They were ready when the meal was ready.

I am not a huge fan of celery, so when I tried out the technique I added my own vegetables as well as my own spices.
The results were great! They are a bit strong in vinegar, but they taste great. The vegetables are crispy, but not raw. The trick is simple. Instead of waiting for the brine to cool and covering the vegetables with liquid, just pour the liquid while it's hot. Wait about 30 minutes or so and they are ready to eat.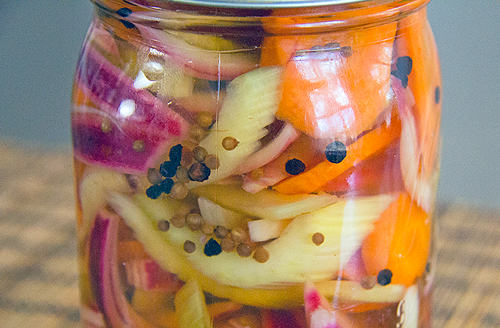 | | | |
| --- | --- | --- |
| Chef and Cookbook Thursday: Celery Carrot and Onion Fast Pickles | | |
Prep time: 15 mins
Cook time: 24 hours 5 mins
Total time: 24 hours 20 mins
Ingredients
1 cup water
¾ cup white wine vinegar
3 Tbsp kosher salt
4 Tbsp granulated sugar
A pinch of red pepper flakes
1 Tbsp black peppercorn
1 Tbsp coriander seeds
2 bay leaves
4 celery stalks, sliced on a bias
1 carrot, peeled, sliced on a bias
½ red onion, sliced
1 garlic clove
Instructions
Place water, vinegar, salt, sugar, red pepper flakes, peppercorn, coriander seeds and bay leaves into a sauce pan. Bring to a boil and boil for five minutes.
Meanwhile, place the celery, carrots, onions and garlic into a glass jar with a tight lid.
Once the liquid has finished boiling, pour it over the vegetables. Let it sit for at least 30 minutes before eating.
Serve or store in the refrigerator after it's completely cooled. Eat within two to three days.
Enjoy!
I tried this technique with harder vegetables like celery, carrots and onions. I haven't tried it with cucumbers. I am a little reluctant about trying them with cucumbers, since they can soften quickly in hot brine. I am not a big fan of soft pickles. I like mine crispy.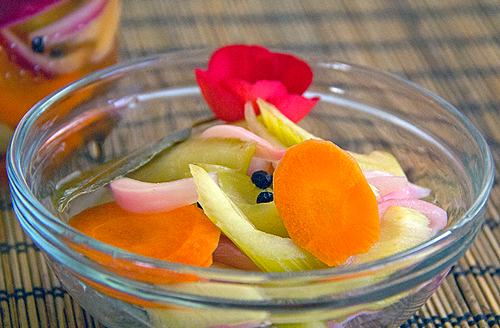 These should be eaten quickly. They get a little salty after a few days. But, for a quick fix these are the perfect pickles to make.