Update and Redux: J – I had forgotten just how amazing this dish was. It exemplifies what you get with a chef on your team … unexpected pairings and spices, elegant plating and delicious food. Thanks, Luke.
J – This salad wins on every level …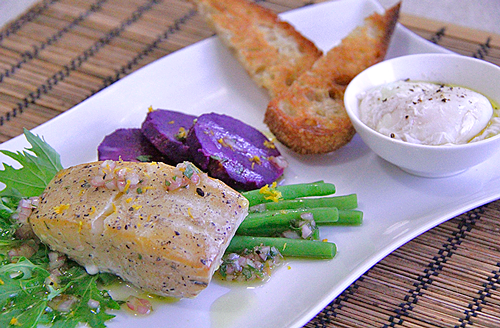 pretty, rich, tasty, amazing. Luke and I didn't know we were going here when we started. We smoked the halibut the day before. We had to stop ourselves from eating it all right there, right now.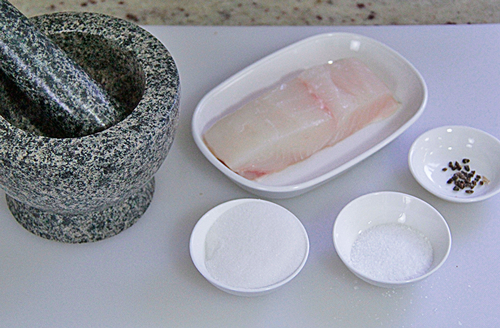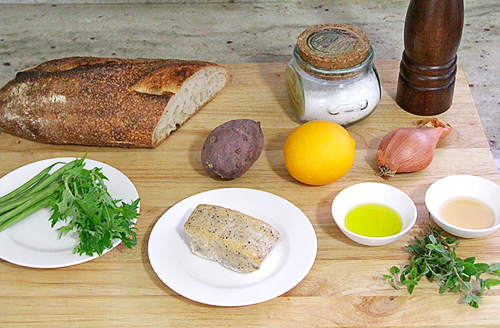 Never had halibut like that before! Wow! You need some.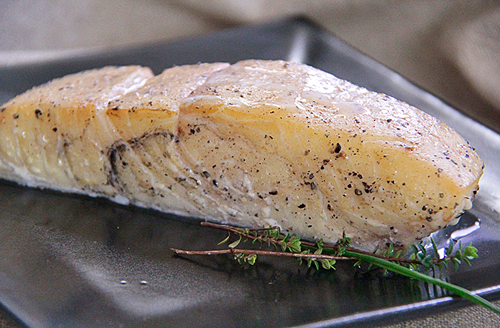 Now, what to do?

First, smoke some halibut. It's not hard.

Simple planning and attention to temperature gets you through.

Next day, we got together and experimented.

I wanted color … purple sweet potatoes.
Luke wanted flavor and elegance.

Bistro-style is our go-to.

A bit of blanching. A bit of slicing. A bit of assembly.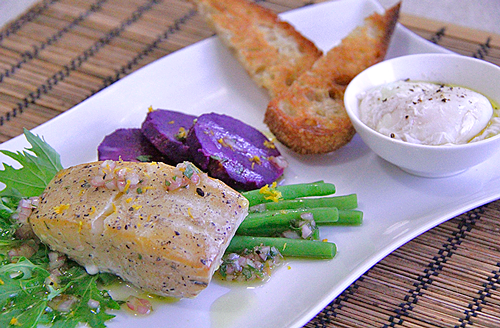 | | | |
| --- | --- | --- |
| Smoke Week: Cardamom-Rubbed Smoked Halibut in a Composed Salad | | |
Prep time: 30 mins
Total time: 30 mins
Ingredients
1 cardamon pod broken and skin removed
½ pound halibut
½ Tbsp salt
½ Tbsp sugar
¼ cup canola oil
¼ cup lemon juice
1 tsp fresh tarragon, chopped
½ shallot, chopped
Salt and pepper to taste
Smoked halibut, see above
Tarragon vinaigrette, see sbove
10 pods haricot verte, blanched
1 small handful, Japanese mizuna greens
1 poached purple sweet potato, peeled and sliced
2 eggs, poached
4 sour dough toast points
Instructions
Place cardamon in a mortar and pestle. Grind until fine.
Add salt and sugar and grind until fine.
Sprinkle to cover the meat but not the skin.
Let sit for 30 minutes, skin side up so all the juices of the fish are drawn out.
Place on aluminum foil, skin side down and smoke for 30 minutes or until the fish is fully cooked. Fish should not be too soft or too firm but right in the middle.
Combine all ingredients in a bowl, except oil
Drizzle in oil as you whisk to emulsify
Set aside
Assemble ingredients artfully … you are the artist.
Serve poached egg in a small bowl on the plate
Drizzle vinaigrette over top of salad elements
Just before serving/eating, break egg yolk and drizzle over top
Serve immediately
Enjoy!
Done!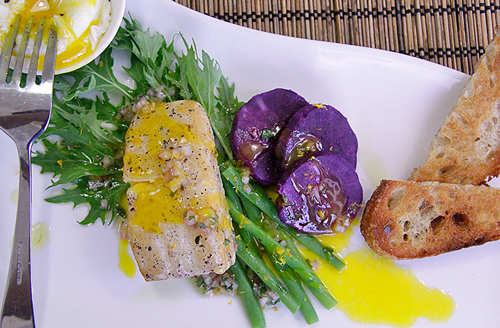 Please enjoy!