C — The birds are chirping. The sun is shining.
A nice cool breeze is blowing this morning in Sacramento. It's summer. Lovely summer. The garden is so abundant with fruits and veggies.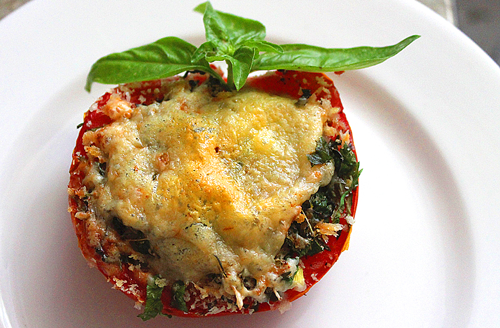 The only bad thing about summer and the abundance of fruits and veggies is that they all ripen at the same time. And, all of them have to be eaten at the same time. Well, at least I don't have to spend much money on buying things. That makes me happy.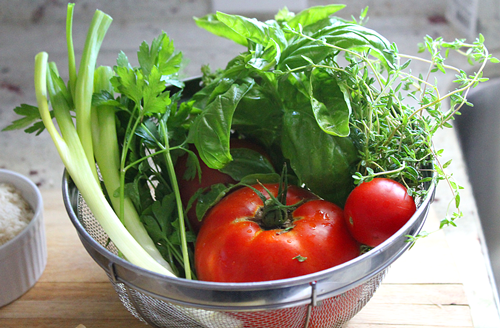 Yesterday, Jim gave me a huge scare. He said there are too many tomatoes. Too, too many tomatoes. He really looked frustrated. I told him he didn't have to worry. We could make ketchup. He didn't look too pleased with the idea. He wanted to make these cheesy Provencal tomatoes and salsa with them. I stared blankly at him and said I'd make ketchup, just to pull his chain a little. He wasn't laughing.
So this morning I thought I would be nice and make some of these cheesy Provencal tomatoes for breakfast. They were good, but we only used two tomatoes out of the several dozen we have.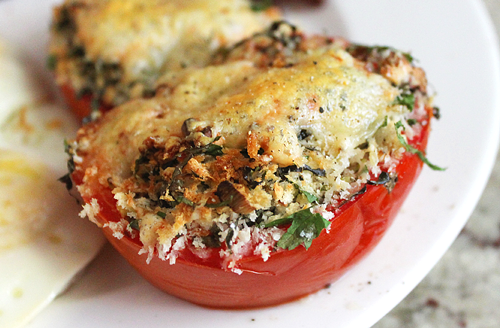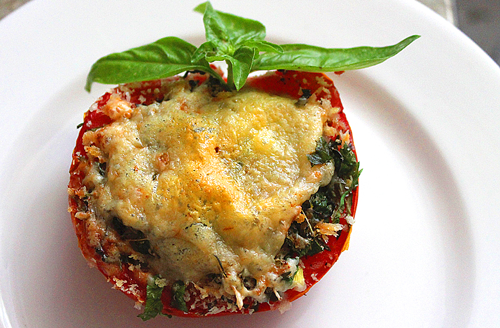 | | | |
| --- | --- | --- |
| Cheesy Provencal Tomatoes | | |
Prep time: 15 mins
Cook time: 16 mins
Total time: 31 mins
Ingredients
6 beautifully ripened tomatoes
1½ cups baguette bread crumbs
¼ cup scallions, include white and green parts, minced
¼ cup fresh basil leaves, minced
2 tbsp fresh flat-leaf parsley, minced
2 garlic cloves, minced
½ tsp fresh thyme leaves
Sea salt
Freshly ground black pepper to taste
1 cup grated Gruyere cheese
Olive oil
Instructions
Preheat oven to 400 degrees.
Carefully removed just the cores from the tomatoes. Cut them in half crosswise and remove the seeds and juice. Place the tomato halves in a lightly oiled baking dish.
In a bowl, combine the bread crumbs, scallions, basil, parsley, garlic, thyme, ½ cup cheese and 1 teaspoon sea salt. Sprinkle the tomato halves with salt and pepper. Fill the tomatoes with the mixture.
Bake the tomatoes for 15 minutes until they're tender.
Sprinkle with the cheese, drizzle with olive oil, and bake just until cheese is melted and a little brown. This should take under a minute.
Enjoy!
Adapted from: www.frenchheart.com With a special thank you to Jim's mysterious friend who speaks French.