C – Happy Halloween!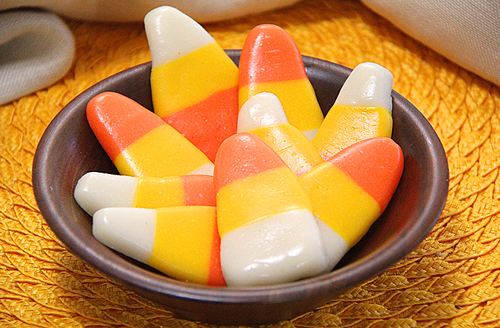 When Jessica suggested we make candy corn for Halloween, I was reluctant. At the same time, I was curious. It sounded really hard to make and may take a lot of time. Of course, I had to say yes.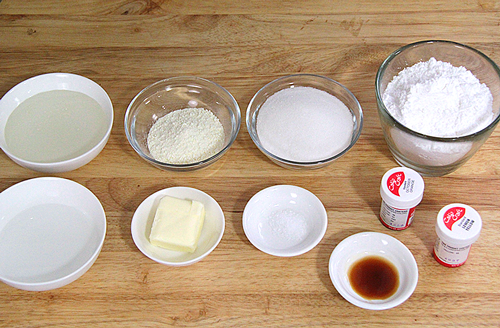 It was actually quite easy to make. It really tasted good. It's not like the candy corn you buy at the store. Of course, the best thing was you know what's in it.
Homemade organic candy corn, made from scratch. I never thought that was going to happen. I was glad it did.
Jessica and I both had fun making this. It didn't take long to make. Out of all the recipes, we think we would make this for a Halloween party again.
It's a really good tasting fondant. It drys nicely and can last for a few weeks.
I loved the texture. Nice, soft and chewy. They aren't hard as a rock. They don't break apart in your mouth like some of those candy corns you buy at the store.
I loved the taste of these candy corns, too. The milk and the vanilla made them really flavorful.
I think my favorite part of the making of candy corn is that you can make it as big or as small as you would like. It was part of the fun. I always wanted to be satisfied with just eating one piece of candy corn.
Now, I can be. Jessica's great idea made me happy. She made some that were 10 times the size of a normal candy corn.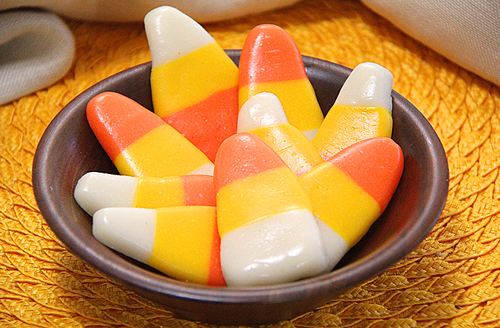 Prep time: 45 mins
Cook time: 25 mins
Total time: 1 hour 10 mins
Ingredients
4½ ounces powdered sugar, approximately 1¼ cups
½ ounce nonfat dry milk, approximately 6½ tsp
¼ tsp kosher salt
3½ ounces granulated sugar, approximately ½ cup
3¾ ounces light corn syrup, approximately ⅓ cup
2½ Tbsp water
2 Tbsp unsalted butter, room temperature
½ tsp vanilla extract
2 to 3 drops each, yellow and orange gel paste food coloring
Instructions
Combine the powdered sugar, dry milk and salt in the bowl of a food processor. Pulse 4 to 5 times until the mixture is smooth and well combined. Set aside.
Combine the sugar, corn syrup and water in a 2 quart pot. Put over medium heat. Cover and cook for 4 minutes. Add the butter and clip on a candy thermometer.
Bring the mixture to 230 degrees, about 1 to 2 minutes. When the sugar syrup reaches 230 degrees, take the pot off the heat and remove the thermometer.
Add the vanilla and the dry mixture, stirring continuously with a silicone spatula until well combined. Pour onto a half sheet pan lined with a silicone baking mat. Cool until the mixture is cool enough to handle, about 10 to 15 minutes.
Divide the dough into 3 equal pieces. Add 2 drops of yellow food coloring to 1 piece and knead the dough until the color is consistent throughout.
Add 2 drops of orange to the second piece and knead until the color is consistent throughout. Leave the third piece white.
Roll each piece of dough into long snakes. Make them however big or small as you would like. Repeat with a yellow piece and orange piece.
Lay the strands side by side and press them together using your fingers.
Cut the combined snake into triangles, alternating angles. Round the edges and corners.
Lay the finished pieces on a piece of parchment or waxed paper to dry for 1 hour. Store in an airtight container with parchment paper between each layer.
Serve.
Enjoy!
I think any Halloween party will go wild with these.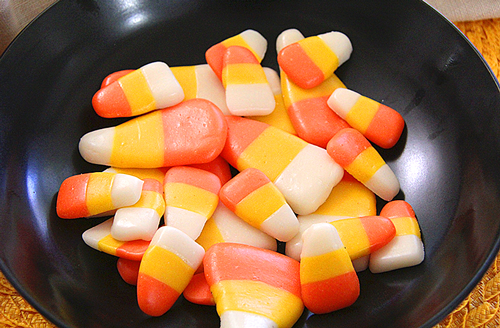 Thanks, Jessica, for making these with me.
Adapted from: http://www.foodnetwork.com/recipes/alton-brown/candy-corn-recipe/index.html