Update and Redux: C – Jim loves his pork-a-palooza burger. But, I wanted to try something different. This is one of the most flavorful pork burgers. It's super moist and tasty … just doesn't pack the palooza of Jim's burger.
C – Jim didn't really want me to make this burger.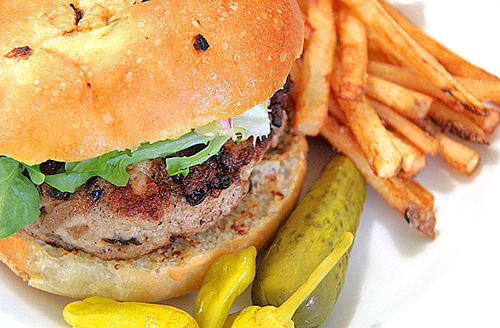 He thought we had already made a pork burger. Yup, we did. But, this one is different. A lot different. Jim made the Pork-a-Palooza sliders. They were delicious, rich and very filling … really good. I wanted to make my own pork burger. A lighter version … maybe. Do we have a competition here?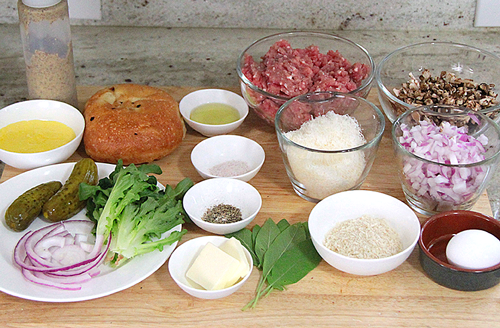 It all started one day when there was a sale on ground pork. I can't resist a sale! But, what the heck was I going to do with ground pork? Well, lots of things. Meatloaf came to mind.
But, I was cooking for my boyfriend and he doesn't have an oven. I had to make something else. Pork burgers were the final result.

This isn't a burger made with just pork meat. It's almost a meatloaf. Ground pork with mushrooms, onions, Parmesan cheese, egg and panko bread crumbs. All mixed together to make a taste explosion in your mouth.

I was happy and satisfied when I ate this one. It was good … really good. Pork can be dry and almost flavorless, all by itself. Especially, since most people tend to overcook it. This combination, almost a meatloaf, keeps it nice and moist. It made the burger light. Not dense like a meat-only burger would have been.

My boyfriend loved it. He requested it three weeks straight. I really enjoyed making it. So, I knew I had a hit. Especially, when our homemade mayonnaise and mustard are involved.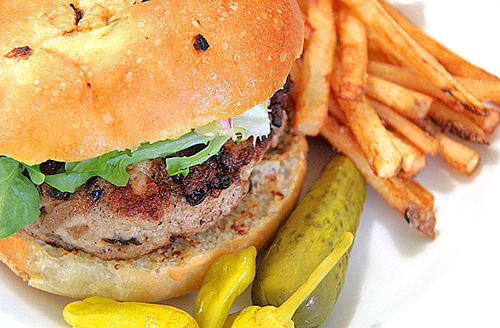 Prep time: 15 mins
Cook time: 6 mins
Total time: 21 mins
Ingredients
½ pound mushrooms, chopped
1 small red onion, chopped
1 pound ground pork
1 egg
¼ cup panko bread crumbs
½ cup Parmesan cheese
Salt and pepper to taste
1 Tbsp butter, unsalted
6 sage leaves
2 burger buns, toasted
Homemade mayonnaise
Homemade mustard
½ onion, sliced
2 lettuce leaves
Instructions
In a medium saute pan on medium high heat, place 1 tablespoon canola oil and mushrooms into pan. Cook until mushrooms have softened. About 3 minutes.
Add onions. Cook until both mushrooms and onions are golden brown. About 5 minutes. Add salt and pepper to taste. Turn off heat and let cool for 10 minutes.
In a large bowl, place pork, egg, panko breadcrumbs, Parmesan cheese, and mushroom/onion mixture in to bowl. Add salt and pepper to taste. Mix until well combined. Do not over mix.
Form two to three patties depending on the size that you want.
Place 1 tablespoon of butter in to a saute pan on medium heat. Add sage leaves. Let melt and turn brown.
Add patties into saute pan. Cook for 2 minutes. Turn patties over and cover saute pan. Cook for about 3 minutes. Remove from pan and let rest for a few minutes.
Place mustard on top side of the bun.
Place mayonnaise on the bottom half of the bun.
Top bottom with a patty.
Top with onions slices.
Top with lettuce leaves.
Top with top of the bun.
Serve with fries and pickles.
Enjoy!
Homemade Mayonnaise recipe
Homemade Mustard recipe
Jim liked it, too. Although, I think, maybe his Pork-a-Palooza sliders are still his favorite.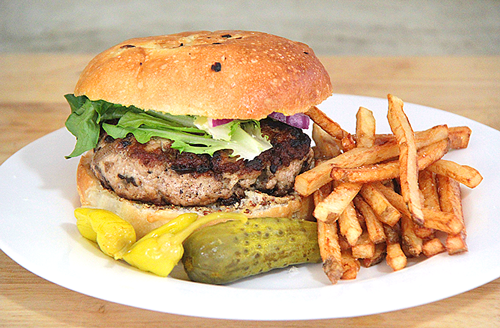 Next time, Jim, I WILL win you over. I will prevail. Yeah, I am a bit competitive. Just a tiny bit.