Update and Redux: C – Vegetarians and non-vegetarians might thank you for this one. If you are looking for a lighter non-meat approach to a burger, try this one. This burger is still one of my favorite vegetarian burgers out there. It's full of great flavors. You might not miss the meat after eating this one.
C – I tried to be a vegetarian in 2008.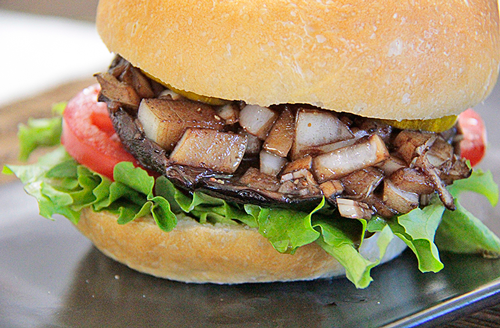 Sadly, I failed miserably. I was depressed, I couldn't figure what to eat. I really craved meat. Lately, something has changed. I have been eating meals without meat. What? Really? I still can't believe it. I think it's time for me to revisit the dish that made me want to be a life-long carnivore: This portobello mushroom burger.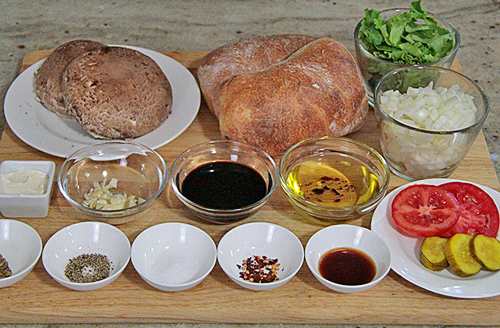 Back in 2008, we had a company BBQ. I was in charge of my own meal, since I was the only one who was a vegetarian. I decided to make a portobello burger for myself.

Sadly, I didn't season it. I didn't know how long to cook it. It became dry and leathery. Jim over-toasted the bun, so it was hard-as-a-rock. Sadly, I didn't eat much of my burger and ended up being hungry all night. I wasn't too happy eying the meaty beef burgers in front of me. This wasn't a pleasurable moment. I haven't eaten a portobello burger since.

Well … until now. Things have changed. I am going to marinate the heck out of these mushrooms. Load them full of flavor. I am not going to miss meat. Nope. Not even when Jim eats that giant French burger in front of me. Or, that Pork-a-Palooza burger. This is going to be good. I am promising this to myself.

I did it right this time. I am proud of myself. The taste of the grill smoke really got into these mushrooms. I loved the dressing I used to marinate these mushrooms. Sweet balsamic, spicy red chili flakes, garlic and onions that were still crispy. All the fixings for a really good burger.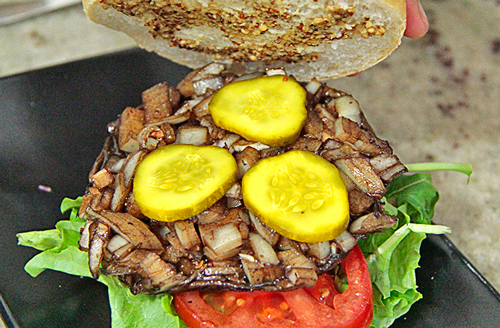 It really hit the spot. Delicious. This was way better than the last time.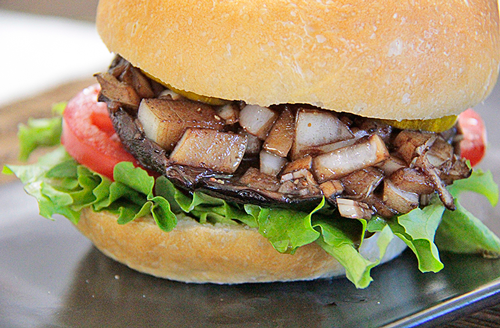 | | | |
| --- | --- | --- |
| Burger Week: Portabello Mushroom Burger | | |
Prep time: 1 hour 15 mins
Cook time: 10 mins
Total time: 1 hour 25 mins
Ingredients
2 large Portobello mushrooms
4 cloves garlic, minced
½ yellow onion, chopped
¼ tsp mustard
¼ cup balsamic vinegar
Salt and pepper to taste
½ cup grapeseed oil
Pinch of red chili flakes
½ Tbsp Worcestershire sauce
2 lettuce leaves
2 slice tomatoes
6 slices pickles
1 Tbsp mustard
1 Tbsp mayonnaise
2 burger buns
Instructions
Mix onion, garlic, mustard, salt, pepper, balsamic vinegar, red chili flakes, Worcestershire sauce and oil in a bowl.
Place the portobello mushroom in a bowl with the gills up, top with the onion mixture. Be sure to put onions and garlic insides the gills. Let sit for at least 1 hour before grilling.
Heat a grill, add the mushrooms gill-side-up. Grill for 10 minutes, covered
While mushrooms are cooking, toast the buns.
Remove mushrooms from grill.
Spread mayonaise on the bottom bun.
Add lettuce and a slice of tomato.
Add the portobello mushroom.
Top with pickles on the mushroom.
Spread mustard on the top bun.
Cover portobello with the top bun.
Serve.
Enjoy!
I am so glad I was willing to revisit a portobello burger. It was something I had steered clear of for a really long time.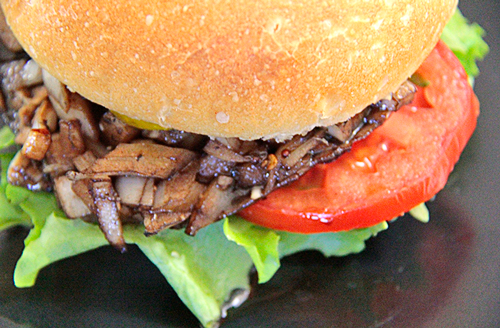 It was so good. The best burger of the week for me.