J – Brunch hash with eggs is a simple thing, right?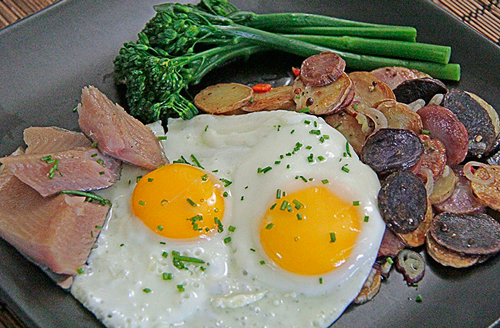 Well, yes and no. Simple and delicious … when you know how to prepare it. A mushy mess, if you don't. Of the many techniques we have learned from Luke, cooking ingredients separately for a complex dish is one of the best.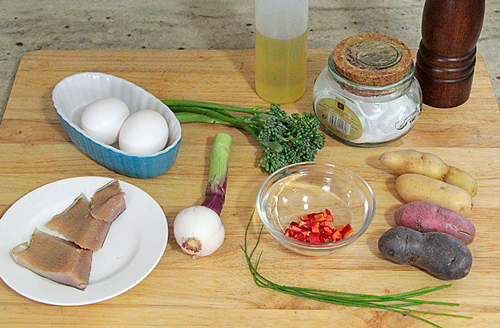 The hash, itself is not complex. The flavors are. So, technique is everything. Mush them together and you lose.

This time, we went all out. A deconstructed smoked trout hash.

Let's make everything shine on it's own, and let the person eating the dish experiment with flavor combinations.

So, fingerling potatoes in multi colors. Spring onions and a Fresno chili. Broccolini, blanched of course. Sunny-side-up eggs. And the star of the dish, smoked trout filet.

The most important technique here is to prepare everything separately. By deconstructing the dish, we take that all the way to the plate.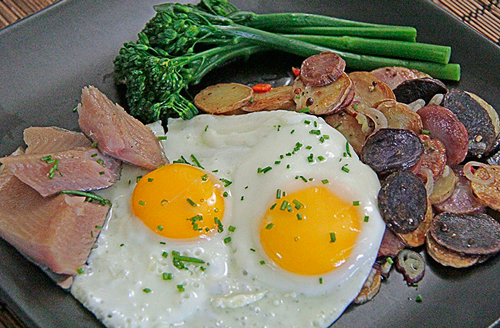 | | | |
| --- | --- | --- |
| Brunch Week: Smoked Trout Hash … Deconstructed | | |
Prep time: 72 hours
Cook time: 15 mins
Total time: 72 hours 15 mins
Ingredients
1 trout, fileted and deboned
½ cup kosher salt
½ cup light brown sugar
½ bunch fresh thyme
½ bunch fennel greens
1 yellow, onion, pealed and quartered
12 black pepper corns
1 large bay leaf
2 quarts water
¼ Smoked Trout filet, cut into pieces
½ Fresno chili, chopped
4 multiple colors of fingerling potatoes, slice into ¼ inch coins
1 spring onion, sliced thinly
2 eggs
3 broccolini, bottoms trimmed, blanched
Salt and pepper to taste
Instructions
Combine all ingredients in a pot. Boil, then simmer for 30 minutes
Cool to room temperature
Pour over trout filets in a ¼ hotel pan
Cover and store in refrigerator for 3 days.
Heat charcoal on grill, set for indirect heating.
Add water-soaked chips when coals are ready.
Add trout on grill, away from charcoal.
Cover and maintain 200 degrees for about 30 to 45 minutes.
Trout should finger-test as done. If not, continue smoking.
Remove and reserve for use. Can store refrigerated for about a week.
Heat a saute pan with a tablespoon of grapeseed oil. Place fingerling potatoes and cook until golden brown. Don't crowd, work in batches. About 5 minutes. Remove and set aside in a bowl.
In the same saute pan, cook spring onions and chilies until tender, about 2 minutes.
Add back the fingerling potatoes to reheat and let sit on low to keep warm.
Cook eggs sunny side up.
Begin assembling the dish by placing the hash on the plate.
Place blanched broccolini on one side of the hash.
Place eggs partly over the hash.
Place the smoked trout on the plate.
Serve immediately.
Enjoy!
Taste test. Delicious. I loved being able to assemble whatever bite flavors I wanted. It made the dish even more interesting.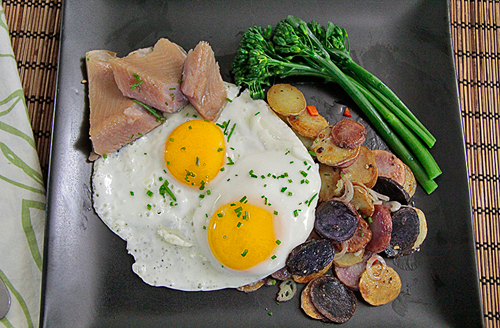 This dish is really worth doing … if for no other reason than the conversation about flavor combining. Of course, it tastes great as well.