C – Brunch is getting fancy, now.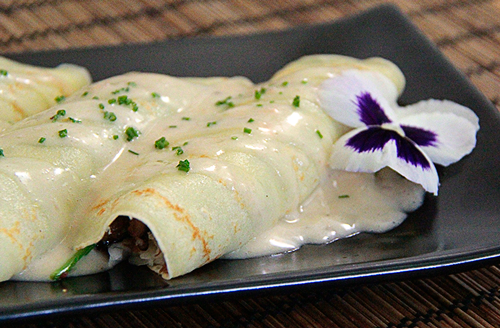 Savory crepes are probably one of the most elegant, rich and impressive things to make for a brunch. It looks hard. It's actually simpler than you might think. The crepe and the sauce are the two hardest parts to this recipe. The filling is pretty simple.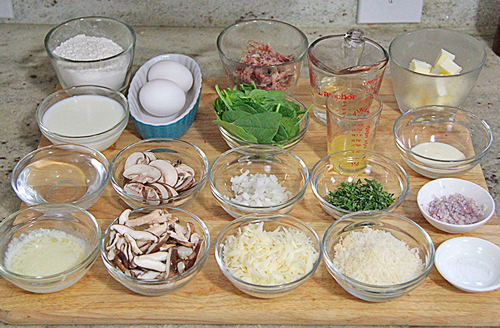 The only extravagant thing you need is duck wing confit.

The crepe wrappers take a while. But, you can make them a few minutes ahead of time and reheat them when you are ready to serve. The filling can also be made a head of time and reheated at the last minute too.

The only thing that is a challenge is the Beurre Blanc sauce. It needs to be made last and served immediately. It can break and you might have to start all over.

It can be a little challenging to juggle the Beurre Blanc sauce and assembling the crepes.

Of course, you can place the already made crepes with filling in a low temperature oven for a few minutes while making the sauce.

Just make sure not to dry out the crepe wrappers.
They end up being delicious, flavorful and really filling. I had two and wished I had made a third, since there was so much flavor in them.

Once I finished the second one I was full, though. I loved the duck wing confit, spring onions with peppers and cheese combination. I usually make sweet crepes so this was a delightful treat to have.

I loved the Beurre Blanc sauce on top. It really added a lot of flavor and moisture to the crepes. If there wasn't a sauce, the crepes might be too dry. Serve immediately, to ensure that you don't have a soggy crepe either.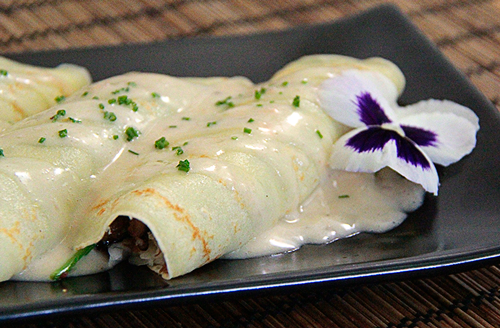 | | | |
| --- | --- | --- |
| Brunch Week: Duck Wing Confit Crepes with Beurre Blanc Sauce | | |
Prep time: 15 mins
Cook time: 20 mins
Total time: 35 mins
Ingredients
1 cup all purpose flour
2 eggs
½ cup milk
½ cup water
¼ tsp salt
2 Tbsp butter, melted
4 duck wing confit, bones removed, shredded (recipe link below)
5 small cremini mushrooms, sliced
5 small shiitake mushrooms, sliced
1 spring onion, sliced
½ cup baby spinach
1 tsp oregano, minced
1 tsp thyme, minced
½ cup Parmesan cheese
½ cup fresh Asago cheese (not dry)
1 shallot, chopped fine
4 ounces dry white wine
1 ounces lemon juice
½ Tbsp heavy cream
6 Tbsp cold unsalted butter, cubed
Salt and white pepper, to taste
Instructions
In a large mixing bowl, whisk together the flour and the eggs. Gradually add in the milk and water, stirring to combine. Add the salt and butter; beat until smooth.
Heat a lightly oiled griddle or frying pan over medium high heat. Pour or scoop the batter onto the griddle, using approximately ¼ cup for each crepe. Tilt the pan with a circular motion so that the batter coats the surface evenly.
Cook the crepe for about 2 minutes, until the bottom is light brown. Loosen with a spatula, turn and cook the other side.
Serve hot.
In a saute pan, heat on high and add a tablespoon of oil. Add mushrooms and cook until golden brown.
Add onions and cook until tender. Salt and pepper to taste.
Add herbs and spinach. Cooking until spinach is wilted.
Remove and place in a bowl to cool and set aside.
Combine the shallots, white wine and lemon juice in a non-reactive saucepan over high heat and reduce to 2 tablespoons.
Add the cream to the reduction. Once the liquid bubbles, reduce the heat to low.
Add the butter, one cube at a time, whisking first on the heat and then off the heat.
Continue whisking butter into the reduction until the mixture is fully emulsified and has reached a rich sauce consistency.
Season with salt and white pepper.
Hold beurre blanc on extremely low heat until ready to serve.
Place one pre-made crepe in a small saute pan and heat on low to keep warm.
Place filling in the middle in a straight line.
Add both cheeses to the top and roll them.
Place on a plate with the seam side down.
Repeat two more times. (One serving has three on a plate.)
Drizzle beurre blanc sauce over top.
Sprinkle some chives.
Serve immediately.
Enjoy!
Duck Wing Confit recipe
It was an amazingly delightful brunch dish.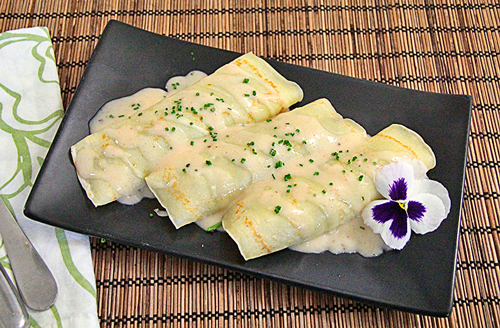 I would have this every weekend for a treat … if it wasn't so rich.