C – These were the most surprising pickles for me.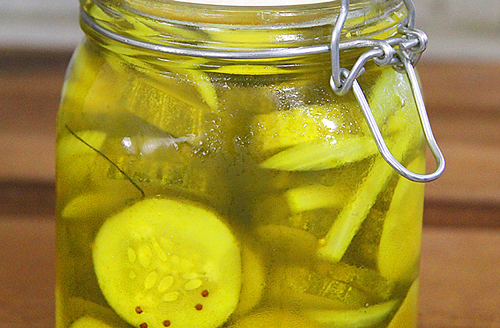 I usually avoid buying bread and butter pickles from the grocery store. They always seem to go wasted. They usually are too sweet for their own good. I just don't understand why people could like them so much.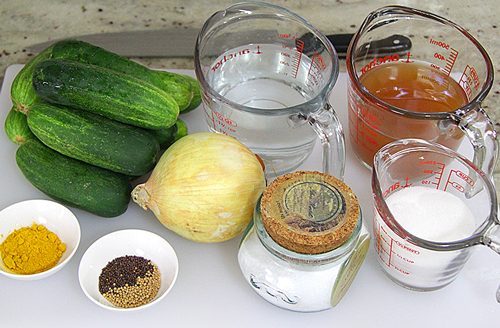 When Luke suggest we make some, I was reluctant. Of course, I couldn't pass up homemade pickles. It's such a rare treat for someone to make me homemade pickles.

Of course, if I don't like them, I am sure Jim will eat them. Right?

I was surprised that these pickles didn't taste like the sweet bread and butter pickles I am used to. They were crunchy slices of perfectly balanced pickles. I loved the taste. They were slightly sweet, salty and sour tasting. They were so good. I loved them with the tuna sandwich I made.
I was really surprised. The combination of the mustard and the turmeric really made these pickles taste a lot different than the dill pickles we made earlier. They were the best bread and butter pickles I have ever had.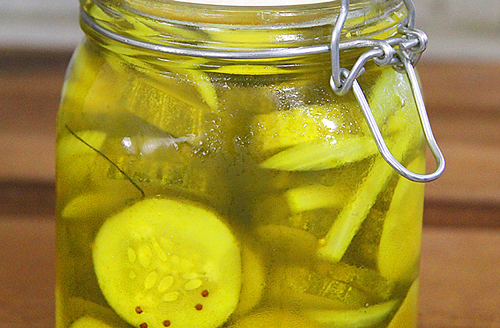 Prep time: 1 hour
Total time: 1 hour
Ingredients
8-10 pickling cucumbers, sliced ¼ inch thick
½ white onion, sliced
1 Tbsp tumeric
½ Tbsp yellow mustard seed
½ Tbsp brown mustard seed
2 cups white vinegar
1⅓ cups apple cider vinegar
6 Tbsp sugar
4 Tbsp salt, divided
Instructions
Place cucumbers in a medium bowl. Add 2 tablespoons salt and water to cover the cucumbers the in bowl. Mix well. Let sit for 30 minutes.
Drain the salt water. Place onions and cucumber, without the salt water, into the pickle jar. Alternate onion and cucumber until the jar is completely filled.
In a medium sauce pan place vinegar, turmeric, mustard seeds, sugar and 2 tablespoons salt. Bring to a boil. Turn off heat and let cool to room temperature.
Place liquid mixture into jar. Place jar in refrigerator and let sit for 2 weeks.
Shake once a day to ensure seasonings are distributed evenly.
DO NOT OPEN UNTIL READY.
Open after two weeks to taste.
Serve with sandwiches or eat as a quick snack.
Enjoy!
Thanks, Luke, for making the best bread and butter pickles I have ever had. These definitely won't go to waste.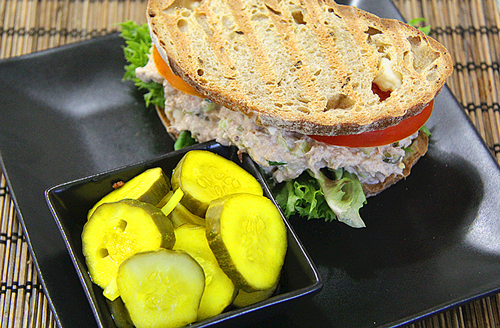 Can't wait to try them with burgers and more tuna fish sandwiches.