J – I've always been intrigued by the thought of eating squab.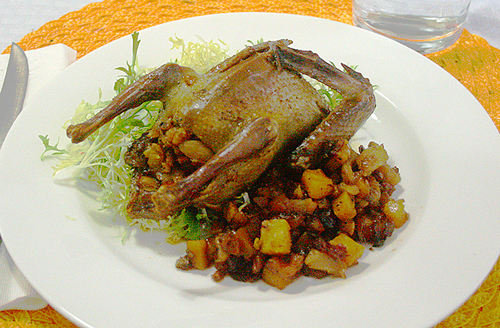 Seemed so exotic and elegant. Like one of those movies where everyone is eating, drinking and being decadent. Sounds like fun. Alas, I never got around to ordering them or cooking them. No idea why. Squab have always been a mystery to me. So, it was time to push boundaries. I researched it. Squab are just young, domesticated pigeons, for crying out loud!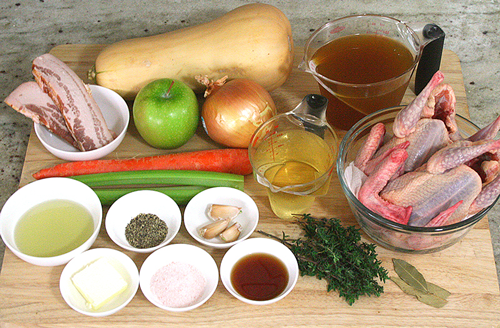 That said, I was even more interested after doing the research. People really seemed to like them. All dark meat. Tender, moist … if cooked right. Richer than most poultry. Might lend itself to the rustic hashes we'd been doing. Could be worth a try.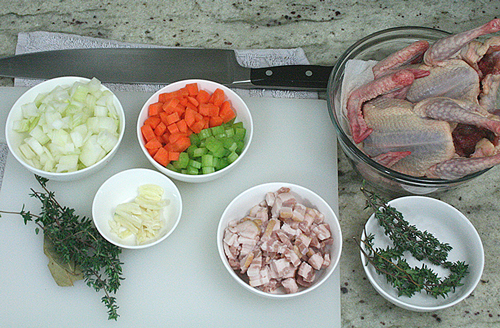 Better ask Luke, just to see if I was missing anything … I wasn't. He suggested braising them, stuffed with a hash. Actually, you braise them with herbs stuffed inside. Then, you remove the herbs and finish them with the hash stuffed inside. Braising with the final stuffing would make for a gloppy bird on the plate.

Got the squab at our favorite poultry supplier, New America Poultry, here in Sacramento. They were fresh, never frozen. Nice. That was actually not surprising, considering the chickens I get there. Seems like they "process" squab about once a week. Off to a good start.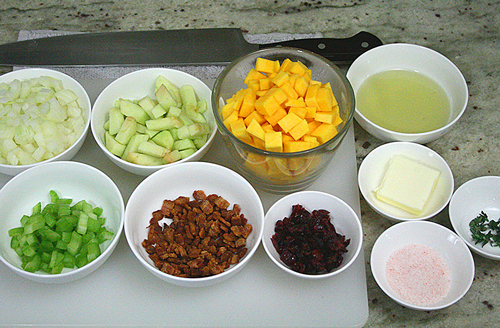 Braised, stuffed squab is a multi-part deal.

Brown and braise the squab. Make the hash. Stuff the birds and bring them up to a serving temperature. None of the parts take all that long, and the first two can be done at the same time. Allow about 2.5 hours for the whole thing.

The squab were delicious. The rich density of the meat and the hash were great companions.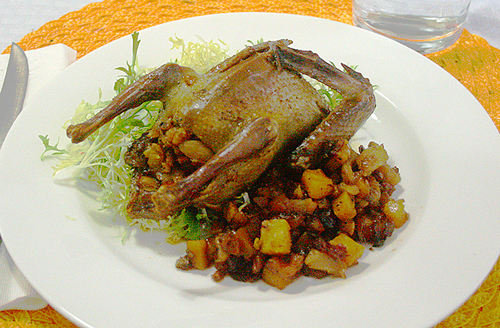 | | | |
| --- | --- | --- |
| Braised Stuffed Squab with Late Winter Hash | | |
Prep time: 40 mins
Cook time: 1 hour 40 mins
Total time: 2 hours 20 mins
Ingredients
2 fresh squab
½ medium onion, diced
¼ cup carrot, diced
¼ cup celery, diced
2 garlic cloves, pealed, sliced
2 oz bacon, diced
2 bay leaves
1 Tbsp thyme + 4 sprigs
2 Tbsp grapeseed oil
1 Tbsp white balsamic
1 cup white wine
4 cups low sodium chicken stock
½ onion, dices
½ cup Granny Smith apple, pealed, diced
1 cup butternut squash, diced
½ cup celery, diced
2oz cooked bacon, from braising prep.
⅓ cup dried cranberries
1 tsp thyme leaves
2 Tbsp grapeseed oil
2 Tbsp unsalted butter
1 tsp salt + to taste
Pepper to taste
Instructions
Heat oven to 325 degrees.
Salt and pepper squab. Stuff equally with thyme sprigs.
In a braising pan, cook bacon and reserve. Keep bacon fat in pan
Add grapeseed oil and heat to very hot.
Add squab and brown on all sides. Remove and set aside.
Add carrot, onion, celery, garlic, bay leaves and thyme to hot pan. Reduce to medium high. Cook until translucent and beginning to carmelize
Return to high heat.
Add white wine and balsamic. Reduce until almost evaporated.
Add stock and heat to boiling.
Add squab.
Cover with heavy foil and cover pan.
Place in oven for about 1.5 hours.
Check for doneness. Squab should be almost done.
When done, remove and reserve squab. Remove herbs from interior.
Separate fat from stock, if any. Reserve for serving.
In a small saute pan, heat 1 Tbsp oil and saute onions and celery. Reserve.
In the same pan, heat 1 butter oil and saute apples. Reserve.
In the same pan, heat 1 tablespoon oil. Add thyme and saute butternet squash. When almost done, add 1 tablespoon butter. Finish cooking. Reserve.
Combine all vegetables with cooked bacon and dried cranberries in saute pan.
Heat and add 1 tablespoon butter.
Salt and pepper to taste.
Remove and reserve for stuffing squab.
Unused stuffing can be baked in a separate dish.
Heat oven to 325 degrees.
Stuff squab with hash mixture.
Wrap in foil and place in oven for 15 to 20 minutes (more if birds are colder)
Bake extra hash at the same time.
Remove squab and unwrap.
Serve on greens with additional hash on the side.
Enjoy!
For the future, I would probably make a simple, reduced sauce from the braising liquid.
Nice adventure. I'll be returning.