C – Sometimes a normal smoothie just isn't enough.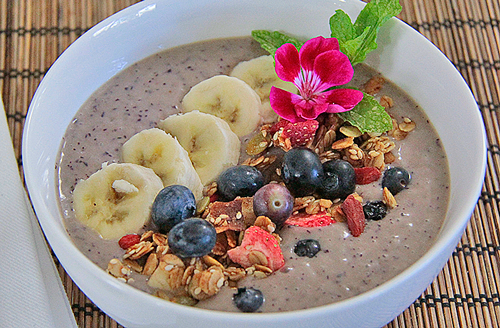 I love smoothies. But, sometimes, they just don't satisfy me completely. There is something about drinking my meal that doesn't cut it. I need more. This smoothie bowls will do the trick. Load it with lots of granola and more fruit.
I love that I can add a little of everything in it to make a great breakfast.

This time I added some overripe bananas into the blend, then topped it off in the bowl with just a regularly ripe banana. I also added some of my favorite homemade granola, along with more blueberries.

It's like cereal without the milk.
If you add a lot of ice to the smoothie the results are like ice cream. I really wished I added more ice or frozen the fruit before blending.

Just be careful not to burn out your blender, if it isn't a high-powered one. Ours isn't a high powered blender, so fresh fruits worked best to take care of the motor.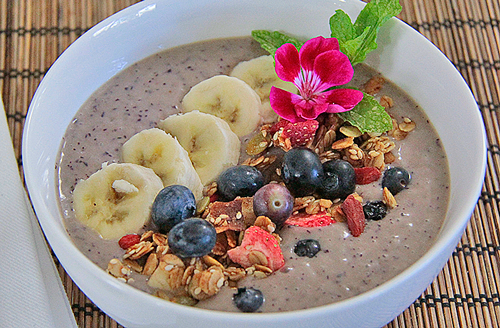 | | | |
| --- | --- | --- |
| Blueberry Week: Blueberry Smoothie Bowl | | |
Prep time: 10 mins
Total time: 10 mins
Ingredients
1 cup apple juice
3 banana, divided, 1 ripe and 2 overripe
2 cups blueberries, plus more for topping
½ avocado
1 cup ice cubes
4 oz yogurt
1 cup granola
Instructions
Place in a blender 1 cup apple juice, 2 overripe bananas, 2 cups blueberries, avocado, 1 cup ice cubes, yogurt. Blend until smooth.
Pour smoothies into serving bowls.
Top with granola, sliced bananas and more blueberries.
Serve.
Enjoy!
Homemade Granola recipe
This smoothie bowl might even be good for dessert. Just add any toppings you would like. This is great for hot summer mornings or just to cool off in the day.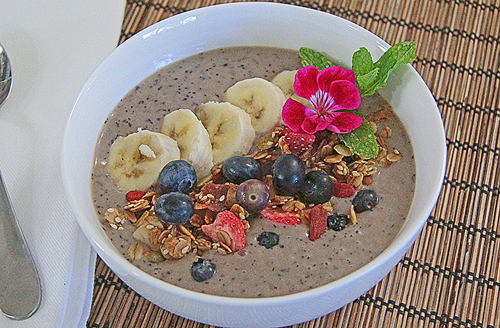 Hope you enjoy it.