C – I think I have perfected this soup.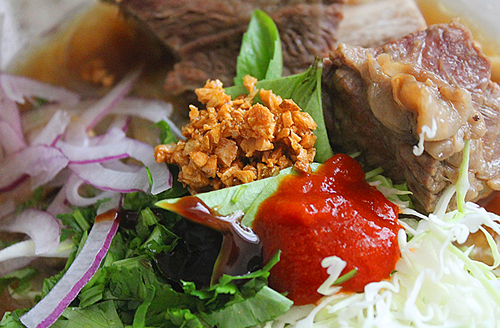 I have been making soups like this for years. And, this soup for over 10 years. I could do it in my sleep. Just water, meat, onions and a few spices, noodles, cilantro, green onions, Hoisin and hot sauce. Done.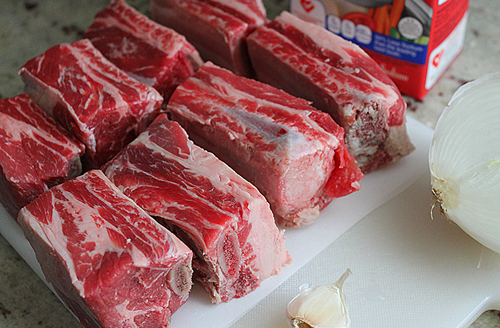 Jim came over one day and brought his version of Pho that he found from some cooking Web site. It was not good. It was an overkill of spices with a really thick stock. I couldn't swallow it. It really needed to be watered down. I didn't like it much. Of course, I had to make him my version of Pho and this was it.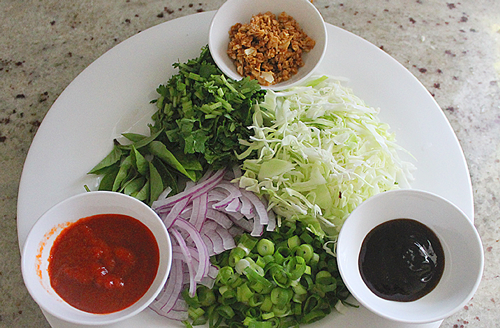 It's not exactly Vietnamese-style Pho. It's a simple, Cambodian-style rice noodle soup. The difference between Pho and rice noodle soup is that I don't add any star anise or strong spices into the soup base. It's nice and simple. Just broth, an onion, some fresh greens and seasonings at the end to taste.

Any meat will do. But, this time it was beef short ribs. I wanted something special to show off to Jim. I cooked the short ribs for about 2 hours until they were falling off the bone. Then, I added some onions and some salt to taste.

Assembling is when everything comes together. Assemble the soup by adding noodles first. Then, add green onions, cilantro, a squeeze of lime, hot sauce, hoisin or sugar to balance out the flavors. Finally, a dash of pepper to balance everything out.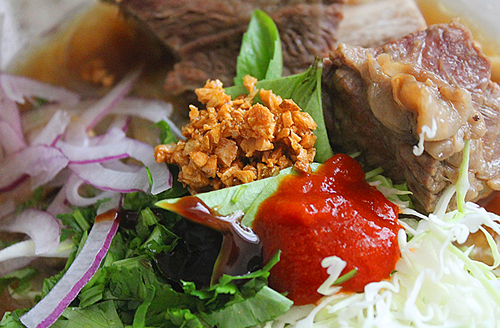 | | | |
| --- | --- | --- |
| Beef Short Rib Rice Noodle Soup | | |
Recipe type:
Mains, Soups
Prep time: 15 mins
Cook time: 2 hours 10 mins
Total time: 2 hours 25 mins
Ingredients
5 quarts water
4 cups beef stock
8 beef short ribs, individually cut
1 tsp salt or to taste
1 red onions, sliced into 16 quarters
½ a package rice noodles, cooked as directions on the package
Black pepper, to taste
1 Tbsp Hoisin sauce
1 Tbsp Sriracha sauce (optional)
2 green onions, chopped
¼ cup cilantro, chopped
½ tsp sugar (optional)
1 lime, quartered
Instructions
In a 10 quart stock pot, fill halfway with water. Add beef stock. Bring to a boil.
Add beef short rib and cook for 2 hours, or until beef can be pulled easily from the bone
Add salt and onions. Bring to a boil for about 5 minutes.
In individual serving bowls, place cooked rice noodles on the bottom.
Add soup with 1 or two short ribs and a few onions.
Add black pepper, a squirt of Hoisin sauce, Siracha sauce, green onions, cilantro, and a squeeze of lime.
Serve immediately.
Enjoy!
I love this dish. Chewy long rice noodles with big chunks of beef. A nice, clear broth highlighted with fresh green onions and cilantro. I love how each person can adjust the soup to their own preference. Add a bit of hoisin or sugar for sweetness. Or, some lime to balance out the sweetness. Add a bit of heat if you want to.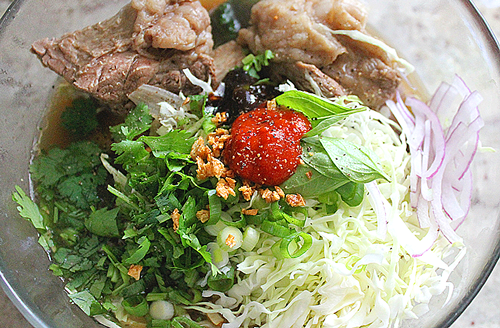 Delicious. I love this soup.