Update and Redux: J – This is not exactly an update … I must apologize. This is a delicious dish we made this year … and Christina researched to my great pleasure … and, I forgot to finish and publish it during Cuban Week. Such is the publishing life. No worries. You really need to make this sandwich! It's awesome. The movie, Chef, is worth seeing as well.
C – I have never had an authentic Cubano sandwich before.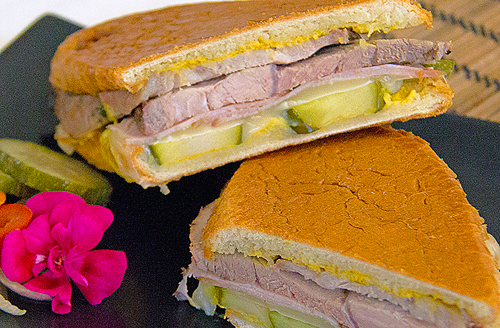 I guess I have to go to Florida (or Cuba) to experience that. The one Cubano sandwich I had in Sacramento left me in a food coma. I didn't like roasted pork much after that. They put too much of it in the sandwich and it was really dry.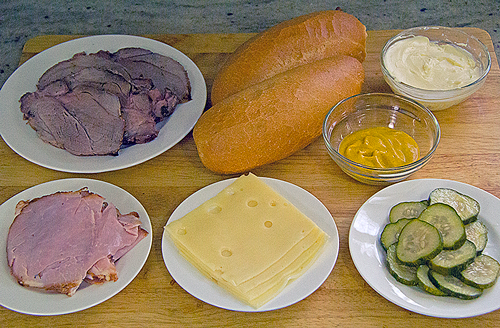 I have had a decent one in San Francisco. I think they got their version from Florida and were taught by a Cuban. It was delicious. It had the perfect amount of roasted pork. It wasn't too thick or thinly sliced. The pork was moist and really flavorful. The flavors blended well together.

That sandwich is what I imagined a good Cubano sandwich should be. You know like the one in the movie Chef. When Luke suggested we do an entire week on Cuban food, the first thing Jim mentioned was Cubano sandwiches and that movie.

I had to watch it again to get a refresher. There were lots of important things in that movie about a good Cubano sandwich. You have to get good bread. The pork roast and marinade was key, Swiss cheese a must, and some yellow mustard.

But, the most important thing was using a Plancha (a panini press will have to do for us). Toasting the sandwich is key. Of course, adding butter inside and out makes this sandwich extremely wonderful.

I discovered that there was a recipe for the marinaded pork recipe that Roy Choi made for the movie. I had to try it. It was the perfect for the sandwiches.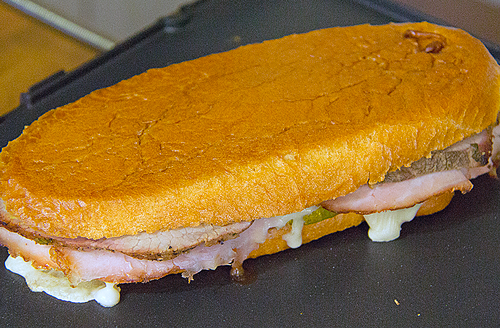 All I needed was to add a few slices along with sliced deli ham, homemade pickles, yellow mustard and lots of butter.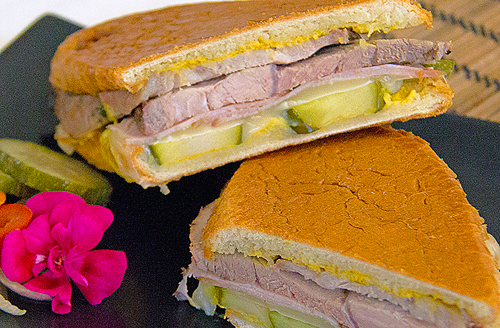 | | | |
| --- | --- | --- |
| Be Mindful. Be Human. Birthday Week 2016: Cubano Sandwich | | |
Prep time: 10 mins
Cook time: 6 mins
Total time: 16 mins
Ingredients
2 Hero or French rolls, cut lengthwise
Room temperature butter for toasting the bread
2 Tbsp yellow mustard
4 thick slices of Mojo marinaded pork shoulder (recipe in the link below)
4 slices deli ham
4 slices Swiss cheese
16 sliced pickles
Instructions
Heat a griddle or panini press on medium high.
Butter the cut side of the bread. Place the cut side on the griddle and toasted until golden. Remove from griddle or press.
Spread a thin layer of mustard on the cut side of each bread piece.
On the bottom piece of the bread, cut side up, place 2 slices of the Mojo marinaded pork shoulder.
Top with ham, cheese and pickles. Place the top piece of the bread on the sandwich.
Spread a thin layer of butter over the top and bottom of the sandwiches and place on a panini press or skillet with another heavy pan on top to press. Toast until golden brown.
Serve.
Enjoy!
The result was amazing. The pork was nice and juicy. The bread was crispy and flat. The combination of the crispy juicy pickles and tart mustard was amazing. It allowed a heavy sandwich to be lighter and enhance the flavor of the meat.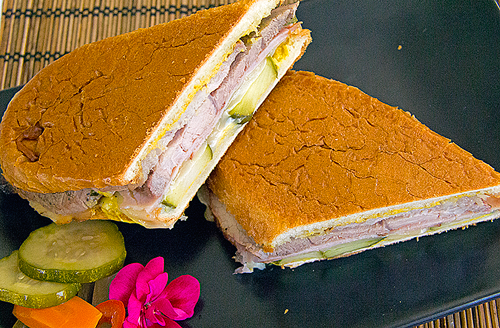 I can image a sandwich like this on a splurge eating adventure in Florida. But, if you can't make it there, try making one yourself. It's an incredible sandwich.