C – Sometimes, Jim really wonders what goes through my mind
… when I make something like banana coconut nutella cigars on a Thursday afternoon. Good question. Answer, I am crazy. Just kidding. It's more like I'm being practical. We had a couple of bags of really cheap, well-ripened bananas. I already made 3 quarts of banana ice cream for Jim, a huge batch of banana bread muffins for my parents and still had a few bananas left over.
Of course, if you don't know me by now, I hate wasting food. A few bananas left. I was kind of tired of bananas and needed to change up my routine a little. I had to be creative. Creative might sometimes mean I go a bit crazy making weird things.

The adventure of raiding the Be Mindful. Be Human. refrigerator and pantry is always fun. What can I get away with … and not have to go to the store to buy? We had a well-stocked pile of goodies that needed to be used. Leftover flaked coconut from those coconut macaroons, left over spring roll wraps from the shrimp egg rolls I made last week.

I know a whole article about leftover spring roll wrappers and I still have leftovers. Go figure. But, the most important thing was a brand new jar of nutella that has been calling my name for weeks. I was weak. I gave in when I was at the grocery store. I know I should be making my own nutella. But, I just couldn't help it. I have to be human sometime.

Simple ingredients and a flavor combination that I couldn't wait to try out.
| | | |
| --- | --- | --- |
| Banana Coconut Nutella Cigars | | |
Prep time: 10 mins
Cook time: 10 mins
Total time: 20 mins
Ingredients
6 egg roll wrappers
1½ ripe bananas, cut lengthwise and crosswise. You should have 6 equal-sized pieces.
1 cup nutella
1 cup toasted sweet coconut flakes
½ cup toasted hazelnuts, ground
Pinch of salt
1 egg yolk, beaten
2 cups canola oil, for frying
Instructions
Place nutella, coconut, hazelnuts and a pinch of salt in a bowl. Mix well.
Place one egg roll wrapper down in front of you. Turn it to look like a diamond.
Place 1 tablespoon of nutella mixture ⅓ of the way from the bottom. Spread thinly in a 2 inch rectangle.
Place a banana slice on top.
Bring bottom over to cover the banana/nutella area.
Fold in sides of the wrapper.
Begin to roll until you almost meet the top.
Add a small dollop of egg yolk on the edge of the wrapper to seal. Finish the roll.
Repeat until remaining wrappers and filling are gone.
In a large saute pan. Add canola oil and heat on medium.
Test with a chop stick to see if oil is ready. You will notice the oil around the chop stick has small bubbles when ready.
Add egg rolls slowly into pan. Work in batches to make sure you don't crowd the pan. Cook until golden brown.
WARNING: Nuttella might explode into the oil, if there are holes in the wrapping. It will be fine. But, it just might look bad with chocolate in the oil.
Remove cooked cigars from pan and place on a paper towel to absorb excess oil.
Wait a few minutes for the filling to cool down.
Serve by themselves or with ice cream.
Enjoy!
These cigars were amazing. Not too sweet, because I added a touch of salt to balance out the ripe banana, sweet coconut and very sweet nutella. Incredibly crunchy from the spring roll wrappers, coconut and chopped hazelnuts. Creamy and gooey from the banana and nutella combination. Of course, my favorite part was the flavor. Wow, it was amazing. Nutty, chocolate and banana with a hint of coconut. It was the perfect portable dessert.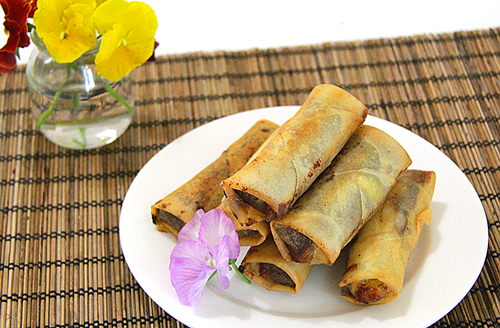 What more could you ask for? Nothing. Well, almost nothing. Jim ate it with some homemade banana ice cream. Yeah, I might be crazy. But, Jim took it over the top. Glad you liked it, Jim. Glad you like my crazy ways too.