C – If you don't know, I complain a lot about dry chicken here.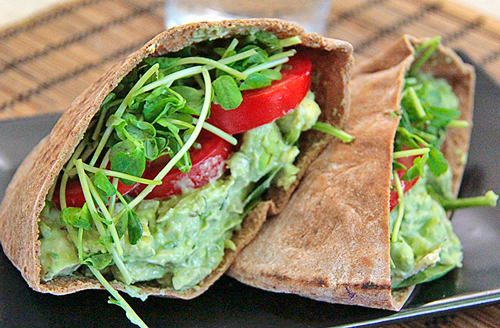 One of my biggest griefs at Be Mindful. Be Human. is what to do with dry, left-over chicken breast. If we don't use it in the first few days, it will get dry. Jim has mastered roasting a chicken to make it not dry. But, after a few days and being leftover from previous shoots, they tend to be dried up.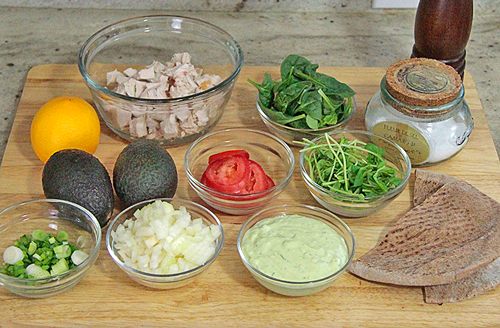 Sorry, Jim, no matter what you do with the chicken breast, it's going to get dried up.

Oh well, I will just have to figure out what to do with it. The easiest thing I could think of is to make a chicken salad. I love making chicken salad out of dried-out chicken.

Dressing + dried-out chicken = a new dish

This avocado chicken salad is perfect for dried-out chicken breast. Creamy chunks of avocado with avocado ranch, a few onions and chicken. A quick and easy dish that won't let the leftover chicken go to waste.

I put the chicken salad into a pita and I was all set. A delicious healthy lunch that was super fast. I loved that creamy chicken salad with the tomatoes and spinach really made it felt like Spring in my mouth.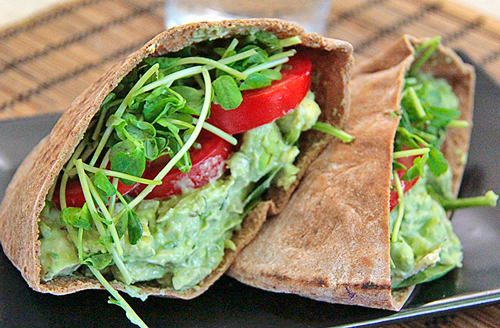 | | | |
| --- | --- | --- |
| Avocado Week: Avocado Chicken Salad Pita | | |
Prep time: 15 mins
Total time: 15 mins
Ingredients
2 roasted chicken breast halves, cubed
2 avocados, pitted, peeled and cubed ½ inch pieces
¼ lemon, juiced
¼ cup avocado ranch dressing, more if desired (See recipe, below)
¼ white onion, chopped
Salt and pepper to taste
¼ cup fresh pea sprouts
½ tomato, sliced
10 baby spinach leaves
1 pita, cut in half
Instructions
In a medium sized bowl, place chicken pieces, avocado, lemon, onion, avocado ranch dressing, salt and pepper to taste and mix well.
Open pita pocket and add a layer of spinach.
Place two large spoonfuls of chicken avocado mix into the pita on top of the spinach.
Top chicken avocado mix with tomatoes and sprouts.
Serve.
Enjoy!
Avocado Ranch Dressing recipe
It was so good I wanted more. But, I couldn't because the pita and the avocado chicken salad ware so filling.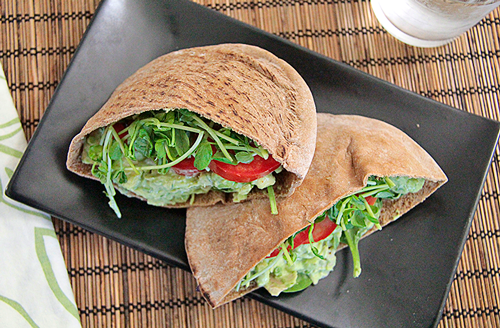 Thank goodness I figured out a great way to use dried-out chicken breast. I would hate to waste all that chicken just because it was a little dry.