C – I think Jim is addicted to duck fat.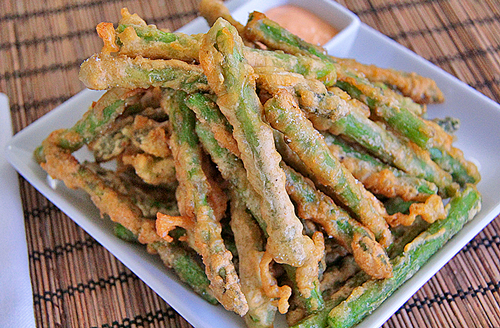 His requests to fry everything in duck fat have gotten a little out of hand. Duck fat fries were one thing. But, we have gone on to frying chicken wings in duck fat. Now, we're doing these beer battered asparagus fries in duck fat.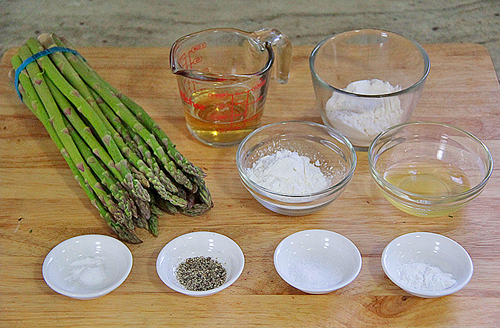 Does it add more flavor to the fries? Yes.
I usually can't tell the difference between oils. But, duck fat really is different. These fries almost taste like meat.

As I was eating them, it tasted like I was eating an entire meal in one stick. Green crispy asparagus with a nice meaty component. The beer batter really added a lot to the flavor.

Wow, it was good. I was first reluctant to fry up an entire pound of the asparagus. But, when we started eating them we couldn't stop. We ended up eating half a pound each.

What I really loved about these fries was the size of the asparagus. They weren't too skinny or too thick. They were a perfect medium thickness.
So, they weren't overcooked or undercooked. It was the perfect size. Size does matter for these fries.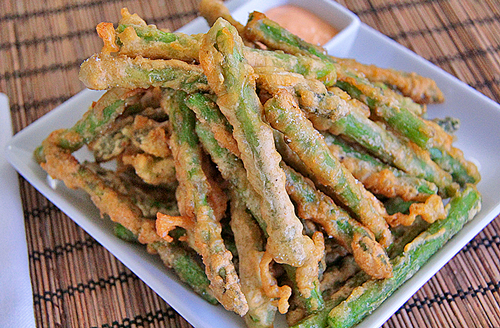 | | | |
| --- | --- | --- |
| Asparagus Week: Beer-Battered, Duck-Fat-Fried Asparagus | | |
Prep time: 10 mins
Cook time: 2 mins
Total time: 12 mins
Ingredients
1 pound asparagus, woody parts trimmed and discarded. Cut into halves
⅓ cup flat beer
1 egg white
6 Tbsp all purpose flour
¼ cup cornstarch
½ tsp baking powder
½ tsp black pepper
½ tsp salt
¼ tsp baking soda
salt to finish
4 cups duck fat for frying
Instructions
In a medium mixing bowl, place flour, cornstarch, baking powder, baking soda, salt and pepper. Mix well.
Add egg white and beer. Mix well.
Add asparagus and mix gently but well.
Heat duck fat to 350 degrees. Use a candy thermometer.
Place a few asparagus at a time into frying pan. Cook until golden brown. About 2 minutes.
Remove from pan and place on a paper towel to drain.
Sprinkle salt.
Repeat the process with the remaining asparagus.
Serve with Sriracha mayo.
Enjoy!
I guess Jim's addiction to duck fat is a good thing. Especially, with these beer battered asparagus fries.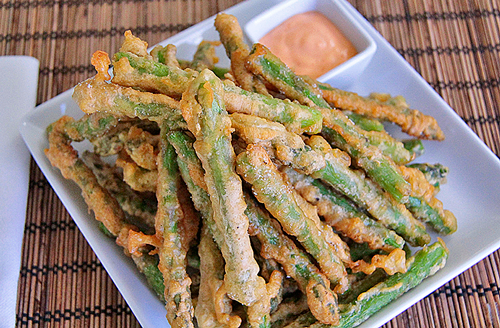 There is no going back to regular oil for these fries.
Adapted from: http://cookingfortwo.about.com/od/vegetablesandsidedishes/r/friedasparagus.htm