C – I have to confess something.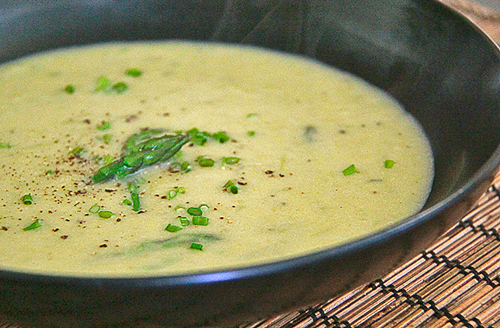 I think I am starting to like creamy soups … finally. I use to loathe them. I use to say creamy soups felt like baby food. Now, I am the one suggesting we make it. Never thought this day would come.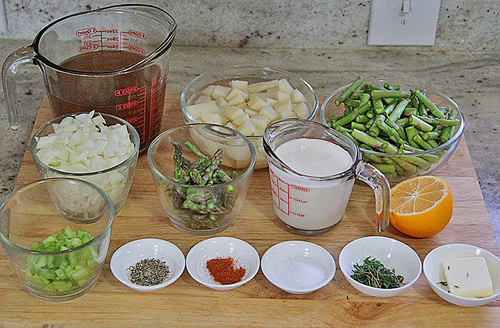 I am proud of myself. I don't consider creamy soups baby food as much anymore. I did mention it's growing on me.

I still don't like many creamy soups. But, ones like this creamy asparagus soup are growing on me.

I did sneak a few leftover asparagus tips on top so wouldn't be completely creamy. I am taking baby steps here.

I can't just eat a creamy soup all by itself. I am trying though.

This soup is really flavorful. I love the lemon and cream. They both add great flavor. The cayenne is a great little surprise, also.

My favorite part that you can't even taste is the potato. It really adds to the thickness.

Maybe that's what makes me like this soup. It's really thick and hearty. I have had thick asparagus soup before. I didn't like it as much, then.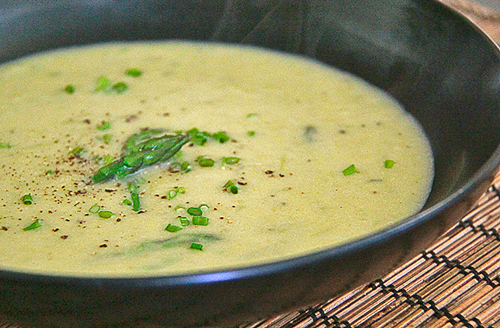 | | | |
| --- | --- | --- |
| Asparagus Week: Asparagus Soup | | |
Prep time: 15 mins
Cook time: 25 mins
Total time: 40 mins
Ingredients
1 pound asparagus, woody ends removed, cut into 1 inch pieces. Separate the tips
1 onion, diced
1 Tbsp unsalted butter
3 cups chicken stock
1 Russet potato, peeled and diced
1 celery stalk, chopped
1 Tbsp fresh thyme
½ cup heavy cream
salt and pepper to taste
pinch of cayenne
½ lemon, juiced
A few chives, chopped for garnish
Instructions
Place butter in a medium pot on medium high heat. Let melt.
Add onion and a pinch of salt and pepper. Saute until translucent.
Add thyme and celery. Cook for 3 minutes or until tender.
Add potatoes, the asparagus bottoms and stock. Mix well. Bring to a boil and reduce to a simmer for 20 minutes.
In a separate small pot, bring a pot of water to a boil. Blanch the asparagus tips for one minute. Remove and place in cold water to stop the cooking process. Set aside.
After 20 mins, blend the soup thoroughly with an immersion blender or a regular blender.
Add the blanched tips to the soup.
Add cayenne pepper, lemon, salt and pepper to taste.
Add cream and mix well.
Serve. Garnish with chives and course black pepper
Enjoy!
I liked this soup.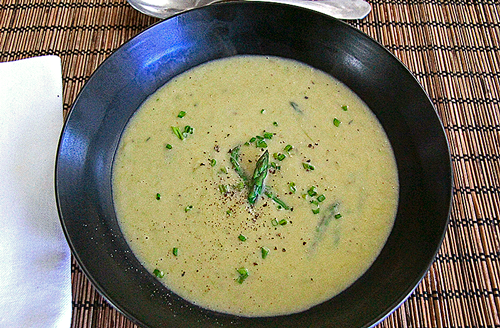 I can almost eat an entire bowl without wanting it chunky.