C – I knew my healthy kick would go away!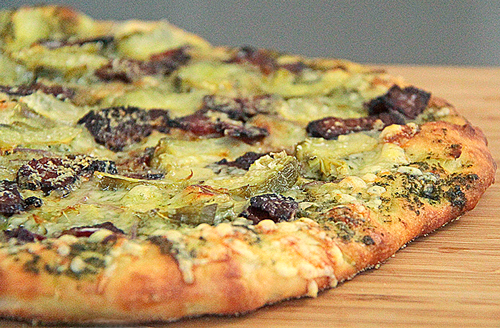 Yeah, after a really healthy week last week, I have been craving something a lot richer. What am I craving for most? Pizza. When artichoke week hit, I knew pizza had to be a part of it. I just had to.\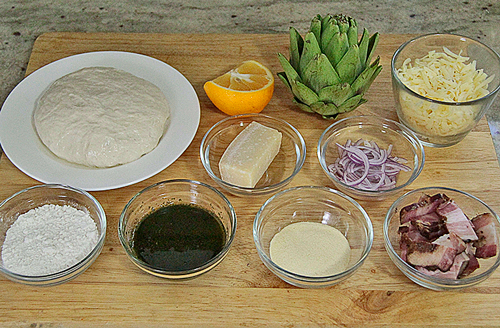 There is something about cheese, artichokes and pizza that goes really well together.

If you add pesto with some bacon, it makes it even more amazing.

I knew I needed to share this pizza with the world.

It's so delicious.

The combination of the garlicy pesto with the cheese, bacon, red onion and artichokes was amazing.

Usually artichoke pizzas have canned artichokes on them.

We wanted to try fresh artichokes, instead. There is a huge difference between the two.
The fresh artichokes are meaty and really filling. I think it's really worth the extra effort.

I have tried adding canned artichokes to pizza before. It was still good.

Just remember to rinse and dry the canned artichokes before placing them on a pizza. Otherwise, it can taste a bit briny.

Pizza with fresh artichokes, bacon, pesto and lots of cheese … you really can't go wrong.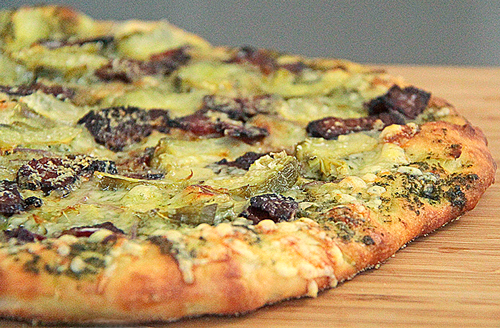 | | | |
| --- | --- | --- |
| Artichoke Week: Artichoke Pizza with Basil Pesto and Bacon | | |
Prep time: 20 mins
Cook time: 12 mins
Total time: 32 mins
Ingredients
1 medium sized artichoke
½ pizza dough recipe (link below)
2 Tbsp basil pesto
3 oz Fontina cheese, shredded
¼ red onion, sliced thinly
2 slices thick-cut bacon, cut into 1 inch pieces, cooked until crispy
Parmesan cheese, grated for topping
Instructions
Place a pizza stone into the oven of the top shelf.
Preheat the oven to 500 degrees for at least 1 hour before baking the pizza.
Remove any stray leaves from the artichokes. Remove the thorny leaves and break off the leaves about half way, leaving the tender parts. Cut off the top of the artichokes.
Trim the bottom of the artichokes and peel the skin off the stock.
Cut in half and remove the inner "choke" part of the artichoke.
Place in water with lemon juice.
Cut artichokes into thin wedges and return to lemon water.
Bring a pot of water with a teaspoon of salt to a boil. Blanch the artichokes until tender. About 5 minute. Remove and submerge the artichokes in cold water. Set aside until ready to use.
Set pizza dough out for 1 hour before making the pizza.
Roll out the dough to a 12 inch round pizza.
Top with a thin layer of pesto.
Sprinkle Fontina cheese over top.
Top with bacon, artichokes pieces and onion slices.
Sprinkle with Parmesan cheese.
Place in the oven for 12 minutes on the pizza stone. Rotate half way at about 6 mins..
Remove from oven. Let sit for 5 minutes.
Serve.
Enjoy!
Pizza Dough recipe
It was a great craving to have.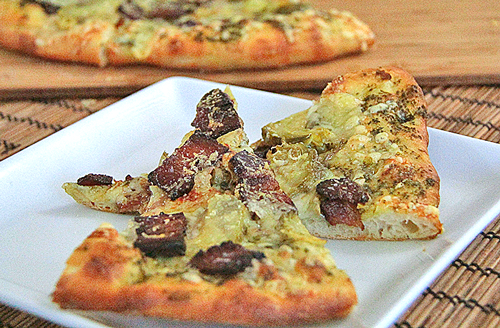 Now back to healthy eating again. I hope.