Update and Redux: J – This is a sweet/savory dessert pizza. When we first made it, we didn't quite get that fact … until we had it with ice cream. A mystery until tasting. Very good!
C – I am always on a quest to try new flavor combinations.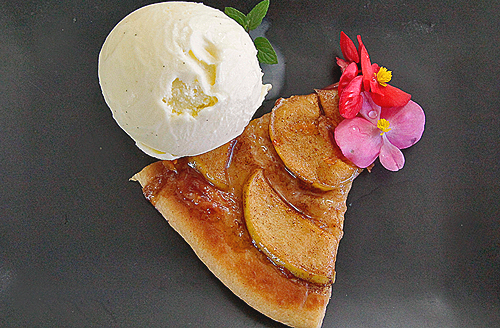 I will try anything at least once. I have never really tried apples and cheese before. I asked Jim what cheese would go well with apples on a pizza. Also, what did we have available in the refrigerator.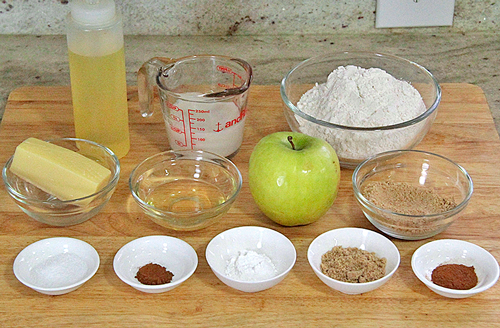 He loves showing off his collection of cheeses.

A classic is cheddar. But, it didn't seem to fit in with the pizza idea.

Gruyere would go well with apples and might be good on pizza. But, we didn't have enough to go on a pizza.

He thought Comte would be great on pizza. Comte it was.

I was getting tired of making that great pizza dough that we usually make. I also love making pizza out of flatbread dough. You don't have to wait an entire day to have the dough rise or even a few hours.

All you need is a few minutes of kneading and you are ready to make pizza.

It's great when you are stuck and don't know what to make for dinner or dessert. This time it was dessert.

This apple and Comte is a unique combination. It's not for everyone. It's sweet and savory at the same time. Add some vanilla ice cream to it and you have an interesting dessert combination.
The Comte cheese is a bit sharp, much like cheddar cheese but more refined. The thinly sliced sweet apples have a great texture. They are not overcooked.

It was a bit strange for me. I could get used to it, if I wanted a sweet and savory treat.

It's worth trying again.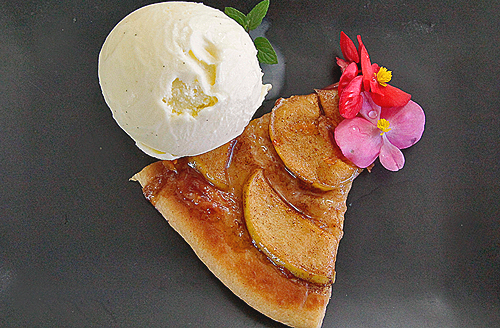 | | | |
| --- | --- | --- |
| Pizza Week 2015: Apple and Comte Cheese Pizza | | |
Prep time: 20 mins
Cook time: 30 mins
Total time: 50 mins
Ingredients
1 Tbsp unsalted butter
1 Granny Smith apple, sliced ⅛ inch thick
3 Tbsp brown sugar
¼ tsp ground cinnamon, plus more for garnishing
Pinch of salt
2 ounced Comte cheese, shredded
1½ cups all purpose flour
½ tsp salt
1½ tsp baking powder
1 Tbsp brown sugar
½ tsp cinnamon
2 Tbsp canola or grapeseed oil
½ cup whole milk
4 Tbsp of oil for frying the flatbread
Instructions
In a medium saute pan on medium high heat, melt butter.
Add sliced apples, brown sugar, cinnamon and salt. Allow it to boil and reduce temperature to low and let simmer until there is a thick liquid. About 20 to 30 minutes. Turn off heat and set aside.
Meanwhile, make the dough.
In a medium mixing bowl, place flour, salt, baking powder, brown sugar and cinnamon. Mix well.
Add oil and mix until well incorporated and resembles wet sand.
Add milk and mix until all is combined. If the dough is too wet add more flour. You want a dough that doesn't stick to your hand while kneading.
Knead dough for 5 minutes so the gluten forms.
Divide the dough in half.
Lightly flour a flat working surface (i.e. a clean counter top or large cutting board).
Using a rolling pin, roll out the dough thinly, about ¼ inch thick.
Heat a cast iron skillet to medium high heat. Add about 2 tablespoons of oil on the bottom of the pan. Once hot, place rolled out dough onto pan. Let cook for 4 to 6 minutes or until golden brown on each side.
Repeat with remaining dough or refrigerate remaining dough for later use. It can be refrigerated for up to a week and frozen for up to a month.
Preheat oven to 350 degrees.
Place flatbread on parchment lined baking sheets.
Spread the liquid syrup from the cooked apples over the dough.
Top with shredded Comte cheese.
Top with sliced apples, decorating however you like.
Top with more syrup and a little more cheese if you have any left.
Bake for 20 minutes or until cheese has melted and is golden brown on top.
Serve.
Enjoy!
Maybe I will try it with a less strong cheese.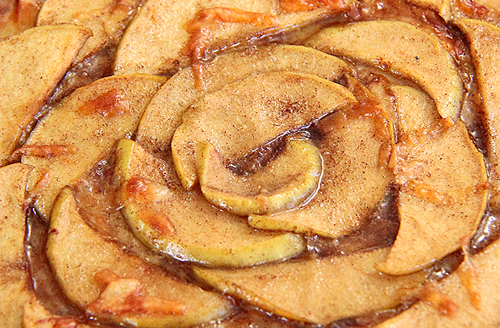 A little goes a long way with this cheese.