C – I can see why Jim requested Apple Cider Ice Cream now.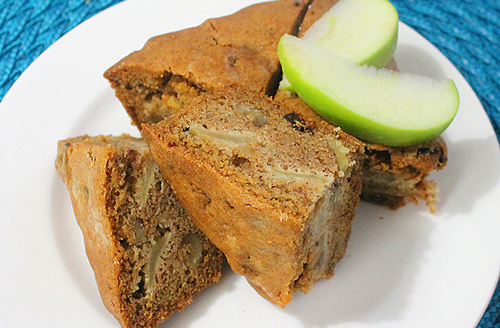 To place on top of this apple cake. Jim is not a baker and I think I am safe to say he will never be one. So, when he found a recipe for an apple cake, it really surprised me he was going to make it. Well, at first he suggested for me to make it. But, I had too many things on my to-do list. He gave up.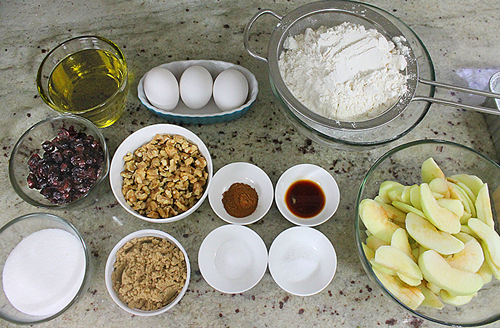 Jim's attempt at making the cake actually went well. He followed the recipe to a "T." It tasted good but I had a few opinions on it. Of course. The cake was a bit too sweet, needed to be mixed better and was a little over cooked. Jim commented that he followed the directions, but the batter was a bit tough because we didn't have an electric mixer. I didn't think that was a good excuse. I figured all of those mothers and grandmothers for generations didn't have mixers and they just used their arms to do the mixing. Why is it so hard for Jim?

Let's just say I am trying to put off getting a mixer to make sure I really enjoy baking things from scratch. My mom hates when we use machines for anything. She says it just doesn't taste the same as when you work with your hands. I think this is why I like doing everything by hand if I can. There's also the joy of putting love into the things I bake. I guess I am a purist.

I had to make the cake myself, with some adjustments, since it wasn't quite what I was looking for. I wanted to make it for friends and family during the holiday season, but didn't want as much sugar in it, and felt like the apples needed to be more organized. So my quest in the Be Mindful. Be Human kitchen was to make a great apple cake. I think I did it. And without a mixer!

I changed a few things to make the cake a little lighter. Less sugar, olive oil (the only thing I knew I had) and the apples arranged, instead of thrown into the cake. Of course mixing really well and being mindful and patient really helped too. I really wasn't in a rush to mix things; whipping the eggs and folding in the dough and incorporating it well. It's a really thick batter so be mindful and enjoy the exercise of stirring. It's great arm work.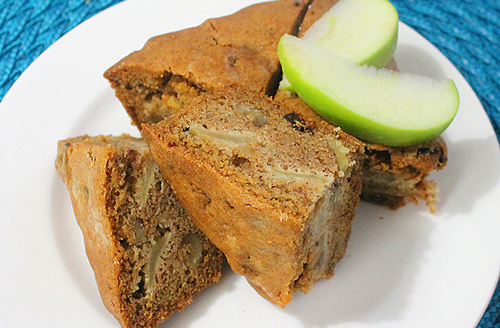 Prep time: 30 mins
Cook time: 45 mins
Total time: 1 hour 15 mins
Ingredients
Butter for greasing the pans
3 cups flour, plus more for dusting pans
1½ cup olive oil
1 cup white sugar
½ cup brown sugar
3 eggs
1 tsp salt
1 tsp cinnamon
1 tsp baking soda
1 tsp vanilla
3 Granny Smith apples peeled, cored and thickly sliced
1 cup chopped walnuts
½ cup dried cranberries
½ cup dried tart cherries
Apple cider ice cream, vanilla ice cream or whipped cream
Instructions
Preheat oven to 350 degrees.
Butter and flour 5 mini loaf pans (5¾ x 3½ inches)
Beat oil, white and brown sugar together with a whisk for five minutes (or with a mixer fitted with a paddle attachment).
Add in one egg at a time to the mixture. Whisk until creamy.
Sift flour, salt, cinnamon and baking soda into separate bowl.
Add ⅓ of the flour mixture into to egg mixture. Mix until the flour is incorporated completely. Add in another ⅓ of the flour and mix in well. Repeat process until all the flour is incorporated.
Add vanilla, walnuts, cranberries and tart cherries. Stir until combined.
Place a heaping tablespoon of batter into one of the pans. Spread a thin layer across the bottom. Lay a thin layer of apples on top of the batter. Repeat another two times and top off with more batter.
Do this for remaining baking pans.
Place pans in the oven on a baking sheet. Bake for 45 minutes or until toothpick inserted in the center comes out clean.
Cool in the pan before lifting out.
Serve at room temperature with apple cider ice cream.
Enjoy!
Apple Cider Ice Cream recipe
It tasted different than Jim's recipe. It's a bit lighter in feel with the olive oil. It was mixed better, which meant no clumps of sugar. Also, less sweet from not adding too much sugar. Now, I wanted to add the ice cream when serving.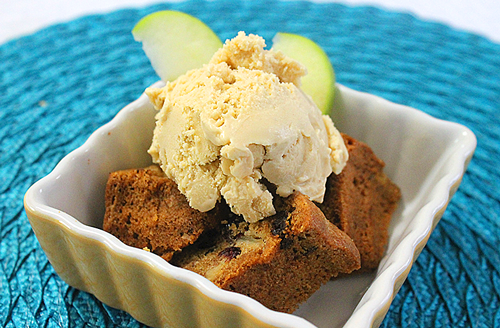 I really liked the recipe and can't wait to give it to a few people. Hope you enjoy it too.
Adapted from: http://food52.com/recipes/19828_teddies_apple_cake