J – Pretty dishes can be deceptively subtle …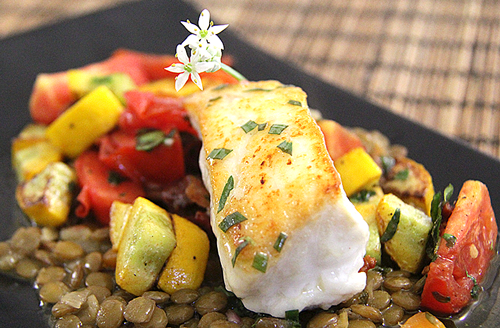 Sexy and delicious, if done right. Vapid and bland, if you don't pay attention. I think there might be a mindfulness lesson in here somewhere. I'll wait and see. Today, it was at least a humanness lesson.

Tasted great, finally … and we learned about communication among cooks.

I love Alaskan halibut. And, I had this idea from a bistro menu, this being Bistro Week #2 and all. We had many tomatoes, bacon and plenty of herbs. The basic idea was pan-seared Alaskan halibut on a bed of yellow squash, tomatoes and herbs, supported by flavorful lentils.

This was all in my head. I could just taste the flavors. Luke and Christina were under-whelmed, but agreed to try the dish.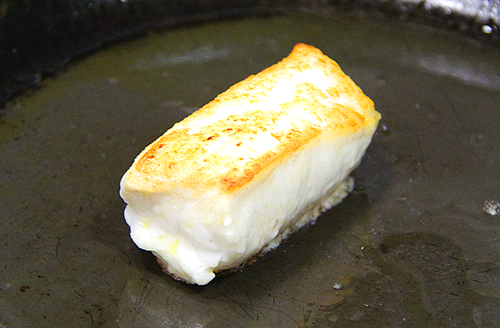 This is where things got out of sync. Luke thought I had the entire recipe idea formed and he was just cooking it. I thought I had "sketched out a concept" and we all would fine tune it.

Bad idea. Luke needs more detail so he can truly understand the intent of dish. I need to take more time to provide those details. Christina was writing furiously to keep up with the twisting plot. Oh, and during the twists, we forgot some ingredients in the lentil recipe. Just to be sure, here are Luke's Lentils.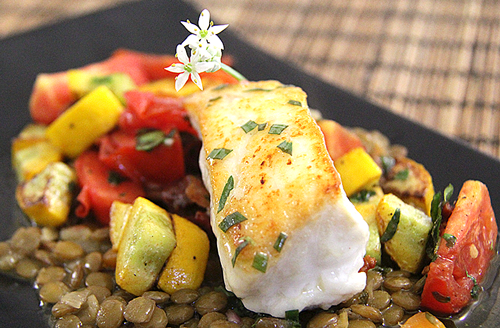 | | | |
| --- | --- | --- |
| Alaskan Halibut of the Garden | | |
Prep time: 15 mins
Cook time: 9 mins
Total time: 24 mins
Ingredients
2 bacon slices, diced
6 oz piece Alaskan halibut
1 Tbsp grapeseed oil
3 tsp butter, divided
1 yellow squash, cut in half-moon slices
1 medium size tomato, cut into 8 quarters
1 cup Luke's Lentils
1 Tbsp fresh oregano, chiffionade
½ shallot, minced
1 Tbsp fresh tarragon, chiffonade
1 Tbsp red wine vinegar
3 Tbsp olive oil
Salt and pepper to taste
Instructions
Cook bacon until crispy. Remove from pan and set aside.
In a small bowl, place tarragon, shallot, red wine vinegar, salt and pepper. Mix well. Whisk in olive oil slowly. Set side until ready to use.
Add salt and pepper to both sides of the halibut. Place in a clean pan with some grapeseed oil. Sear on both sides. Remove from heat and add 2 teaspoons butter to pan. Place halibut in a 325 degree oven to finish cooking for 3-4 minutes.
Meanwhile, in another pan place butter and melt on medium high. Place squash, add salt and pepper in pan and sear the outside. Cook for about 2 minutes.
Add tomatoes to the pan. Add more salt and pepper.
Add bacon and oregano to the pan. Mix well. Turn off heat.
Place lentils on the bottom of a serving platter.
Top with squash and tomato mixture.
Place halibut on top. Drizzle small amount of pan drippings on fish.
Drizzle vinaigrette over fish and vegetables.
Serve.
Enjoy!
Luke's Lentils recipe
At the finish, we needed to adjust to bring out the flavors. Here we added the butter and pan drippings to the fish. Next time, we probably would do a beurre blanc, instead of the vinaigrette.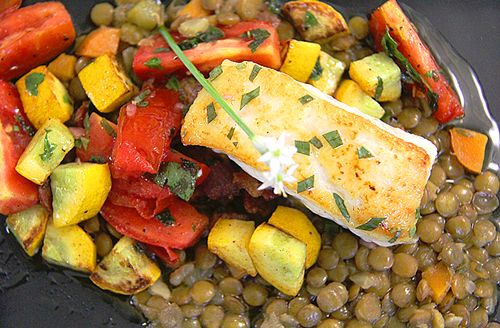 Thanks, Luke, for helping pull this one out of the fire.