C – I was excited to see fresh Ahi tuna in the refrigerator.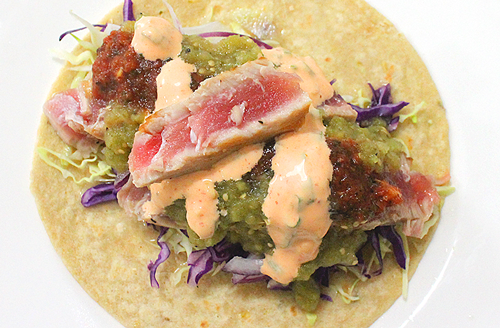 It's so rare for Jim to have any left from his dinner cooking. And, I never buy it because I think it should be for special occasions. I don't know what Jim was planning on doing with this little piece, but I had some plans. Really good plans.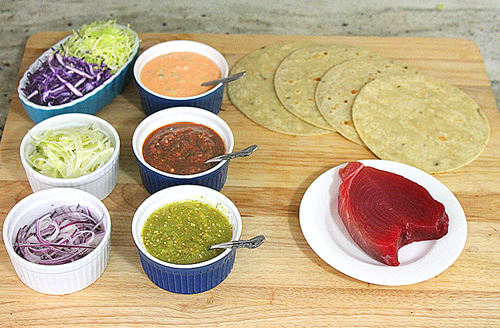 Ahi tacos!

I have been craving tacos for a while. Jim suggested salmon tacos the other day, but for some strange reason salmon in a taco just didn't sound good at that moment. Ahi, though, sounded really good. Fresh, light and delightful. I couldn't wait.

We got started. While I worked on the veggies and the sauces, the Grill King returned with a great piece of grilled Ahi. Perfectly grilled! It was crispy on the outside, but warm and rare on the inside.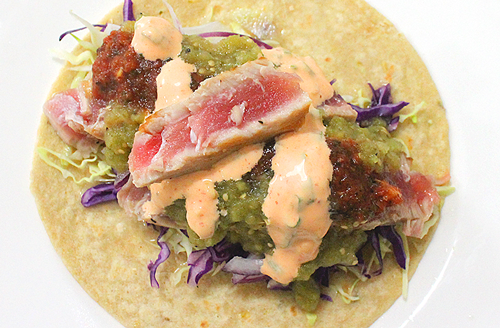 Prep time: 15 mins
Cook time: 4 mins
Total time: 19 mins
Ingredients
9 oz ahi tuna, 1 inch thick
1 Tbsp grapeseed oil
Salt and pepper to taste
4 soft corn tortilla shells
½ cup red cabbage, finely shredded
½ cup green cabbage, finely shredded
¼ red onion, sliced thinly
½ fennel bulb, sliced thinly
¼ cup salsa verde
¼ cup chipotle salsa
¼ sriracha mayo
Instructions
Heat grill on high for 2 minutes. Place grapeseed oil on grill. Reduce heat to medium-high.
Season the ahi with salt and fresh ground black pepper.
Once oil is almost smoking, grill ahi for 2 minutes (at the most ) on each side. Check edges for amount of cooking. You should always see a good-sized center section that remains rare.
Remove from grill and set aside.
While ahi is cooking, place tortilla shells on grill and warm about 30 seconds on each side.
Place one tortilla on a plate. Add cabbages, onion, fennel on top of the tortilla.
Slice ahi against the grain in about ¼ inch thick slices. Add ahi on top of vegetables.
Add desired amount of salsa verde, chipotle salsa and sriracha mayo.
Serve immediately.
Enjoy!
Salsa Verde recipe
These tacos need to be simple to highlight the freshness of the Ahi. Ahi can be over powered by too many ingredients, because it is so light in taste and not fishy like some other fish. I used a bit of shredded cabbage, sliced fennel, sliced red onion, some salsa and sriracha mayo, all served on a soft corn tortilla shell. Nice simple ingredients. Fresh and light. It almost didn't fill me up. I was fighting Jim for more. It WAS only a little piece of Ahi. I loved it and am still dreaming of having more.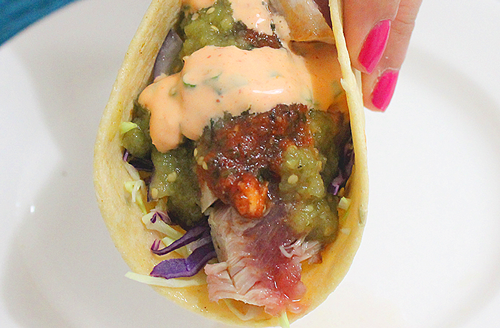 Can't wait until the next time we have Ahi in the refrigerator. I'll be sneaking in to make tacos even if it kills me.