C – Jim is always requesting savory pancakes and waffles.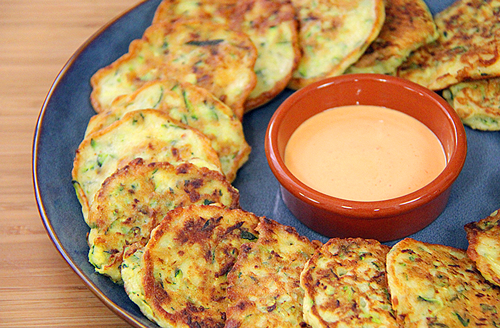 I really don't know why. Normal pancakes and waffles are already great. I think he just likes to be different. It must be something about having breakfast for dinner. I really don't know. I've never received a clear answer from him.
When I stumbled upon zucchini pancakes, I had to make them for Jim. I knew he would be excited and he was. He didn't know what hit him. He loved every single one of them.

I had to make them small. Sort of like silver dollar pancakes. I wanted to try making them like normal pancakes. But, they didn't work out quite as I expected. The zucchini wouldn't cook all the way through to the middle of the pancake. Making them smaller was a lot better and faster. I served it with some Sriracha mayonnaise. Jim couldn't stop eating.

I loved the taste combination, a creamy spicy sauce with the pancake texture. One of the biggest things I like about this recipe was that I didn't taste the zucchini much. They felt light when I ate them, but they really were filling.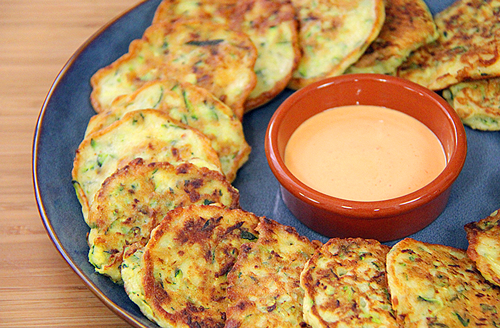 Prep time: 15 mins
Cook time: 12 mins
Total time: 27 mins
Ingredients
2 cups grated zucchini, juice squeezed out completely and discarded
2 large eggs, slightly beaten
2 Tbsp chopped green onion
½ cup all-purpose flour
¼ cup grated Parmesan cheese
½ tsp baking powder
½ tsp salt and pepper
¼ tsp garlic powder
¼ tsp onion powder
¼ tsp red chili flakes
¼ tsp paprika
1 tsp fresh oregano, chopped finely
¼ cup vegetable oil, or as needed
1 tsp Sriracha sauce
2 Tbsp mayonnaise
Instructions
Stir zucchini, eggs, and green onion in a large bowl.
Mix flour, Parmesan cheese, baking powder, salt, and oregano in a separate bowl.
Stir mixture into zucchini until batter is just moistened.
Heat vegetable oil in a large skillet over medium-high heat.
Drop rounded spoonfuls of zucchini batter into hot oil. Pan fry until golden, about 2 to 3 minutes per side. Drain pancakes on a paper towel-lined plate.
Mix mayonnaise and Sriracha together in a small bowl.
Serve pancakes with Sriracha mayonnaise.
Enjoy!
I made them for dinner once and served it with the succotash recipe we made awhile ago.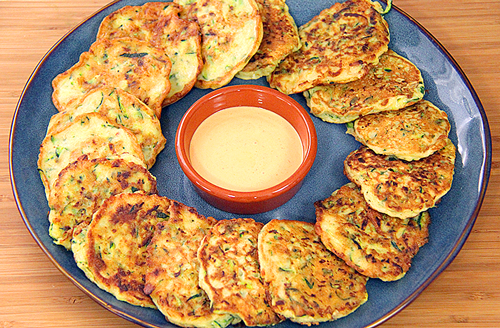 It was a unique take on breakfast for dinner. We both really enjoyed it.
Adapted from: http://m.allrecipes.com/recipe/222870/moms-zucchini-pancakes