Update and Redux: J – Cleaning out the freezer periodically can yield some wonderful, somewhat-forgotten soup ingredients … in this case, duck leg confit. How could we have forgotten that!? Easy. We have quite a few cryovaced packages of duck leg confit in there, since we make it 5 to 8 ducks at a time. Time to enjoy some in this tasty soup.
C – How often do you clean out the freezer?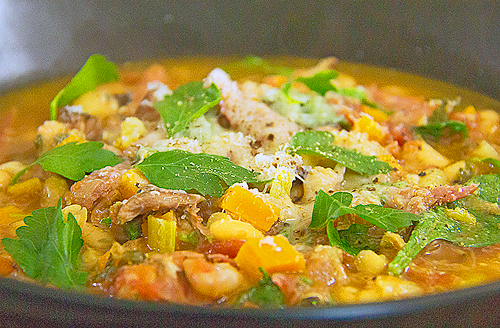 For us, it's been a while. We have gotten into a good habit of labeling things, but there are a few that we missed. Some things we just made too much. They end up being stored in the freezer until they get so old that they're just not good anymore.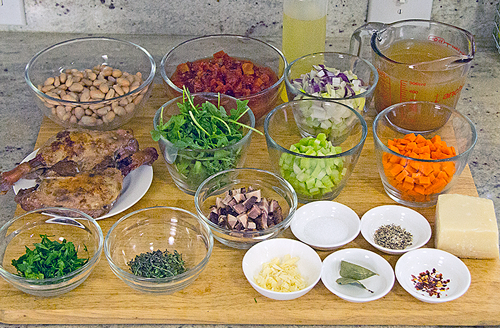 We have a white board in the kitchen that tells us what's in the freezer. I haven't written on that board in at least a year. I knew that board wouldn't help us with anything.

So, I decided to open the freezer and see what we had in there. Since this is the work freezer, and I don't eat meat much anymore, I had a feeling there would be a lot of frozen meat.
All the lamb had freezer burn and had to be thrown away. Anything that wasn't cryovac sealed … thrown away. Getting a cryovac was the best investment I have ever made for food storage. We don't waste food as much because most of the food is air-tight, sealed well and labeled.

The craziest thing I found was a bunch of duck confit. I honestly wanted the scream. There was a lot of duck confit in the freezer. Jim had made a huge batch. We were testing some for a client. And, we had some left over from who knows when.

Of course, the who-knows-when batch had to be tossed. We pulled out a couple of good ones to make this soup, and Jim used some for his fancy Sunday brunch.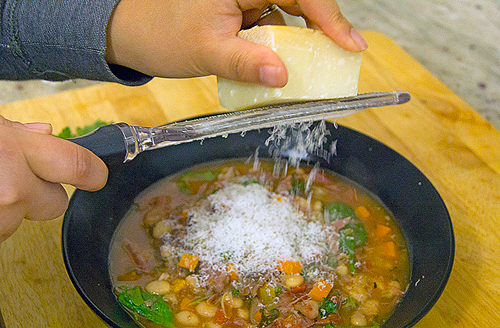 The soup was very good. A piece of duck confit in every bite. It was loaded with lots of vegetables, beans and fresh herbs. We made a lot … I wish we had guests to eat it all.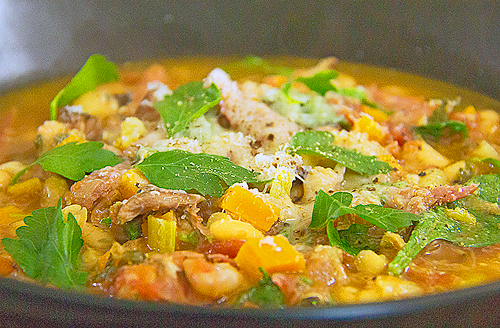 | | | |
| --- | --- | --- |
| Clean Out The Freezer Week 2016: White Bean Soup With Duck Confit | | |
Prep time: 15 mins
Cook time: 1 hour 15 mins
Total time: 1 hour 30 mins
Ingredients
½ cup bacon, cut into ¼ inch cubes
1 Tbsp canola oil
2 spring onions, chopped, or ½ yellow onion, chopped
2 carrots, peeled and chopped
2 celery stalks, chopped
1 clove garlic, minced
2 bay leaves
1 Tbsp thyme leaves
1 – 15 oz can Northern beans, drained and rinsed
1 – 15 oz can fire-roasted tomatoes, diced
2 Tbsp parsley, chopped
4 cups duck or chicken stock
Salt and pepper to taste
¼ cup Parmesan cheese, grated, plus more for serving
3 small duck confit leg quarters, about 3 cups shredded; bones and skin discarded
1 cup baby arugula
Instructions
Place bacon into a 6 quart stock pot. Saute until cooked. About 4 minutes. Remove from pan and set aside.
Add onions and saute until softened. About 3 minutes.
Add carrots and celery. Saute until softened. Add a pinch of salt and pepper. Mix well.
Add the thyme leaves, bay leaves and garlic. Mix well.
Add white beans, diced tomatoes. Mix well.
Add the stock. Bring soup to a simmer and cook for 45 minutes.
After 45 minutes,, add the cooked bacon, duck confit, ¼ cup Parmesan cheese and parsley. Mix well and continue simmering for 15 minutes.
Add more seasoning to taste.
Add the arugula just before serving.
Serve with more Parmesan and parsley on top.
Enjoy!
Now, we have some leftovers. Hoping it doesn't go into the freezer and stay there forever.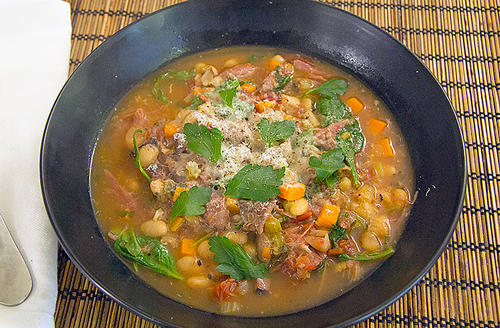 It's a good, hearty soup. I am so glad we are clearing out the freezer.