C — This salmon dinner took forever.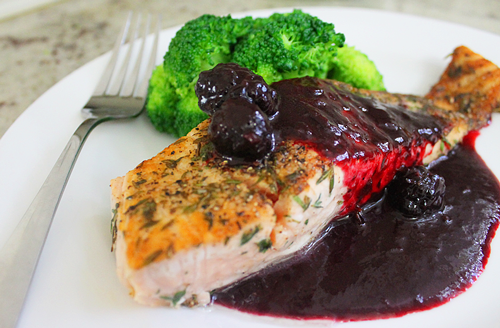 I got to hand it to Jim … sometimes. He really likes to cook. I think that is one reason why we're such good friends. The bad part, sometimes, about Jim's cooking is that he takes a while to cook. It's always gourmet. Even on a week night. You should see some of the stuff he shows off on his Facebook page. Oh, and those crazy IPhone text pics of his dinners and ice cream sundae concoctions. Jeez.
Well, last night was the same. Waiting for him to make and serve dinner was brutal. Of course, it was my fault too. I didn't help. Nope. He volunteered to make dinner for us and I barely lifted a finger. AND when I did help, it really didn't work out in Jim's favor. All these little white bugs on the kale from the garden bit me and I had to stop working. I felt like I had a million paper cuts. Poor Jim had to take that over too.

Jim took on too much. Especially on a week night. He made this blackberry gastrique that took way too long for either of our patience. Then, seared this crazy-good salmon from our favorite seafood guys. And, of course, he had to deal with the kale, but ended up making broccoli instead. All in all, I was fed and perfectly full. That made me the happiest. OK, I agree, it tasted really good, too.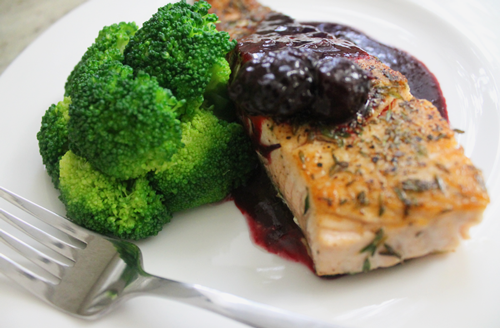 Jim probably learned a lesson. Never volunteer to cook unless you are ready to cook it all by yourself. Especially with me.
Thanks for making dinner Jim.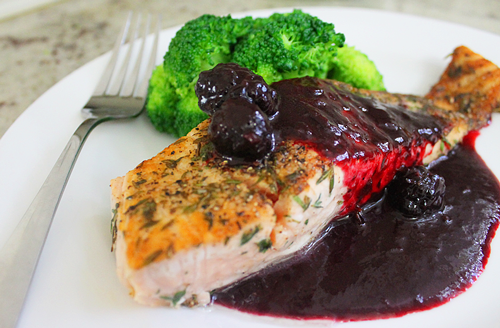 | | | |
| --- | --- | --- |
| Thyme Encrusted Salmon with Blackberry Gastrique | | |
Prep time: 45 mins
Cook time: 20 mins
Total time: 1 hour 5 mins
Ingredients
2 cups fresh blackberries
¼ cup sugar
¼ cup red wine vinegar
1 tbsp butter
1 large shallot, minced
¼ cup dry red wine
Salt and pepper
4 fresh salmon fillets (1½- 2 lbs total), skinned
⅓ cup fresh thyme leaves, plus a few sprigs for garnish
½ tsp ground cloves
1 tbsp olive oil
Instructions
In a food processor or blender, puree 1¾ cups of the berries, reserving the remaining ¼ cup to use as a garnish. Press puree through a fine strainer into a bowl and set aside. Discard seeds.
To prepare gastrique: In a 1- to 2-quart pan, mix sugar with ¼ cup water; cook, uncovered, over medium-high heat until reduced to a thick caramel-colored syrup, 5 to 10 minutes. Don't walk away. This change happens quickly at the end.
Remove from heat; carefully add vinegar. Return to low heat and stir until caramel is dissolved. Remove from pan and set aside. Rinse pan.
In the same pan, melt butter over medium-high heat; add shallot and cook, stirring often until just golden, 2 to 3 minutes. Add wine and cook, uncovered, until most of the liquid evaporates (watch carefully), about 5 minutes.
Add berry puree and cook, uncovered, until reduced by half, about 6 minutes. Stir the gastrique into pan. Add salt and pepper to taste; set aside.
Preheat oven to 375 degrees. Rinse fish; pat dry. Sprinkle with salt and pepper.
Mix thyme and cloves; spread on a large plate. Set fillets on thyme mixture; press to adhere and let stand a few minutes. Turn over; repeat to coat all sides.
Heat a 10- to 12-inch oven-proof frying pan over high heat. When pan is hot, add the oil and cook fish until lightly brown, 1 to 2 minutes per side. Transfer to oven in same pan [if handle is ovenproof, otherwise use a baking pan].
Bake fish in a 375 degrees oven until fish is barely opaque in thickest part, 4 to 6 minutes.
Add whole blackberrys to gastrique. Spoon 2 tablespoons of sauce only onto each of 4 heated plates; place a fillet on top of the sauce. Spoon a few whole berries with some sauce on top of and around fillet. Garnish with thyme sprigs.