C – Tea isn't just for drinking.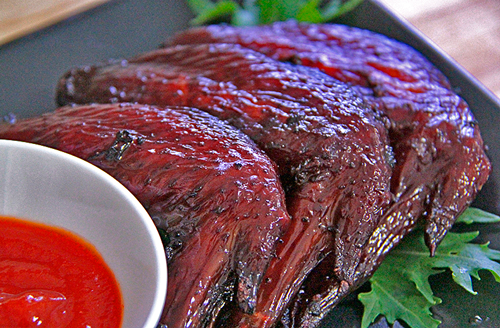 You can cook with it too. I am excited because I get to use my tea collection to do great things this week. It's tea week! I am addicted to collecting teas. But, my collection of tea has gone overboard.
I love tea and there are so many different types. In the Be Mindful. Be Human. kitchen, we have teas ranging from extremely cheap to extremely expensive. We even have a green tea that costs $200 an ounce.

Sadly, I still want more. It's even starting to grow at my boyfriends house too. He has about ten to fifteen different varieties of teas. I love tea. I can't just drink the same one over and over again.

One of my favorite teas is Orange Peoke. It was a $10.00 find and I seem to have a life-time supply. We have two pounds of it! It's a tea you use to make chai tea. My idea of making chai tea as a morning routine hasn't stuck. Oh well. There's other uses for this tea. Like that tea smoked tenderloin and tea smoked eggplant we made a few weeks ago. Delicious.

These chicken wings started from the same idea as the tea-smoked tenderloin brine. I wondered what the tea would taste like in chicken, without the smoke. I am glad I did it.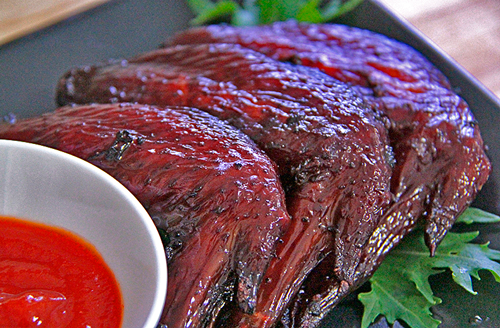 | | | |
| --- | --- | --- |
| Tea Week: Tea-Brined Chicken Wings | | |
Prep time: 24 hours
Cook time: 30 mins
Total time: 24 hours 30 mins
Ingredients
3 cloves garlic, minced
1 Tbsp brown sugar
¾ cup soy sauce
¼ cup dry sherry
1 thumb-size piece of ginger, minced
Pepper to taste
½ cup black tea leaves
12 chicken wings, drum-lets cut off
Instructions
Place garlic, brown sugar, soy sauce sherry, ginger, tea and pepper into a large bowl. Mix well.
Add chicken wings. Mix well. Cover and let marinate in refrigerator overnight.
Preheat oven to 400 degrees.
Remove chicken from marinade. Remove all of the tea leaves and other particles from the chickens.
Place chicken wings on a baking sheet with foil or parchment paper. Bake in the oven for 30 minutes or cooked until crispy. Flip once.
Remove from oven and let cool for 10 minutes.
Serve with rice.
Enjoy!
It had a nice rich earthy taste to it. The tea made the chicken wings a wonderful brown color. The taste was a deep rich salty piece of crispy chicken wing. Jim loved it, too. He thought it was a very different take on chicken. He wants to try it with a whole chicken next.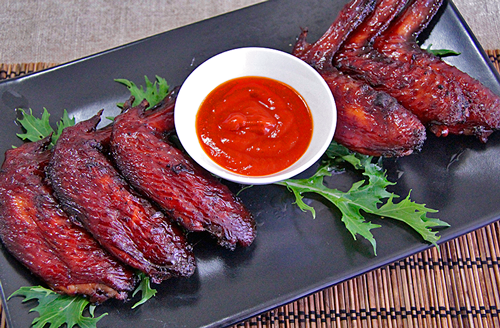 This box of Orange Peoke has a few more cups left. Maybe the chai tea will happen. But, I think the roasted, tea-brined whole chicken might happen before then. Can't wait.