C – One of my favorite drinks to order at a Thai restaurant or Asian tea shop is a Thai tea drink.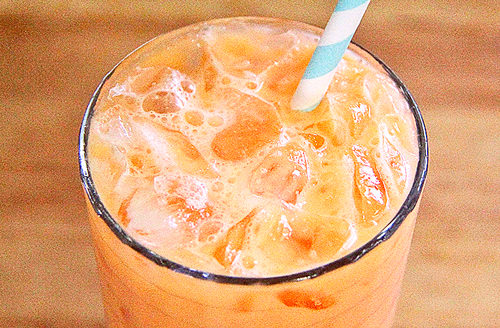 I couldn't figure out how they made it taste so good. For years, I have been trying to make the perfect concoction. I wasn't successful. Now, I figured it out. Warning: This recipe isn't for the faint-of-heart or diabetics. This drink shouldn't be consumed as a daily habit.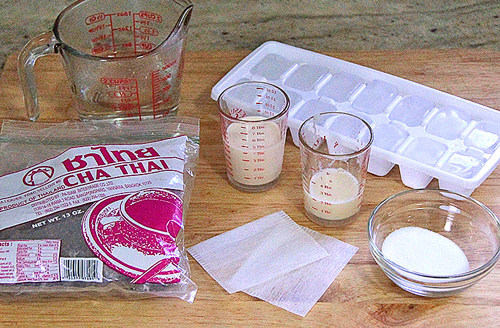 Yes, the warning is needed. Mainly, for me. I love this drink so much that I would become a diabetic if I had one everyday. This drink has a lot of sugar in it.

I always thought two tablespoons of sugar was enough for sweetening my drinks. But, it just never tastes right.

For this drink, you need to add two tablespoons of sugar and sweetened condensed milk to make it taste right.

I was reading somewhere that I shouldn't worry about the amount of sugar since it gets diluted with a lot of crushed ice to make it the perfect balance.

It's true. The ice does help with taming the sweetness. I don't recommend drinking this drink hot. It's way too sweet. With lots of ice it's perfect.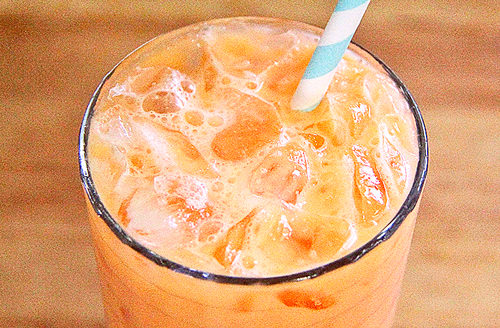 | | | |
| --- | --- | --- |
| Tea Week 2015: Thai Tea Drink | | |
Prep time: 5 mins
Total time: 5 mins
Ingredients
1 Tbsp Thai Tea (found at almost any Asian grocery store or on Amazon)
2 empty tea bags
1 cup warm water
2 Tbsp granulated sugar
2 Tbsp sweetened condensed milk
4 Tbsp evaporated milk
1 serving glass filled with crushed ice
Instructions
Place Tea in to an empty tea bag. Seal it up. Seal it up with second tea bag to make sure none of the fine leaves gets loose.
Place tea bag in warm water and let steep.
Add sugar and condensed milk stir until sugar and milk has dissolved.
Add 2 tablespoons of evaporated milk. Mix well.
Discard tea bag.
Mix and aerate between two mason jars or containers a few times. This allows the tea to develop a foam, cools it off and mixes everything very well.
Pour over crushed ice.
Add 2 tablespoon of evaporated milk on top.
Serve.
Enjoy!
I love the creaminess and perfect Thai tea taste. I really don't know what that taste is. It's unique and really wonderful.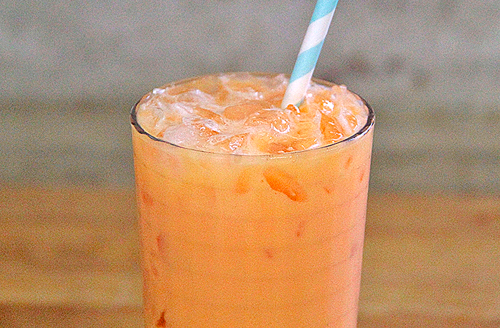 This is a nice drink to enjoy as a treat or as a dessert. But, not as part of my meal … anymore. Just have to be mindful on my human days.