C – When strawberry season comes around I get excited.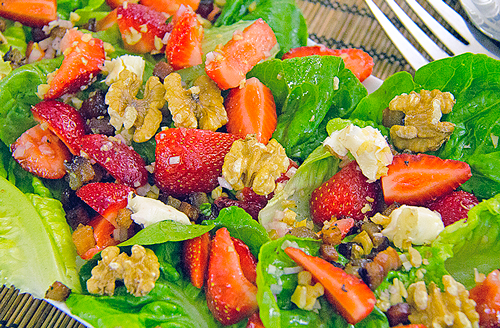 Yeah, I know, strawberries are a year-round fruit for us here in Northern California. Honestly, if they aren't produced during the right season, they don't taste good. They're flavorless, tart, empty calories and a waste of money.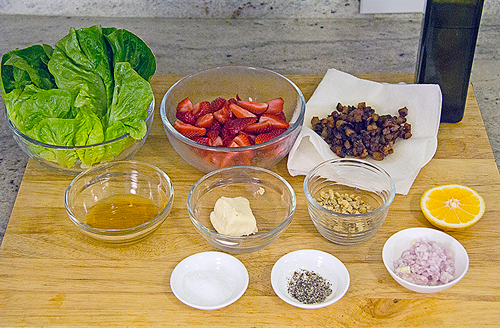 When strawberry season comes, I take advantage of it. Right now, a fourth of my refrigerator and freezer is full of strawberries. Don't tell my husband. He doesn't know. And, it's all for me. I am not lying.

This year has been a great year for strawberries. I found a great farmer's market with the best strawberries. Even better is that they were super cheap. I bought a half flat for home and then, on the way to work, another half flat for the office.

The only problem is they sell them cheap because most of them are extremely ripe. You have to sort through them immediately or they go into the trash within a day or so. So, as tired as I am after work, it's still worth the effort bringing these home and hulling them to make dishes.

I honestly feel like I've found a pot of gold every time I buy one of these flats. The farmer's market only gets them about two to three weeks out of the year. Once they are gone, they are gone. So, I really have to take advantage of them.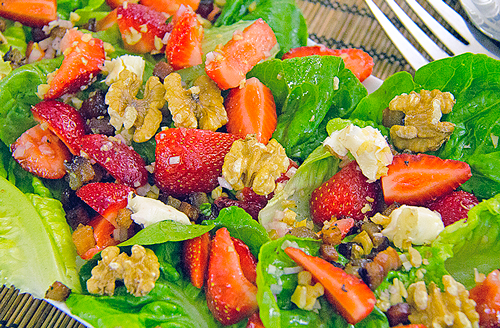 | | | |
| --- | --- | --- |
| Strawberry Week 2016: Strawberry Little Gem Salad With Triple Cream Brie | | |
Prep time: 15 mins
Total time: 15 mins
Ingredients
1 Tbsp lemon juice
1 Tbsp white balsamic vinegar
salt and pepper to taste
½ shallot minced
3 Tbsp Olive oil
2 heads of Little Gem lettuce
1 cup fresh strawberries quartered
½ cup cooked lardon or bacon pieces cubed
2 Tbsp triple cream brie
2 Tbsp chopped roasted walnuts
Instructions
In a small bowl, mix lemon juice, vinegar, salt and pepper, shallot. Whisk in oil until emulified.
Place lettuce in a mixing bowl along with a tablespoon of dressing. Mix and coat evenly. Place lettuce on a serving platter or dish.
Scatter strawberries, lardon, brie, and walnuts over the lettuce.
Drizzle more dressing over the all the ingredients.
Serve.
Enjoy!
I try to eat them as fast as possible. The overly ripe ones get roasted with honey and white balsamic vinegar … eaten with yogurt or into a strawberry crumble. I freeze some. I use them in salads like this great one. It's nice to have my favorite fruit in a salad. I love these super sweet strawberries with a lemony vinaigrette dressing, crunchy walnuts and creamy triple cream brie. It's so good.
Will I be sick of strawberries? Soon … maybe. I know once the super sweet ones are gone, I will be back to normal.