C – Love is in the air and sweethearts everywhere are buying tasteless strawberries to charm their loved ones.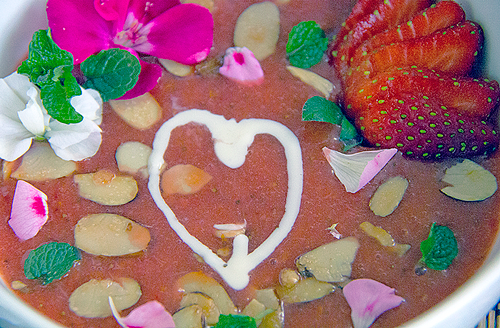 If you are one of them, please don't serve them covered in chocolate or dipped in whipped cream. It's February. Strawberries are usually not in season this time of the year.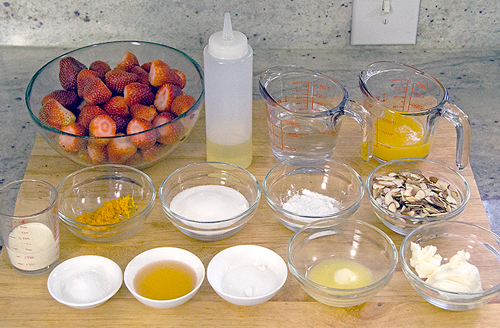 You can't cover bad tasting strawberries with chocolate or whipped cream. It actually highlights how bad they taste. Just don't do it.

There's a better way to get these strawberries tasting great and it's pretty easy to do. Your loved one will be extremely pleased you made a wonderful and super delicious strawberry soup for dessert.

They might think you slaved all day making this complicated-looking soup. Your super romantic night will be amazing.
This soup has many levels of flavor. First, you get a hint of strawberries and lemon.

Some might think they are eating a Fruit Loops soup at first … but keep going.

Then, you get a creamy flavor of the mascarpone cream with the strawberries. It's strawberries and cream to the next level.

Then, bits of crunchy sweet almond flakes hit you and pure heaven will delight you. For me, my favorite bite is when it all comes together, including a little bit of mint.

There are so many flavors all at once. Yet, they all combine so well.
If you noticed, I drew a little heart. It's only for presentation.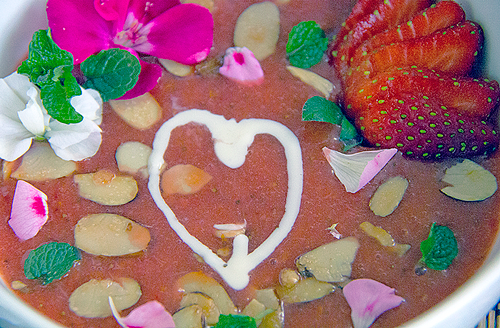 | | | |
| --- | --- | --- |
| Soup/Salad Tuesday: Roasted Strawberry Soup with Sliced Sugared Almonds and Mascarpone Cream | | |
Prep time: 20 mins
Cook time: 50 mins
Total time: 1 hour 10 mins
Ingredients
4 cups ripe strawberries, stems removed
5 Tbsp sugar, more or less depending on the sweetness of the strawberries
2 Tbsp white balsamic vinegar
2 tsp grapeseed oil
Salt to taste
¾ cup cold water
2 tsp tapioca starch
⅓ cup orange juice
Zest of 1 lemon
½ cup sliced almonds
1 Tbsp unsalted butter, melted
1 Tbsp sugar
A few pinches of salt
¼ cup Mascarpone
2 Tbsp heavy cream, plus more if needed to thin out cheese more
Mint leaves, extra strawberries, edible flowers for garnish
Instructions
Preheat oven to 350 degree.
Place strawberries on a baking sheet lined with parchment paper. Sprinkle on top a tablespoon of sugar, white balsamic vinegar, oil and a few pinches of salt. Bake for 20 minutes. Reduce the temperature to 250 degrees and cook until all the fruit is tender and juices are concentrated. About 20 minutes more.
In a small sauce pan over medium heat, combine tapioca, water and remaining sugar. Bring to simmer and let it simmer until slightly thickened.
Place the roasted strawberries into a blender with all the juices.
Add orange juice, lemon zest and ⅔ of the tapioca mixture.
Blend until mostly creamy, leaving a few chunks for texture.
Tastes and adjust for sweetness and flavor.
Chill before serving.
Mix the almonds, butter, a tablespoon sugar, a pinch of salt together. Places on a baking sheet and toast until golden brown. About 10 minutes.
Mix the mascarpone cheese and the cream together. Add more cream if needed. You will want a thick, but pourable consistency.
Place strawberry soup into a bowl. Garnish with almonds and mascarpone cream. Draw with the cream in a squeeze bottle for presentation. But, make sure to have it on the side to add more when serving. Adding more cream makes this dish really delicious.
Serve.
Enjoy!
Make sure you add more mascarpone cream when you eat this soup. It really makes the soup luxurious and special. Please don't skimp.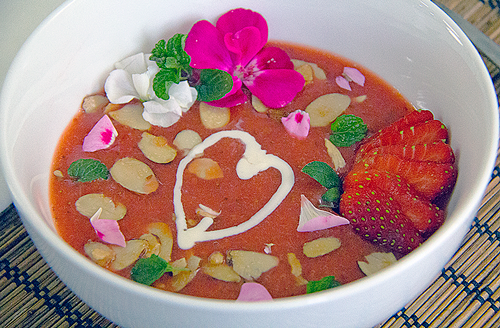 I hope this soup brings lots of love today. I hope your special someone enjoys it.