C – Sushi can get really expensive.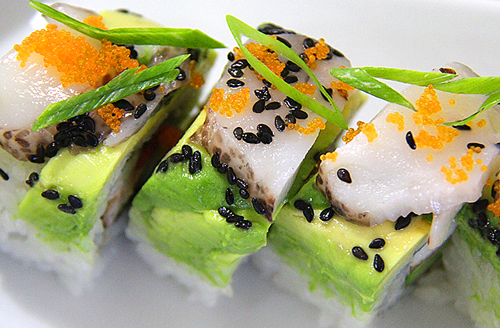 Especially, if you want to try a lot of different items when eating out. This week we wanted to show you that you don't have to try all things at a restaurant. You can try some of them at home. Then, when you do go out to a restaurant, you can try something different. Or, compare the restaurant's style of sushi-making to your own.

Luke wanted us to try making this scallop soft shell crab inside-out roll. I'd never heard of it. But, it really sounded good. Of course my answer was, YES! I knew it was going to be a challenge. A maki roll with rice on the inside is hard enough to make. Having the rice on the outside will be even harder. Good rice is key for this. I couldn't wait to see how Luke was going to make it.

Soft shelled crab is one of the first things I order at a Japanese restaurant. I can't remember a time that I didn't order it. I love the crunchy crab taste. It's such a great treat when I go out. I love that it's becoming a more popular item.
This roll is gorgeous. I really love how beautiful Japanese food is. I always eat with my eyes first. If something doesn't look good, I will not eat it. Usually. This roll looked like a piece of art. Luke really out did himself with this one.

Of course, tasted just as great as it looked. All the things you'd expect from a sushi roll. The fresh taste of good scallops and soft shell crab shined in this roll. Of course, the avocado, cucumber, radish sprouts and rice added to the great balance of flavors.

The great complex texture of the soft scallops, crunchy crab meat, nice flavorful sushi rice, a little bit of nori, creamy avocado, crunchy cucumber pieces and tender radish sprouts made this sushi really enjoyable.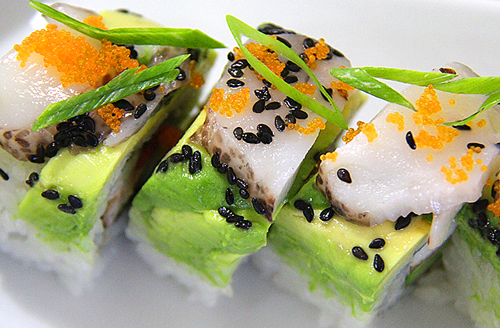 | | | |
| --- | --- | --- |
| Scallop Soft Shell Crab Inside-Out Roll | | |
Prep time: 30 mins
Cook time: 6 mins
Total time: 36 mins
Ingredients
2 scallops
1 Tbsp black sesame seeds
1 soft shell crab
1 Tbsp cornstarch
½ inch oil in a small frying pan
1 nori sheet, 8×8 inch
½ cup prepared, seasoned sushi rice
20 radish sprouts
4 Peppadew peppers, cut into halves
1 asparagus stalk, cut in half lengthwise
4 strips of cucumber pieces, cut ¼ inch thick
½ avocado, sliced
½ tsp tabiko
1 green onion, green part only, sliced thinly on a bias
Instructions
Roll black sesame seeds across the side of the scallops.
Place scallops on grill and sear until golden brown. Make sure you don't over cook. About 1 minute on each side. Take off grill and set aside.
Pat soft shell crab completely dry.
Dredge in cornstarch completely.
Heat oil to on medium high. Place crab and cook until golden brown. About 3 minutes. Drain on a piece of paper towel.
Slice scallops horizontally into ⅓ pieces.
Place nori sheet square on the board.
Wet hands with water and add sushi rice on top of nori. Spread out evenly ¾ of the on the sheet.
Flip over nori sheet on to a bamboo sushi rolling mat covered in plastic.
Slice crab meat and place the legs at both ends of the roll. Add the body pieces into the middle. Create a single straight line.
Add asparagus along the crab meat.
Add cucumber sticks in a straight line along the crab meat.
Top with Peppadew peppers.
Top with radish sprouts.
Lift the mat and begin to roll the sushi. Making sure to press down tightly.
Remove bamboo roller from sushi roll.
Fan out the avocado pieces on top.
Place the scallops on top of the avocado.
Using a sheet of plastic wrap, cover the top of the roll and press down to make the roll tight.
With the plastic wrapper still on, cut sushi roll into one inch pieces.
Remove the plastic wrap and place on a platter.
Top with a sprinkle of tabiko and green onions.
Serve with soy sauce, wasabi and pickled ginger.
Enjoy!
Honestly, I didn't want to share with Jim and Luke.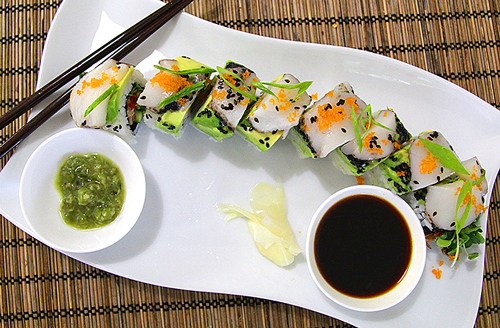 Thanks, Luke, for sharing this great recipe. I know how hard it is to make an inside-out roll. You did it!