Update and Redux: C – If you are looking for a creative sauce that will boost protein flavor, this is it! It's a really healthy sauce that is easy to make. It goes well with so many meats. Really great in a sandwich.
C – I am definitely not a chili pepper expert.
When the idea of pepper week came along, I asked Luke and Jim to do it. Of course, that never happens. I'm always having to have some part in it. I asked if Luke had any ideas for pepper week. He suggested making a chimichurri sauce with peppers. We all thought it was a great idea.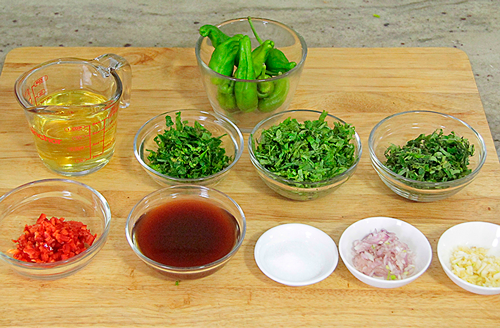 When I started researching pepper chimichurri sauces, all I could find were ones with red bell peppers. I wanted something different. Especially, after going to Azolla Farm and seeing all the pepper varieties.
Unfortunately, we weren't able to go to visit Azolla farm for this recipe. We went to the next best place, the Farmers' Market.

Look for flavorful peppers. The great thing about this sauce is that you can use any type of pepper. We used Padron peppers. We love the flavor. Padrons are usually not very spicy and have a great, complex pepper taste to them.
Unfortunately the vendor we bought them from grew the peppers right next to spicy peppers. They were spicier than I expected. Always ask how spicy peppers are, if you aren't fond of things that are too spicy. I ended up removing the seeds before adding the peppers to the chimichurri sauce.
| | | |
| --- | --- | --- |
| Pepper Week: Padron Pepper Chimichurri Sauce | | |
Prep time: 15 mins
Cook time: 1 min
Total time: 16 mins
Ingredients
8 Padron peppers
½ cup red wine vinegar
3 cloves garlic, minced
1 shallot, minced
1 red jalapeno, stemmed, seeds removed and chopped
½ cup cilantro, chopped
¼ cup flat leaf parsley, chopped
2 Tbsp fresh oregano, chopped
¾ cup canola oil
1 tsp sugar
Salt and pepper to taste
Instructions
In a small saute pan, place a tablespoon of oil and heat on high. Add padron peppers and sear on all sides for about 1 minute.
Removed from pan, cut off stems and remove seeds. Chop and set aside.
Add red wine vinegar, garlic, shallot, red jalapeno and padron peppers. Mix well.
Add cilantro, parsley, and oregano. Mix well.
Slowly whisk in oil.
Add salt, pepper and sugar to taste.
Let sit in refrigerator for at least 30 minutes.
Serve with meat.
Enjoy!
This sauce was amazing. I loved all the herbs in the recipe. The peppers weren't spicy, so I ate a lot. There was a great balance of flavors. Perfect on a piece of meat. The peppers are crispy and lovely addition to the chunky sauce.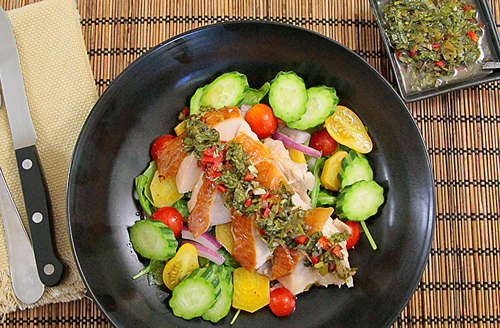 It's an easy sauce that is quite different and delicious. Great for pepper week. Thanks, Luke, for the idea.