Update and Redux: J – This sandwich was inspired by a chicken paillard dish by Eric Ripert. Except, I only liked the ingredients. Originally, the dish was just a little too precious. But, the ingredients had heart. Eh, voila! A great sandwich. Enjoy.
J – This dish had a really nice surprise ending.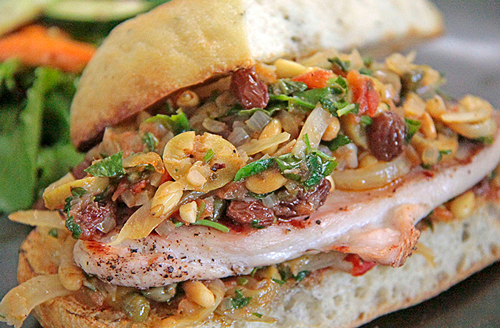 It was an evolution from the beginning. I saw a great photo of a chicken paillard dish by Eric Ripert. I like a lot of his ideas … except this one. In this one, I only liked the ingredients.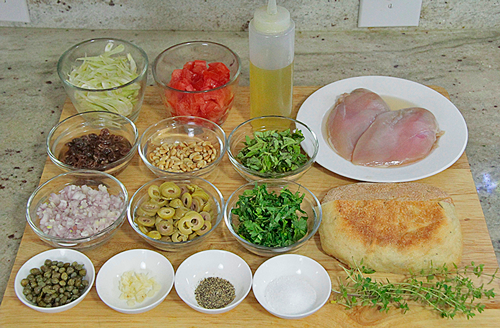 He baked. No thanks. I wanted to grill. So, the evolution began.
Chicken paillard can be a bit tricky to grill. It's thin and can dry out fast. How were we going to keep it moist?

Fast grilling over high heat, of course. Note to self, don't get distracted.

But, that wasn't enough. The key to a moist, flavorful grilled chicken sandwich was in the sauce.

The ingredients in Eric's list screamed out savory, Mediterranean compote. That would give us the moisture and a delicious flavor explosion with the chicken.
Next stop, the bread. A regional baker here makes a great "herb slab" that is essentially a 2x6x12-inch rectangle of tasty, herb-flavored bread. Focaccia bread would also do just fine.

Open-faced or not? We didn't decide until we shot it. Somehow, it just didn't look right without the slab on top.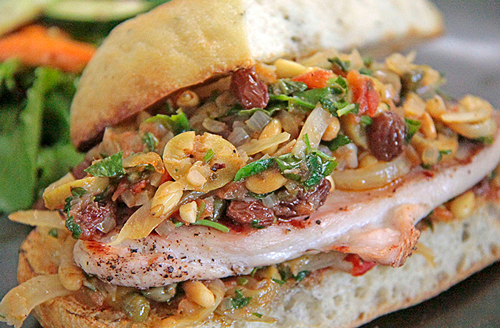 | | | |
| --- | --- | --- |
| Grill Week: Grilled Chicken Paillard Sandwich | | |
Prep time: 15 mins
Cook time: 28 mins
Total time: 43 mins
Ingredients
2 boneless, skinless chicken breast halves, lightly pounded
½ cup shallots, minced
2 cloves garlic, minced
1 cup tomatoes, peeled, seeded and diced
¾ cup thinly sliced fennel
½ cup green olives, pitted and sliced
¼ cup raisins, soaked in white wine
¼ cup pine nuts, toasted
2 Tbsp capers
4 sprigs thyme, leaves removed
½ cup olive oil
3 Tbsp basil, julienned
2 Tbsp chopped parsley
Fine sea salt and freshly ground pepper
Herb slab bread, trimmed into two 3 inch x 6 inch pieces, cut horizontally in the center
1 Tbsp of oil for toasting bread
Instructions
Place tomatoes, fennel, green olives, shallots, pine nuts, raisins, caper, thyme leaves and garlic in a sauce pot . Drizzle the olive oil over the vegetables and season to taste with salt and pepper.
Bring to a simmer and let cook for 15 to 20 minutes or until liquid has thickened.
Add basil and parsley into pot. Mix well. Season to taste and set a side.
Preheat a grill to high.
Season the chicken breasts on both sides with salt and pepper.
Place chicken on grill and cook until cooked through. About 2 to 3 minutes on each side.
Coat bread with oil on cut side. Place on grill to toast.
Remove chicken and bread from grill.
Place a large spoon full of the compote on one half of the bread.
Top with grilled chicken.
Top with more of the compote.
Top with the top of the bread.
Serve.
Enjoy!
Now, the taste test. Wow! This is where the whole is way better than the parts by themselves. You want the top on the sandwich.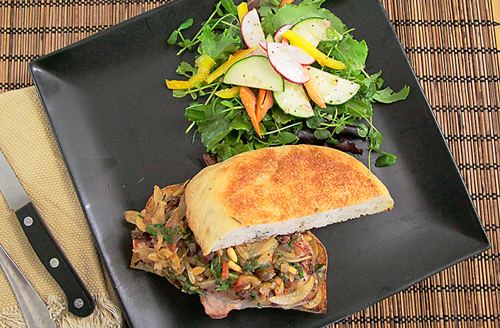 Great party grilling, too, when you need a chicken dish that beats out many burgers.