C – This is not your average torta.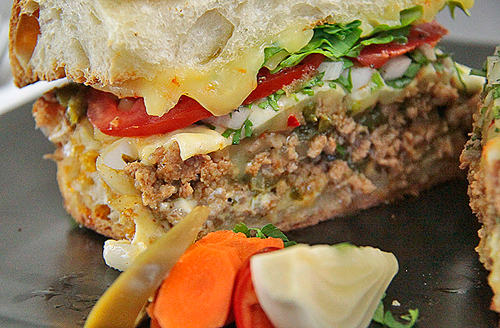 No beans in this one. No soft bread either. This Rick Bayless inspired sandwich should redefine torta sandwiches. I tested this sandwich with my husband who usually isn't impressed much with pork sandwiches. He loved it.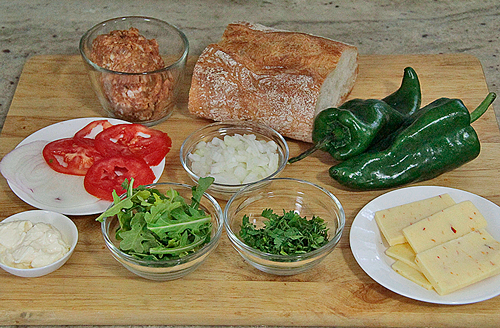 I was so amazed at how much he loved this sandwich.

It's always great when he appreciates the look of my well-composed plates. First bite, his eyes widened. He asked what kind of meat this was.

I said it's a type of Mexican sausage made with pork. He didn't flinch when I said this. He usually says something about not eating pork. Not this time. Ok. I knew he liked it now.

He loved the favors. He's not too fond of spicy foods. This had the perfect amount. I was surprised at this, too. It was actually quite spicy for me, so I knew this sandwich was a huge win.
Really, you would be crazy if you didn't like this sandwich. What's not to like?

Warm and crispy ciabatta bread with flavorful, spicy pork chorizo ground sausage, bites of roasted peppers, grilled onions and lots of gooey cheese. Then, topped with the perfect amount of fresh onions and lettuce … just to add a little more texture.

Yeah this sandwich was amazing.

When I made this for this post I knew it was going to be good. I am so glad there weren't any refried beans in this sandwich.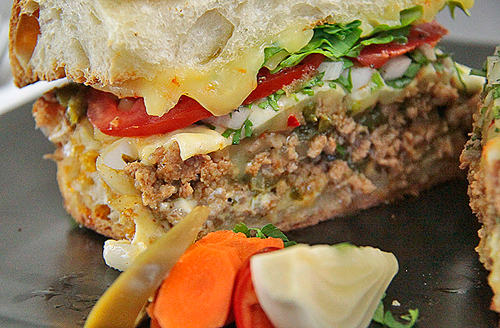 | | | |
| --- | --- | --- |
| Sandwich Week: Chorizo Torta Sandwich | | |
Prep time: 20 mins
Cook time: 15 mins
Total time: 35 mins
Serves:
1 huge torta for 2
Ingredients
2 Pascilla peppers
1 Tbsp grapeseed oil
½ pound raw chorizo sausage, with casing removed
½ white onion, sliced thinly
2 oz white cheddar cheese, shredded
1 Tbsp mayonnaise
2 slices red onion, thinly sliced
3 sprigs cilantro, chopped
1 lettuce leaf
4 slices of tomatoes
1 ciabatta loaf
Instructions
Turn on broiler.
Place Pascilla peppers under the broiler and watch carefully. Roast peppers until the skin is chard and blistered. Remove from broiler. Set aside until cooled. Remove the skin, top and seeds and discard. Chopped the peppers and set aside.
In a saute pan, add oil and heat on high.
Add choizo and break sausage apart. Cook until all the ground meat has browned.
Add onions and roasted Priscilla peppers. Salt and pepper to taste.
Cut the Ciabatta bread open, place bread on a baking sheet top side up.
Place under the broiler for about a minute. Keep a close eye on the bread it will burn if you don't pay attention.
Flip over and drizzle a little oil on the cut side of the bread. Place under the broiler again. In about a minute the bread will be golden brown.
Spread mayonnaise on the bottom half of the bread.
Place meat over the mayonnaise.
Place cheese on top of the meat.
Place more cheese on top of the bread other piece of bread .
Place under broiler and let cheese melt. About a minute or two.
Remove from oven. Top the remaining ingredients on the sandwich.
Close the sandwich.
Cut it down the middle.
Serve.
Enjoy!
There is no need to load it with carbs when you have such great ingredients.
You will still end up with a good food coma.
Adapted from: http://www.rickbayless.com/recipe/queso-fundido-torta/