C – I can't eat my favorite type of sandwich anymore.
I've overindulged too much. My YOLO (You Only Live Once) eating lifestyle no longer exists. Beef sandwiches slathered with butter and cheese are no longer in my diet. My body is reacting badly to fatty rich foods because I'm on a healthier path.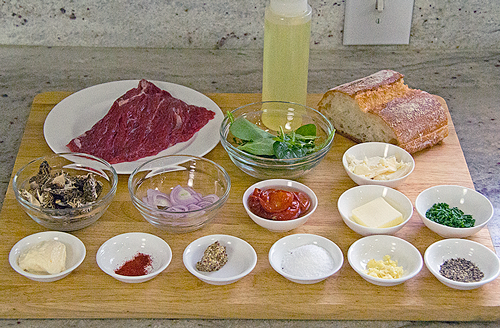 My body craves salads with low oil. Steamed vegetables and broth based soups.

So, when a day of overindulging happened, it almost landed me in the hospital. I just can't do it anymore. I have to be more mindful.

I miss sandwiches like these that are loaded with flavor. All that butter for sauting the exotic mushrooms until they glisten. I honestly don't need it.

A little butter for taste is fine. But, to make it glisten is not needed. Add stock, instead, or wine. Yeah, it's good once in while. But, I don't think I can even handle that anymore.

So, for the beef sandwich lovers like me who want an ultimate beef sandwich, read the recipe and make it. Buttery Morel mushrooms. Creamy light blue cheese [Gorgonzola Dolche Leche] with thick cuts of almost rare steak on crunchy crisp bread with a flavorful sauce and a few vegetables.
It's an amazing sandwich.

For the others who are on a diet, read this article and see a beautiful sandwich pictures … enjoy.
| | | |
| --- | --- | --- |
| Sandwich Monday: Bavette Steak Sandwich with Morel Mushrooms and Gorgonzola Cheese | | |
Prep time: 10 mins
Cook time: 20 mins
Total time: 30 mins
Ingredients
1 Tbsp mayonnaise
1 Tbsp Dijon mustard
1 tsp chives, chopped
1 garlic clove, minced
A pinch of smoked paprika
1 Tbsp canola oil
3 Tbsp unsalted butter
½ shallot, thinly sliced
10 small, fresh Morel mushrooms, cleaned
Salt and pepper to taste
4 oz Bavette Steak
1 oz Gorgonzola Dolche Leche cheese
¼ cup baby spinach leaves
¼ cup oven roasted tomatoes
1 Ciabatta roll
Instructions
Mix the mayonnaise, mustard, chives, garlic, paprika, a pinch of salt and pepper in a small mixing bowl and set aside.
In a small saute pan, add butter and canola oil let melt. Add shallot and cook for a minute until translucent. Add Morel mushrooms, salt and pepper and cook for about 2 minutes until tender. Reduce heat down to low to keep warm.
Salt and pepper the steak on both sides.
Heat a cast iron skillet on high with oil until smoking. Cook the steak until medium rare or desired doneness. Remove from pan and let rest for 10 minutes before cutting. Cut across the grain.
Meanwhile, toast the Ciabatta. Cut the bun horizontally.
Spread the mayonnaise/mustard mixture on the top and bottom of the inside of the bun.
Place spinach, tomatoes, the cut steak pieces, top with Gorgonzola cheese, top with the warm Morel mushrooms and place the top of the bun over the sandwich.
Serve.
Enjoy!
Maybe I will find a new beef sandwich recipe that's lower in fat and still loaded with flavor. I know I can do it. Some people will miss the butter. But, a different flavor profile will come.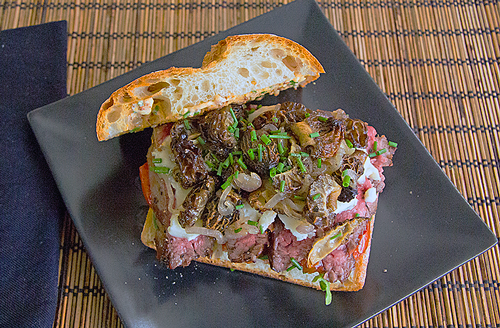 Enjoy this delicious sandwich. Make it or not. I just need to be more mindful when making my meals.