C – It's Valentine's Week.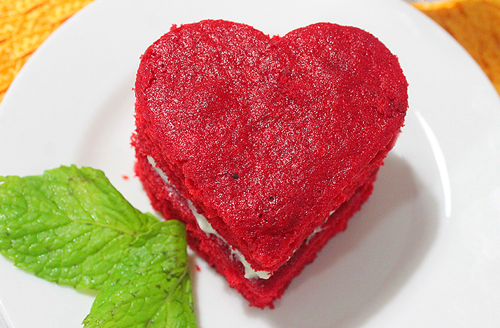 Since we have Luke cooking a few recipes in preparation for Valentine's Day, I thought I would wish a happy Valentine's Day to everyone today. I was out shopping the other day and started to really miss being back in elementary school. I hated school, but loved shopping for special party days like Valentines Day.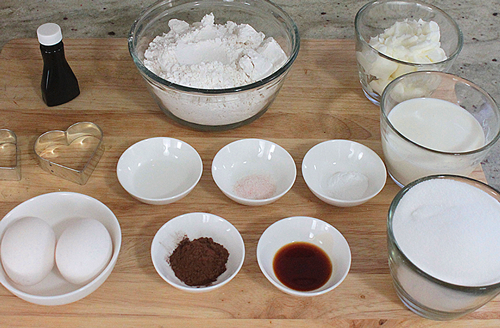 I loved going to the store with my parents to pick out Valentine's Day cards and writing them out to everyone in my class. Even the people I didn't like.

The thing I liked most about this special day was the parties. One parent would always go over the top and bring in something really special. Like cakes, cookies or cupcakes.

Of course, my parents never did it. But, I always loved the moms who did. I can't wait to be one of those moms someday.

Since I can't be one of those moms yet, I guess I will have to make everyone in the world a mini red velvet cake. Just kidding. Maybe just one for everyone in my family.
These little cakes are so good and taste delicious. I made them from scratch. They are quick and easy.

Everyone who gets one of these will feel loved. The butter cream frosting inside is amazing.

A nice, not-too-sweet cream that makes this cake really moist and almost sinful. I hope you make it and enjoy this treat on this day of love.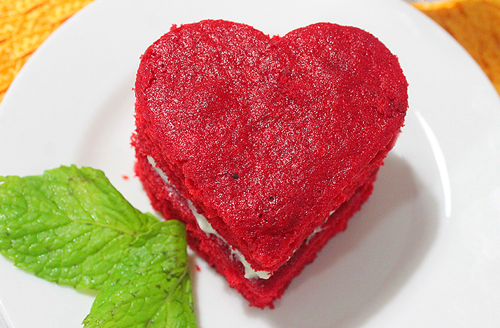 Prep time: 40 mins
Cook time: 35 mins
Total time: 1 hour 15 mins
Ingredients
1 cup shortening
1¾ cup sugar
2½ cups cake flour
1¼ tsp salt
2 whole eggs
1 cup buttermilk
1 tsp vanilla extract
1 tsp baking soda
1½ tsp vinegar
1½ ounces liquid red food coloring
1½ tsp cocoa powder
5 Tbsp flour
1 cup milk
1 tsp vanilla
1 cup butter
1 cup granulated sugar (NOT powdered sugar)
Instructions
Preheat oven to 350 degrees.
Thoroughly spray a large (18 x 12) sheet cake pan (or you can use a slightly smaller jelly roll pan) with nonstick baking spray. Be sure to get in all the corners of the pan.
Sift together cake flour and salt. Set aside.
In a separate bowl, stir together buttermilk, eggs, vanilla and baking soda. Add vinegar and stir. Set aside.
In a separate small bowl, mix together cocoa and red food coloring. Set aside.
Cream together shortening and sugar until fluffy.
Alternate adding some of the flour mixture and some of the buttermilk/egg mixture to the creamed shortening until all are combined.
Pour in the red cocoa mixture and stir until well combined.
Pour batter into prepared sheet cake pan.
Use a large offset spatula or knife to even out the surface. Bake for 20 minutes.
Remove pan from oven and allow cake to cool in the pan for 20 minutes.
Place a large cutting board on top of the cake pan, then invert the cake, allowing it to turn out onto the cutting board.
Cut cakes into squares or heart shapes.
Allow cake to cool completely before icing.
In a small saucepan, whisk flour into milk and heat, stirring constantly, until it thickens. You want it to be very thick, thicker than cake mix, more like a brownie mix.
Remove from heat and let cool to room temperature. It must be completely cool before you use it in the next step.
Stir in vanilla.
While the mixture is cooling, cream the butter and sugar together until light and fluffy. You don't want any sugar graininess left.
Add the completely cooled milk/flour/vanilla mixture. Beat until well blended. If it looks separated, you haven't beaten it enough! Beat it until it all combines and resembles whipped cream.
Spread icing on one piece of the cake. Top with another piece to make a sandwich.
Serve.
Enjoy!
May everyone have a happy Valentine's Day.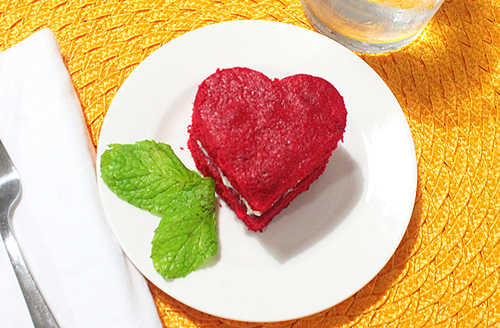 May you have love and peace throughout this day and spend it with your special someone.
Adapted from: http://thepioneerwoman.com/cooking/2011/04/red-velvet-sheet-cake/